Here is our guide to all of the Arsenal supporters clubs and Arsenal bars in California. Find Gooners in the Golden State and watch Arsenal games in the sun.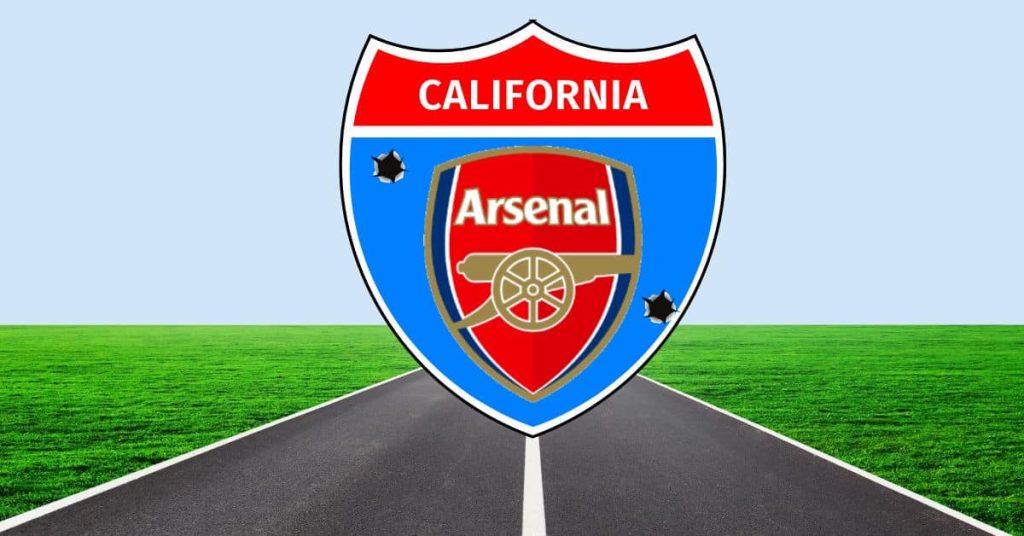 ---
Guide To Arsenal Supporters Groups In California
There are a dozen official Arsenal clubs in California, with Arsenal bars opening all along the West Coast. Plan your trip down (or up) the PCH to include meeting fellow Gooners along the way.
---
Gooners Groups In Northern California
Sacramento

Gooners
The Sacramento Gooners are the most Northerly of the numerous California Arsenal bases. Get up early to catch them at Henry's Lounge Sports Bar for Arsenal EPL games every weekend.
Arsenal Bar in Sacramento – Henry's Lounge Sports Bar
---
North Bay
Gooners
Sun, sea, and Arsenal on TV are all you need when you're in Santa Rosa with the North Bay Gooners. The club was formed in 2016 and meets at the impressive Victory House Sports bar in Santa Rosa to watch Arsenal live games.
Arsenal Bar in Santa Rosa – Victory House Sports Bar
---
Bay Area
Gooners
This Arsenal fan group has an interesting history hosting the many Gooners in the San Francisco area. It was founded by Mark Barbeau in 2006 when he located a bar that was run by a fellow Gooner named Patrick Dunphy. Since then the collaboration has helped to grow one of the largest Arsenal fan groups in America. Maggie McGarry's is heaving on Arsenal matchdays, so get there early.
Arsenal Bar in San Francisco – Maggie McGarry's
---
The Silicon Valley Gooners
Formerly known as the South Bay Gooners, this California Arsenal club now has a new hipster-friendly monicker, It's still based in San Jose where they gather to watch Arsenal at Jack's Bar. Enjoy the sunshine in the expansive, but not expensive beer garden while watching Arsenal games outdoors. You know the way.
Arsenal Bar in San Jose – Jack's Bar
---
The Fresno Gooners
Early mornings, brew, great people, and the Arsenal. How could life get any better? That's the question posed on the Fresno Gooners Facebook page. We don't have the answer but you can meet up with Central California-based Arsenal fans at Spokeasy Pub in laid-back Fresno where you can find your inner Gooner.
Arsenal Bar in Fresno – Spokeasy Pub
---
Santa Barbara Gooners
Further down the Pacific Coast Highway, you will find more sun-baked Arsenal fans at The Press Room in downtown Santa Barbara. We've had no reports of Santa Barbara's celebrity Gooner, Prince Harry, lurking around in shades and a red cap on Saturday mornings, but surely it's just a matter of time? Don't forget to check our soccer tv guide to find out when is the next Arsenal match on.
Arsenal Bar in Santa Barbara – The Press Room
---
Gooners Groups In Southern California
Arsenal Los Angeles
The Fox & Hounds in The Valley is one of the most established soccer bars in California, and indeed the nation. This famous West Coast soccer pub has been showing live soccer in Studio City since Herbert Chapman was manager. They've been home to Arsenal Los Angeles since 1998 before Arsenal America was founded.
The club has some cool Arsenal Los Angeles tee shirts you can check out on their website. They are also the only California Arsenal supporters group that doesn't include the word 'Gooners' in their name, so we commend them on their originality.
Arsenal Bar in The Valley – The Fox & Hounds
---
Los Angeles
Gooners
A short hop over the Hills brings you to the original Los Angeles area Arsenal club. The Los Angeles Gooners watch Arsenal games over in Culver City at Joxer Daly's. It's a good spot for celebrity Gooner spotting, considering its proximity to some major film studios.
Arsenal Bar in Los Angeles – Joxer Daly's
---
Beach City
Gooners
The advantage of early morning EPL matches on the West Coast is the opportunity to spend the rest of the day sunbathing. The Auld Dubliner where the Long Beach Arsenal fans gather to watch games is conveniently located between Santa Monica and Huntington Beach, offering miles of golden Pacific Coast beaches. Take a day trip to Catalina Island if you're feeling inspired by the result.
Arsenal Bar in Long Beach – The Auld Dubliner
---
Orange County
Gooners
The next stop on our tour is Orange County, home to a large community of ex-pat Arsenal fans. The Orange County Gooners were formed in 2010 and meet at Chapter 1 in Santa Ana (housed in an ex-bookstore) for every Arsenal match. The club also gets together with the other regional Arsenal clubs in California to host events.
Arsenal Bar in Santa Ana – Chapter 1
---
North County
Gooners
North County Gooners are one of two Arsenal groups in the San Diego area. Based in Carlsbad, the club watch games at Grubby's. Enjoy Gunners games under the palm trees with a plate of great Mexican food.
Arsenal Bar in San Diego – Grubby's
---
San Diego
Gooners
Finally, we reach the southernmost of the California Arsenal fan groups and one of the closest to Mexico that we've found so far. Tijuana is a day trip over the border, but if you're planning to stay Stateside for the match then you should head to the Bluefoot Bar – The North Bank of North Park.
Arsenal Bar in San Diego – Bluefoot Bar
---
How To Watch Arsenal in the USA on TV and streaming.
Check our soccer TV guide for kick-off times and channels