And so the inevitable happened and Pep Guardiola was finally unveiled as the manager of Manchester City from 2016/17 onwards this week, about a year after it became blindingly obvious that that was what was going to happen.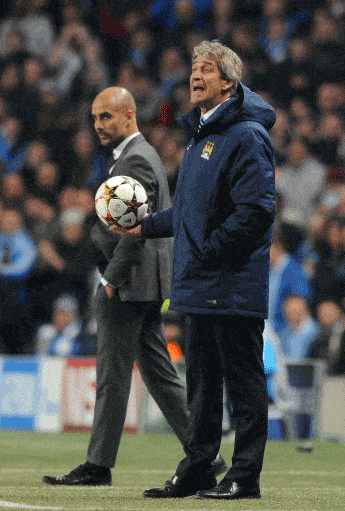 By Dave Bowler
The credentials of Guardiola need not detain us here, though we might point out that said credentials have never been tested at a club that does not already have the resources to blow virtually all its national competitors out of the water.
Instead, let's dwell a while on the way that Manuel Pellegrini has been treated, for it is a shame and something of a scandal that the man is being ushered out of the Etihad like a bad smell.
This is, after all, the man who delivered the league title a couple of seasons ago, is in the League Cup final already this term and is very much still in the running for the three remaining competitions that City have entered this term. Where did it all go wrong eh?
Surely he deserves better treatment than this, for he is now required to front up Manchester City over the next four months, all the while knowing that his club have concluded that he is not fit for purpose. That's a pretty cruel and unusual punishment to inflict on a man of real dignity isn't it?
In the financial stratosphere in which City operate, patience is not a virtue but a sin and so you can see why they fell over themselves to get Guardiola, but could they have not at least kept this under wraps until season's end? Or paid Pellegrini off and let him leave the scene? It's also a high risk strategy. What if he delivers the Champions League and / or the Premier League? Ramps up the pressure on Guardiola doesn't it?
Pellegrini
From the point of view of the English game, it will be sad to see Pellegrini go because, by and large, he has brought a gravitas and a dignity to the Premier League that is otherwise in pretty short supply. He always seemed like a man with more to him than mere football, a hinterland. Good God, it even appeared as if he might have read a book or two and watched the odd black and white movie.
He also played an attractive version of the game, the kind that would have gone down rather well across Manchester in fact. It's a shame that a Tevez style move is all but impossible, for if Van Gaal does go at season's end as seems increasingly likely, Pellegrini would be a very good fit there.
Alternatively, were Chelsea to go for him, he might finally bring a few neutrals onside there, rather than making them the club that pretty well everybody loves to hate. He could usher in a more welcoming, inclusive, expansive era at the Bridge, something that would certainly do them no harm at all.
The likelihood is though that he will head back to Europe, perhaps even home to South America, leaving our game to be monopolised by the grimacing, scowling denizens of the dug out. It's not a good look, is it?