At the end of the January transfer window in 2016, when Manuel Pellegrini mentioned in passing that he was leaving Man City, it seemed then as if City had pulled off the greatest coup in years by replacing him with Pep Guardiola. Months before he even arrived at the Etihad, he was being lauded as the man who would take City to English and European domination.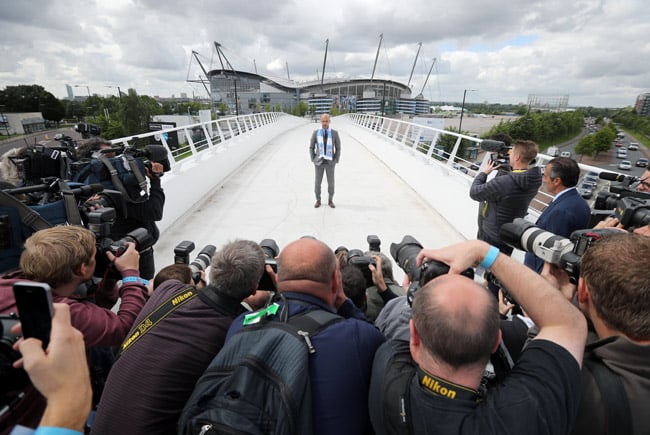 By Dave Bowler
Living up to that hype was always going to be tough but as we come towards the climax of his first season, it's hard to see it as anything other than a damp squib, all the more so after they were beaten by Arsenal in the FA Cup semi-final.
Indeed, that game was something of a microcosm of the season for although you could argue they were very unfortunate with their disallowed goal, they still had the lead, failed to see the game through against a fragile Arsenal side for whom everything has collapsed in recent weeks and then succumbed to them. That is disturbing stuff for a club with City's ambitions.
It means that for the first time, Guardiola is going to end a managerial season without a trophy and some are starting to ask if the Emperor is just a little bit under dressed?
There is still a lot of football left to play and it remains possible, if highly unlikely, that City could end the season as runners up to Chelsea. But ahead of a seismic Manchester derby on Thursday night, the real fear on the blue side of the city is that they might yet not even qualify for the Champions League.
Psychological Damage
A United win would take City out of the top five and while they would still be able to overhaul Liverpool with their game in hand, Arsenal could match City by winning theirs. Lots of ifs and buts remain to be answered, but you wonder just what psychological damage a United win would do to the City dressing room after the FA Cup slipped through their grasp last Sunday?
And what damage would a Mourinho win do to Guardiola, the more so if United were to then finish above them in the league, a scenario that few would have placed money on at the start of the season?
It certainly leaves him with questions to answer. Without belittling his achievements elsewhere, this season hasn't seen him deal with the accusations of being a flat-track bully, that winning titles, domestically at least, with Barcelona and Bayern Munich wasn't the toughest job on earth.
Now that he is in a league with four, five, six genuine title contenders, a league that means he cannot protect his players ahead of the Champions League, his gifts look rather less impressive.
Player Issues
Taking on a player as popular as Joe Hart from day one was probably not the wisest course of action, then there was the Yaya Toure saga and persistent doubts about Sergio Aguero's state of mind all beg questions about his man management skills that refuse to go away.
The frailty of Claudio Bravo bring into question his judgement on players while the failure to adequately replace the obviously ailing Vincent Kompany seems incomprehensible. It all seems a very thin return on the £160million invested in last summer's transfer market.
Beyond the United game, City's run in looks benign enough. A victory on Thursday could usher in a 100% run to the end of the campaign that would take them to 82 points – one more than Leicester won the title with 12 months ago – and, most likely, third place.
While that wouldn't answer all the critics, it would represent a first season that's better than Jose's unless he wins the Europa League, better than Klopp's, and he'd already had an extra six months to acclimatise.
But it will not be better than Conte's. And at Manchester City, that's what counts.