Having officially announced his retirement from football this week, Wayne Rooney will be remembered as a player of unique natural ability and for moments of sublime skill.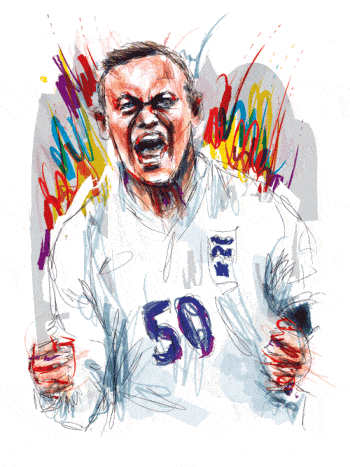 Despite going down as one of the best footballers of his generation, however, there is also a sense that Rooney never quite reached the grand heights his talent warranted, partly due to ill-timed injuries but also a willingness to prioritize what was best for the team over individual glory. 
By Greg McKay 
Rooney burst onto the scene in 2002 when as a mere sixteen year-old substitute against Arsenal, he scored a brilliant, curling right-footed effort from distance against England international goalkeeper David Seaman. The goal would be the first in a highlight-reel filling career the Englishman would subsequently embark on in the years to come. At the age of eighteen, Rooney left boyhood club Everton for the bright lights of Manchester United. 
Under Sir Alex Ferguson's guidance, Rooney went on to win numerous honors—including multiple English Premier League and Champions League titles—and in the process scored 253 goals for United to make him the club's top goalscorer of all time. More than a few of the goals were truly spectacular. 
There was the 2005 goal against Alan Shearer's Newcastle where Rooney was mid-argument with the referee when the ball popped out to him twenty-five yards from goal and he lashed a stunning volley into the top corner. In 2011, Rooney hit a bicycle in the Manchester City derby to keep United's title pursuit on track and pin back the hopes of the upstart Citizens.
Even later in his career with Major League Soccer's D.C. United, Rooney contributed an iconic moment when, in the dying minutes of injury time against Orlando City, he chased down an opponent, won the ball back with a last ditch sliding tackle and then hit a perfectly placed cross-field ball to Luciano Acosta for the winner.
Tenacity
For all his individual brilliant moments, Rooney was also renowned for his tenacity and guile on the pitch. In some ways, he represented one the last vestiges of a more fiery brand of English football. Unafraid to berate officials, teammates and opponents or throw in the odd dirty tackle, Rooney retired in an age where players are more likely to swap jerseys in the tunnel than have a bust-up with their rivals. 
Though Rooney's trophy cabinet is full and his reputation as one of the greatest footballers of his generation unimpeachable, the Englishman never quite hit his stride at the international level and in some ways was a victim of his team-first mentality. Most commentators look to the 2004 European Championships as Rooney's best chance to lay down a marker on the international stage.
England
England was very much in the midst of a golden generation, with Scholes, Gerrard and Lampard providing a wealth of talent in midfield. After a series of impressive displays in the group stage, Rooney was injured in the quarterfinal clash with Portugal and England were unceremoniously eliminated on penalties. 
For Manchester United, Rooney is no doubt one of greatest to ever don the red shirt. But, he spent several years in his prime catering in some ways to the talents around him, often doing the hard work to accommodate the likes of Ronaldo, Berbatov and Tevez.
Ferguson knew he could trust Rooney pretty much anywhere in the park, whether out wide, up front or even at times deeper in midfield. Rooney always seemed willing to play whatever role was needed and one wonders if he missed out on individual accolades because he wasn't always the central focus of the team. 
Regardless of whether he fulfilled his potential, Rooney was an absolute joy to behold from the moment he stepped on as a substitute against Arsenal in 2002 to his retirement into management this week. A singularly committed, naturally talented footballer the likes of which are increasingly rare in today's game.