The USMNT rode another standout performance from forward Jesús Ferreira to a 6-0 win against Trinidad and Tobago in the final match of group play on Sunday night before 40,243 fans at Bank of America Stadium. Ferreira registered a first-half hat trick, while Cade Cowell, Gianluca Busio and Brandon Vazquez added second-half goals as the USA clinched the top spot in Group A with a better goal differential than Jamaica, which also finished with 7 points.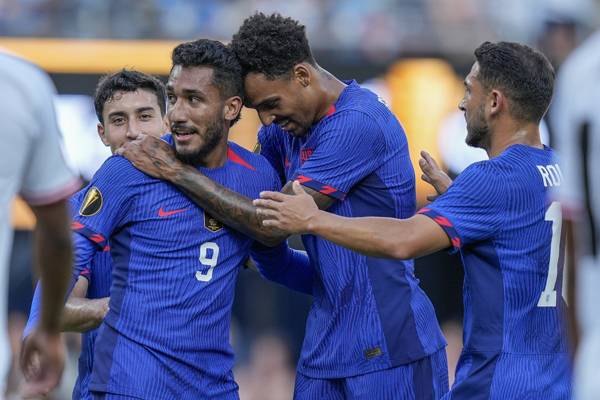 USA 6 Trinidad & Tobago 0
The 22-year-old Ferreira – who also scored three against St. Kitts and Nevis on Wednesday – became the first USMNT player to register hat tricks in consecutive matches. Cowell and Busio each scored their first international goals, the 19-year-old Cowell doing so just over a month after leading the USA with three goals at the FIFA Under-20 World Cup, while the 21-year-old Busio did so down the road from his hometown of Greensboro, N.C. Vazquez scored his second of the tournament and third overall late in stoppage time. On the defensive side of things, Matt Turner made three saves to earn his 20th shutout and 20th win – the most of any U.S. goalkeeper in both categories with 30 appearances.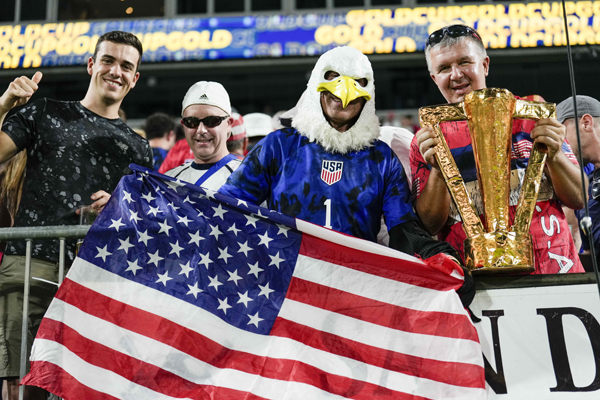 The USMNT picked up right where they left off midweek having recorded a matching scoreline against St. Kitts, looking bright from the opening whistle. Ferreira got things going at the quarter hour when he finished a nice build-up which included left back DeJuan Jones being involved from his own half and providing his first career assist as Ferreira finished from close range.
While overmatched, the Soca Warriors did have a few threatening chances, first from Joevin Jones attempting a volley that sailed over the crossbar and then Levi Garcia forcing U.S. goalkeeper Matt Turner to stay focused and make a save from a close-range shot. 
The USA stayed in control and doubled the lead in the 38th when Ferreira got a rebound off goalkeeper Marvin Phillip and shot on goal, eluding the attempt by defender Sheldon Bateau to clear it off the line.
Ferreira finished his first-half hat trick in stoppage time, when he converted a penalty kick after Djordje Mihailovic was taken down in the box.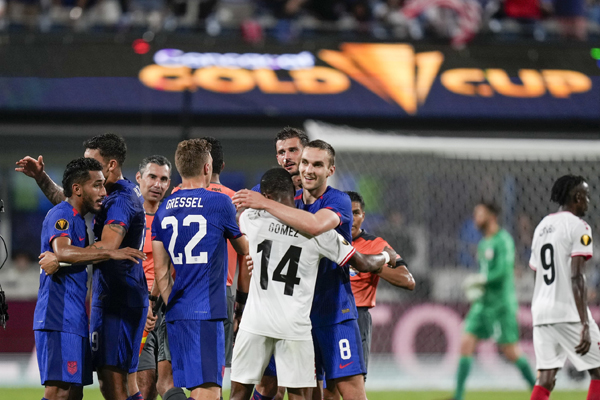 Turner kept Trinidad off the board again early in the second when he came off his line to deny Garcia from close range and then could only watch as Shannon Gomez rattled a blast from distance off the left post.
The USMNT took back control minutes later, as second-half substitute Cowell picked off a back pass and went alone at goal before rounding the 'keeper for his debut goal. Minutes later Cowell nearly added another but his shot from inside the box clanked off the left post.
Busio then added his goal with 10 minutes left from 12 yards out and Vazquez ended the rout with a nifty chip from the left side deep in stoppage time.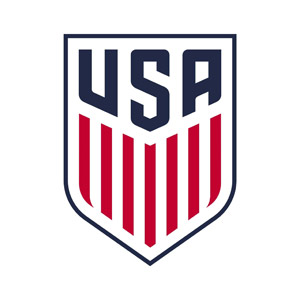 Lineups:
USA: 1-Matt Turner (capt.); 5-Bryan Reynolds (2-DeAndre Yedlin, 77), 12-Miles Robinson (4-Matt Miazga, 46), 20-Jalen Neal, 15-DeJuan Jones; 6-Gianluca Busio, 8-James Sands, 14-Djordje Mihailovic (19-Brandon Vazquez, 70); 17-Alex Zendejas (11-Cade Cowell, 61), 9-Jesús Ferreira, 10-Cristian Roldan (22-Julian Gressel, 61)
Substitutes not used: 18-Sean Johnson, 23-Gabriel Slonina, 3-Aaron Long, 7-Alan Soñora, 13-Jordan Morris, 21-John Tolkin
Head Coach: B.J. Callaghan
TRI: 1-Marvin Phillip; 16-Alvin Jones, 5-Leland Archer, 4-Sheldon Bateau, 18-Triston Hodge (9-Kadeem Corbin, 65); 11-Levi Garcia, 6-Luke Singh (14-Shannon Gomez, 46), 15-Neveal Hackshaw, 3-Joevin Jones (17-Andre Rampersad, 46); 10-Kevin Molino (capt.) (13-Real Gill, 46), 19-Malcolm Shaw (20-Kaile Auvray, 70)
Substitutes not used: 21-Nicklas Frenderup, 22-Denzil Smith, 2-Aubrey David, 7-Ryan Telfer, 8-Ajani Fortune, 12-Kareem Moses, 23-Molik Khan
Head Coach: Angus Eve
The USMNT will next play the second-place team from Group D in the quarterfinals on Sunday, July 9 at TQL Stadium in Cincinnati, Ohio (8 p.m. ET; FOX and Univision Networks). Group D will conclude on July 4, with Guadeloupe, Guatemala and Canada in line to finish first or second. The USMNT has advanced to the quarterfinals of all 17 editions of the Gold Cup.