Statto.com have released their all time top flight table of teams covering EPL and Division One teams over more than a century of football  – The EPL GOATS.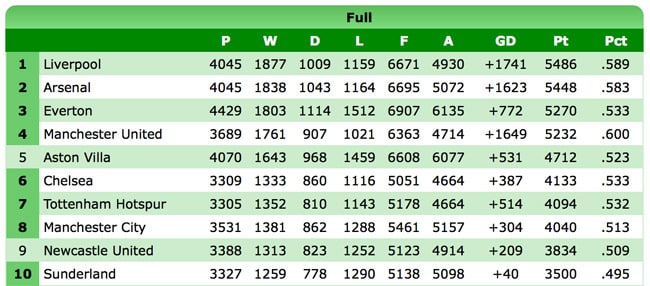 The All Time Top Flight League Table – The True EPL GOATS
By Dave Bowler
There are some who reckon that history teaches us nothing, but I suspect that that's merely a reflex action to cover up their own ignorance. Because if you want to know where you're going, you've got to have a good idea of where you come from and how you got to where you are now.
In footballing terms, history is, in fact, pretty much everything, and not even the all-encompassing might of the Premier League can hide that. Don't believe me? Then let me point you in the direction of some fine work carried out by the good people of statto.com, who have recently published an all-time top flight table, covering the old days of Division One right through to the Premier League of today.
A little look at the top eight is ridiculously instructive. Despite the fact that this table covers nearly 130 years of football, seven of that top eight currently make up the top seven in the Premier League, the missing link being Aston Villa, rocking up in fifth place behind Liverpool, Arsenal, Everton and Manchester United, with Chelsea, Tottenham and Manchester City following hard on the heels.
Top 10 English Teams
When you then note that the top ten is rounded out by the north-eastern giants Newcastle and Sunderland, followed in at number 11 by West Bromwich Albion, it becomes pretty apparent just how big a role history plays in the present day. Once a giant, always a giant.
Why? Because great history is the oil that fuels the engine of the virtuous circle. Had success in the past? Then you probably created a good fanbase haven't you? That then perpetuates itself downs the generations because a shrewd football club, one that understands why it exists – and it exists for reasons far more complex than simply the stuff that happens at 3pm on Saturday – will do its best to nurture that support, to expand it, to draw fresh faces in, to welcome new people to the bosom of the family.
Football's greatest truth is that fanbase, which springs from your tradition, matters. It matters more than anything because the thousands that back a club home and away are the lifeblood of it all, the drivers of future success. Yes, they generate money through ticket sales, but they also attract investment, more important than ever in the modern game, as we ourselves have proved this season.
Top 20 English Teams
Of course, it isn't quite that simple. Following us, the rest of the top 20 is littered with giants who have fallen away from the pinnacle – Sheffield Wednesday Blackburn, Bolton, Wolves, Forest, Derby. That is a timely reminder that while our inheritance set us on our feet, you have to keep standing up and walking forward.
That said, it is a salutary reminder that stories of rises from nowhere such as Bournemouth and Swansea's are few and far between. It also makes you wonder if these are sustainable stories, whether if we revisit these tables in another 50 years clubs such as those will have breached that top 20 and still be flourishing.
The omens aren't great, but perhaps the huge wealth being generated by the Premier League will cause a generational shift, will help those more recent arrivals on the top flight scene to stay in there. I'm not betting on it mind you.