John Langford walks us through some of the most iconic goal celebrations of all time – including Robbie Fowler and his cheeky toot, Eric Cantona, and Gazza's 'dentist chair'. So without further ado, here they are;
Top Ten Goal Celebrations
Eric Cantona 
Manchester United vs. Sunderland (December 1996)
Premier League
After facing criticism in the press for recent under-par performances, Cantona responded in his next game by picking up the ball just inside the Sunderland half, twisting and turning his way past a couple of befuddled defenders, driving deep into the Black Cat's half and playing a cheeky one-two with Brian "Choccy" McClair before placing a nonchalant chip over the stranded goalkeeper.  Then he just sort of looked around blankly as if to say, "Au contraire le Anglais press."
Jürgen Klinsmann 
Tottenham vs. Sheffield Wednesday (August 1994)
Premier League
When Tottenham signed Jürgen Klinsmann from Monaco in 1994 the German international brought with him a fierce reputation for both goal scoring and diving.  On his Spurs debut away at Sheffield Wednesday the home fans greeted Klinsmann by holding aloft cards with diving scores.
So after nodding away his first goal for his new club, Klinsmann gave the fans what they'd been waiting for: A great big dive.  The celebration made quite a splash with the press and soon schoolboys everywhere were imitating it.  Klinsmann later admitted that the idea wasn't his but was none other than poker-loving playboy Teddy Sheringham's.  Classic Teddy!
---
Robbie Fowler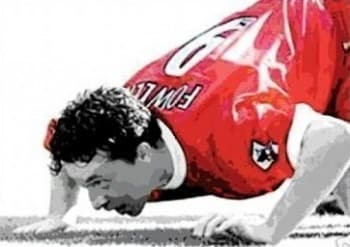 Liverpool vs. Everton (April 1999)
Premier League
In response to Evertonian taunts that he had partaken in recreational drug use, Robbie Fowler celebrated converting a penalty during the Merseyside derby by pretending to snort cocaine from the Anfield touchline.
Knowing the move would land his star player in hot water with the FA, Liverpool manager Gérard Houllier tried to cover for Fowler by insisting the celebration was in fact a Cameroonian grass eating celebration that Fowler had learnt from teammate Rigobert Song.  The FA wasn't buying it and Fowler was hit with a heavy fine and a four-game ban (plus two extra games for mooning Graeme Le Saux).
---
Paul Gascoigne
England vs. Scotland (June 1996)
Euro 96
During a pre-tournament trip to Hong Kong, Gazza and drinking buddy Teddy Sheringham were photographed… how should we put this… enjoying themselves on a night out.  The infamous snap caught the England duo post-dentist chair – a drinking game where the "patient" simply lies back and opens wide as alcohol is poured directly into their mouth.
So after making a mockery of Colin Hendry and scoring one of the greatest and most crucial England goals in Wembley history, there was only one possible celebration: A reenactment of the dentist chair debauchery.  Gazza laid back and opened wide while Teddy squirted juice into his cakehole.  It was glorious.
---
Finidi George
Nigeria vs. Greece (June 1994)
World Cup 94
Is it a bird?  Is it a plane?  Or Is it a dog pissing?  No it's Nigerian Finidi George's kooky goal celebration after scoring a deft lob against Greece during a Group D game.  George ran to the corner flag, got down on all fours and lifted his hind leg to pee (he didn't actually pee).  There seems to be no reasonable explanation for the celebration other than George quite likes dogs.
Greece were on the receiving end of an equally bizarre celebration in their opening game of the competition after Diego Maradona scored Argentina's third in a 4-0 victory.  Diego sprinted like a lunatic towards a nearby television camera and screamed into it like a man possessed, crazy eyes and all.  The celebration aroused suspicions that the little Argentine was on drugs.  Turned out he was.  He failed a drug test and was promptly sent home.  He should've just pretended to be a pissing dog – nobody would've suspected anything.
---
Mario Balotelli 
Manchester City vs. Manchester United (October 2011)
Premier League
"WHY ALWAYS ME?" asked Man City's controversial Italian Mario Balotelli after his goal against Manchester United in October 2011.  Possible answers include: 1) Because the day before the game you let off a firework in your bathroom and set fire to your house.  2) You once drove into a women's prison in Italy just to "have a look around."  3) You threw darts at a youth team player as part of a "prank."  Still, you have to admire the arrogance of the man to get the shirt printed up… What if hadn't scored that day?
---
Jimmy Bullard
Hull City vs. Manchester City (November 2009)
Premier League
In the same fixture the previous season Hull manager Phil Brown chose to embarrass his players by holding his half-time team talk on the pitch.  He gave the lads a right old rollicking.  So after equalizing late in the game the following season, Bullard and his teammates recreated the scene.  While some managers might have found the tableaux somewhat disrespectful, Brown found it hilarious, saying: "It was a fantastic celebration.  Great comedy is about timing."\
---
Bebeto
Brazil vs. Holland (July 1994)
World Cup 94
After putting Brazil 2-0 up against Holland during their quarterfinal showdown, Bebeto ran to the side of the pitch and started rocking an imaginary baby.  The celebration was a tribute to his wife who days earlier had given birth to their third child.
That child, a boy named Mattheus, is now 19 and plays for Brazilian club Flamengo as well as the U-20 national team.  Bebeto's goal was notable because it was one of the first examples of a referee playing an advantage when an attacking player in an offside position is deemed not to be interfering with play.  Bebeto's teammate Romario was casually walking back from a clearly offside position causing the Dutch defense to completely stop in anticipation of the referee's whistle.  The decision never came and Bebeto was left with just the goalkeeper to beat, which he duly did.  The celebration is now a favorite amongst new fathers.
---
Stuart Pearce
England vs. Spain (June 1996)
Euro 96
After missing a penalty for England in the 1990 World Cup semifinal shootout against Germany, England stalwart Stuart Pearce was given the chance of redemption at Euro 96.  A goalless quarterfinal against a stubborn Spanish side meant that England's fate and the hopes of a nation would come down to the lottery of penalties.
A lesser man wouldn't have taken one.  But Pearce stepped up and smashed the ball into the bottom left-hand corner of Andoni Zubizarreta's goal.  Six years of pent-up emotion then poured out of Psycho's soul as he punched the air screaming like a patriotic maniac.  His face contorted into a plethora of emotions, gnarling and writhing in relief, joy and atonement.  Was he crying or was he smiling?  It didn't matter because England were through and Psycho was back.
---
Stjarnan F.C. 
The Entire Team
All The Time 
Icelandic club Stjarnan F.C. have gained notoriety the world over for their highly original goal celebrations which leave you wondering if they spend more time in training choreographing than they do playing football.  Some of the best include: The human toilet, the human bicycle, giving birth, and a Rambo-like shooting spree.