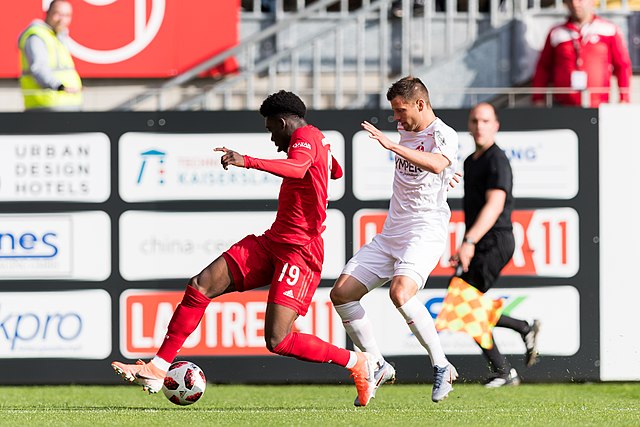 The Canucks are back. After a thirty-six-year dry spell, the Canadian national soccer team made it to FIFA World Cup in Qatar, leaving behind the North American soccer behemoths USA and Mexico in CONCACAF qualifying round. 
Top 5 Canadian Soccer Players in Europe to Watch
Canadians battled it out with the sport's household name in the group stage fair and square, giving Croatia, Belgium, and Morroco the run for their money, despite failing to pull off an upset in any of the matchups. The team owes the newly-found character to its young core of players, who are already playing for Europe's leading soccer clubs in the Big Five. 
Below you'll find the list of the best five Canadian soccer players in 2023 and their potential to attain the status of legends. 
Stephen Eustáquio 
Stephen Eustáquio is a Canadian midfielder currently playing for FC Porto of Primeira Liga. FC Porto's connection with Canadian soccer seems to run deeper than just the level of personnel. Namely, Porto agreed to a four-year shirt sponsorship deal with Betano, a betting company with one of the strongest presences in the Canadian sports betting industry. For more detail, consult LegalBet Canada experts' advice on Betano Canada.
In the meantime, focus on the youngster who spent hours studying the world's greatest soccer players, including David Silva, Cristiano Ronaldo, and others. As a member of FC Porto, Eustáquio was the winner of the Primeira Liga in the 2021-22 season and the Taça da Liga Portuguesa winner in 2023. 
For the national team, he debuted in November 2019, and has been a standard player in the rotation in the 2021-22 Concacaf / FIFA World Cup Qualifiers round and FIFA World Cup Qatar 2022. 
Alphonso Davies
Alphonso Davies' story begins in a Ghanaian refugee camp, where he was born to parents who had fled the civil war in Liberia. His family immigrated to Canada when Alphonso was five, and little did they know that he would grow to become Canada's most decorated soccer player at the age of 22. 
Alphonso Davies is a star defender of Bayern Munich, for which he's played 102 matches and won 71. He took the German Championship title for four consecutive years, starting with the 2018/19 season. He also won the UEFA Championship League in the 2019/20 season while playing for Bayern Munich, together with the Supercup in 2020, 2021, and 2022. 
Davies is considered to be one of the fastest and strongest runners in the Bundesliga, with a top speed of 36.2 km/h, which secured him the title of third fastest runner in the league. He also boasts a pass success rate of 87.74% and a tackle success rate of 59.81%, placing him in third of internal team statistics.  
In fact, not only is he talented at the defensive end of the pitch but at the offensive one as well. He scored Canada's first goal at FIFA World Cup in Qatar against Croatia, which went on to beat Morroco 2 to 1 to claim third place in the tournament. 
Jonathan David
Jonathan David 'is a 22-year-old forward for the Canadian national team and LOSC Lille of the French Ligue 1. He's scored 21 goals in 32 caps for Canada and has been on fire this season for Lille, scoring 19 goals in 27 appearances. 
In fact, with his hat trick for LOSC Lille against Olympique Lyonnais in Round 27 of the national championship, he became the first player to go over a 50-goal mark after 43 years.  
His speed, agility with the ball, and decisiveness in front of the goal make him a lethal offensive weapon worthy of the nickname "The Iceman".
Cyle Larin
Cyle Larin, an Ontario native, has been a cornerstone of Canada's national team since his debut  against Bulgaria on May 23, 2014. He represented the team at CONCACAF Gold Cup, FIFA World Cup and has logged more than 20 caps. 
He is currently playing for Real Valladolid in the Spanish La Liga, on loan from Club Brugge, a team in the Belgian Pro League.
His stint with the Turkish Besiktas was one of the most productive Larin had on an international stage. He scored 23 times in 45 games for Besiktas and propelled them to a Turkish double in 2020/21. During the 2021 season, he netted the ball 14 times for Canada, cementing his status as one of the most important strikers on the national team. 
Tajon Buchanan 
Tajon Buchanan is a Canadian winger currently playing for Club Brugge, together with his fellow countryman Cyle Larin. In 2021, he signed a three-year deal with Club Brugge for an undisclosed amount. That same year, he made his senior team debut for Canada against Aruba. His debut was a 7-0 blowout to which he contributed with two assists. 
Buchanan played gloriously at the Gold Cup, securing himself the 2021 CONCACAF Gold Cup Best Young Player Award and a spot on the national team for FIFA World Cup in 2022. 
Final Thoughts
Canada is not widely considered a soccer powerhouse in America, but that is about to change. As the country prepares to co-host the 2026 FIFA World Cup together with Mexico and the United States, these players are undoubtedly going to be the focal point of the squad and drive the team's push for the first-ever knockout stage.