We waited for such a long time in England for it to happen. There were times we thought it might not, happen, but it has been a relentless pursuit of the crown by a national institution and, eventually, the record books have been written. No, not by the Queen, Wayne Rooney, hard as it might be to tell the difference since the hair transplant.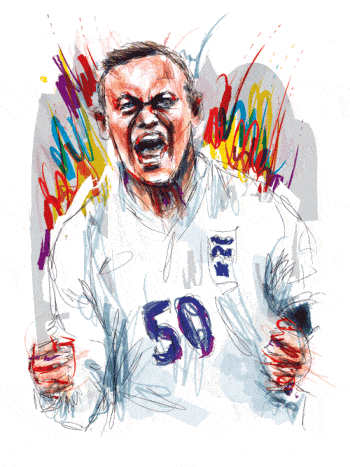 That Rooney became the first man to notch 50 goals for England, thereby breaking a record held by Sir Bobby Charlton has plunged the Fourth Estate into an orgy of comparison, desperately trying to work out who is the better player and even if either of them is really England's greatest goalscorer.
Names like Lofthouse, Shearer, Lineker, Greaves, Hurst, Lawton, Owen, Bloomer and a host of others from across a century and more of international football have been bandied about as pundits look to get to the bottom of it all, without achieving anything more than generating a lot more methane to head up into the atmosphere.
The trouble is that it is a largely fatuous argument. Such are the changes in the game that there is no truly comparable yardstick that goes across the years to let us make a decent judgement on whether Rooney is better than Bobby Charlton, whether Bobby Moore outshines John Terry, whether Denis Law is superior to Stephen Fletch… oh, hang on. But you get the gist.
No Easy Games?
Why is it so difficult? A multitude of reasons. Ask any international coach worth his salt – or desperate for an excuse – and he will tell you that there are no easy games any more. That's palpable nonsense – have you seen San Marino, Gibraltar, Andorra? – but there aren't as many as there used to be.
It used to be routine that anyone outside the biggest nations could expect a four or five goal caning, something that gradually began to change from the mid 1970s onwards as even the minnow nations became more schooled in tactics and formations. Look at Greece, from whipping boys to miserly European Champions inside 30 years.
On the other hand, you get to play the really bad nations more often, so while there are fewer sides against whom you can fill your boots, there may actually be more opportunities to do it than you used to have.
Tactics
Equally, while tactical improvements have made defences better, rule changes have almost all been in favour if attackers over the last 30 years. Tackles that you get sent off for these days wouldn't have been a foul years ago, and where the tackle from behind is now outlawed, it used to be compulsory.
Changes to the offside rule have also helped strikers, though the ruthlessness with which the offside trap is used has been more and more refined to combat that.  And then there's the football itself. Instead of the lump of concrete that a wet leather cased-ball used to be, nowadays it resembles a beach ball, one that artists like Andrea Pirlo can manipulate in ways nobody ever dreamt half a centuy ago.
Of course, when nations are confronted with foregone conclusions, the big players are often rested, or substituted early, something that was not a consideration 50 years ago before substitutions were possible. Yet equally, go back to those days pre-Ramsey for example and the England team was picked by committee rather than manager.
The vagaries of election saw players rewarded for a consistent career by the handing out of a cap or two at the expense of better players. Nowadays we just play games where you can have 10 subs to do that.
Pitches
Pitches are irrefutably far, far better than they were in the past, but that cuts two ways too. You'd argue that an artist with perfect technique would thrive on good surfaces and that's undeniably true, but equally, defending on a billiard table is easier than doing it on a mud heap.
Defenders tend to make fewer mistakes on good pitches than they did when the ball is sticking in puddles, another area where difference across the ages is magnified.
Strength and conditioning is an area where the game has made huge strides and if you look at the physical specimens of today and the greats of the black and white era, you will see quite a difference. In general, players of today are faster, fitter, they can play at higher tempos for longer, cover more ground.
Their nutrition is better, their equipment better – if you've seen the shirts and the boots that internationals wore in the '50s, you'll know they are light years away from today's streamlined kit.
Performance
That should mean a greater level of performance but at the same time, opponents are similarly improved so there is no net gain. It may well be that players are so highly tuned they are prey to more muscle and hamstring injuries. Certainly the workload can often be greater than it was in the past if you are routinely playing Champions League football for example., but then again, if you can handle it, you get more opportunities to do something impressive don't you?
Television even plays a part. Until the 1990s, comparatively football games were screened. There is barely any footage of say Tom Finney or Nat Lofthouse. Here is enough of Wayne Rooney to keep a dedicated cable channel going for years. That has its plusses and minuses.
Ronaldo
All of Cristiano Ronaldo's moments of magic are there on digital film, preserved for evermore to show him in his pomp. There's also plenty to show him being a pillock, getting things wrong, behaving like a three year old. Swings and roundabouts.
Equally, virtually all we have of Stan Matthews is that grainy footage of him rescuing an FA Cup final from nowhere. Every passing year, that becomes more remarkable and the legend grows. We never see him having a stinker at Blackburn, while we've seen plenty of days when Rooney's done nothing – only a fortnight ago, he was being castigated by the press that, two penalties later, were lauding him.
The old pros do have one clear advantage of course. History, as we recall it, is almost always good news, certainly in sporting terms. We discard the bad days, remember the miracles.
Nostalga
We also bathe our heroes in the nostalgic glow of easier times in the company of parents, siblings, friends, they conjure up remembrances of times passed and make us feel warmer towards them as a result, the same reason why a record you recall from your teens will always have greater emotional clout than one you find in your forties, whatever the relative aesthetic merits.
In essence, for all the changes, the game remains the same. Good players are good players in any era because they have the ability and the attitude to handle whatever is thrown at them. If you had to make a call, you'd say that attackers of yesteryear might prefer to play now, while the defenders of today might find life easier back then.
But in the end, it's simple. Dalglish, Rooney, Best, Law, Gerrard, Charlton, whoever. Great players will always be great players, whatever the era. You don't have to compare then. Just enjoy them.