First Touch caught up with Felix White of The Maccabees to discuss his love of Fulham F.C., Premier League predictions, and the surprising things he loves most about touring in the United States.
By Jon Langford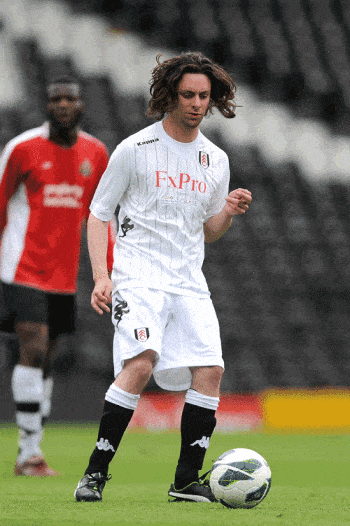 Hey, Felix. With so many London-based teams to choose from, how did you end up a Fulham fan? 
When I was really young, I used to go and watch Wimbledon a lot when they were in the Premiership, and I went to a few Chelsea games too, but I never felt at home at either club because they were just teams my mates supported. Then, when I was about 11 or 12, I asked my dad—who has no interest in football—if he could take me to a game.
He thought Fulham seemed like a nice club and so that's where we went. This is back when we were in the old Third Division. We were playing Plymouth and there was nobody there. My dad showed me how to take the train and how to pay to get in, and I've just been doing it myself ever since.
What's your greatest memory as a Fulham fan? Surely it was promotion to the Premier League in 2001? 
That was a magic time for a lot of reasons. I was a bit too young to fully appreciate it, but I remember watching a lot of older fans that were really emotional about it. It was like they considered it payoff for having to watch 30 years of terrible football. But I have to say that, personally, Roy Hodgson's era and the Europa League Final in particular is my greatest memory.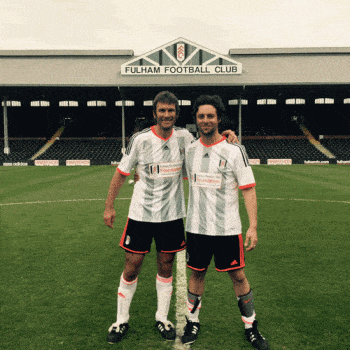 One of the players you watched in your early days going to Fulham games was First Touch's very own Matt Lawrence, who I hear you're now mates with and is a big fan of the band? How did that happen? 
[Laughs.] I was with Matt last weekend actually! In the match program last week there was a retrospect of Matt's time at the club and they used a photo of Matt with me, which made me very proud. I used to have posters of Matt on my wall because that was back when I first started going to games.
Then Matt went to Millwall, and my mate's a big Millwall fan, so we started this mutual Matt Lawrence appreciation club.
Anyway, about five or six years ago the band was playing in Brighton and after the show the promoter comes backstage and goes, "Some of the Crystal Palace team are here. Do you want to meet them?"
And I said, "Well, I don't know, who is it?" And he goes, "One of them's called Matt Lawrence." And I go, "MATT LAWRENCE?! MATT-F***ING-LAWRENCE?! Yes, I want to meet him!" So we met and it turned out that he'd been coming to see the band play since we started. We've been friends ever since. He's a wonderful guy.
Shahid Khan has owned Fulham for a little over two years now. What do you make of his tenure so far? 
What I will say is that I think it's shone a light on what a good job Al-Fayed did because he got a lot of bad press about all his eccentricities, but actually, the way the club was managed was solid, and financially the club was run very well for years. So I wouldn't like to comment until Shahid Khan has had a few more years.
It was a disappointing season for Fulham last year following relegation from the Premier League. Do you think there's any chance of promotion this year?  
In the Championship nothing would surprise me. We could finish bottom or we could finish top. And that could go for most teams in the division.
I'm a Leeds fan and I feel the same way.
What would you take as a Leeds fan? You'd take a playoff spot, wouldn't you?
I'd bite your hand off for a playoff spot.
Right now I'd take finishing in 10th place. I'd be pretty happy with that, and I think most Fulham fans would. We'd consider it progress.
What do you make of 18-year-old Patrick Roberts' move to Manchester City? How highly do you rate him? 
I think it's a negative consequence of Premier League sides having to fill quotas with English players. And I think in a roundabout way it's going to be a negative move for him because he's not going to play competitive football. He wasn't getting a game in the Championship last year—just ten minutes here and there at the end of games—so he's not going to get a game at City.
I mean, I don't blame him; he's obviously being paid an absolute fortune. If I was him, I would have been happy to stay in the Championship and see how I got on. You look at player like Wayne Rooney, for example, he really benefitted from his time at Everton because he was playing every week. And I just wonder whether that would've been the right thing for Roberts, too.
You've actually played in a couple of ex-pro and celebrity charity games at Craven Cottage, haven't you? That must've been an incredible experience? 
It was an amazing experience, but I hadn't played football since I was dropped from my school team when I was 14! I'd never even considered that I would play again—let alone that I would be in a small dressing room with people that were my heroes when I was 10. I was so out of my depth—I couldn't even control the ball!
Which ex-pros played?
A lot of our 2001 Championship side played: Sean Davis, Barry Hayles, Paul Peschisolido, Chris Coleman, Maik Taylor, Dave Beasant, Luís Boa Morte. And these are all players that didn't retire too long ago, so their touch hasn't deserted them. It was a humbling experience. If anything, it gave me perspective on how good you have to be to be a professional footballer, and I had no right to have ever even dreamed of it. The best thing about it, though, was how warmly they all spoke about Fulham Football Club and how much they loved their time there.
What's more nerve-wracking: playing at Craven Cottage with your heroes or performing live to 10,000 people?
Playing at Craven Cottage definitely—because I literally have no idea what I'm doing. The other one's my job, so I know how to do that! [Laughs].
Who do you think will finish in the top four in the Premier League this season? 
City. Chelsea. Arsenal. United.
In that order? 
[Long pause]. Yeah, in that order.
Okay, let's talk music. Congratulations on your first Number One album (Marks To Prove It). That must feel amazing? 
Thanks, mate. It was really magic. When it happened I never realized how great it would feel. And what's so great is that everyone who's involved with the band has been involved since the beginning, so I'm just really happy for everyone that's stuck with us.
Where were you when you found out that you were Number One?
We were about to fly to Romania. I was in WHSmith in the airport buying a copy of The Guardian because it had an amazing photo of Stuart Broad's face after he'd just bowled out Australia for 60. And the phone call came through, and I felt exactly how Stuart Broad looked in that photo.
What's your favorite track on the record and why? Which is your favorite to perform live? 
I think "Spit It Out" is my favorite, especially to perform live.
The album took two years to make. How difficult of a process was it? 
It took a year of being in the studio every day before we had anything. We scrapped a lot of music in the process. I'm not sure what it's like for other bands, but there was definitely a moment where I wasn't sure which way the whole thing was going. So, yeah, it was tough. We just kept trying and trying, and eventually it all came together.
The band is coming to the States to play the Austin City Limits festival in October and some headline dates. What do you like most about performing in the U.S.? 
I love baseball! I fucking love baseball! On our last tour, I'd go to bars and watch games. I love the clothes. I love that the games take ages. And I love that the people watching it aren't really paying any attention. I love that it's similar to cricket. Also I like the fonts in America. The fonts on road signs. I like the fonts on buildings. I think signs are designed very well in America.
What's the most Spinal Tap moment to happen to The Maccabees on tour?
FW: Well, just being in a band means every day is 50% Spinal Tap moments. But the worst thing that ever happened was when we were driving through the middle of America a few years back and we hit a deer. It wrote off the van, and we had to push it to a petrol station in the middle of nowhere. It was like something out of The Texas Chain Saw Massacre. Our white van ended up red from all the blood!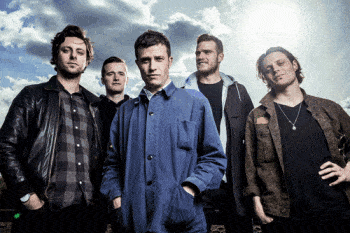 Marks To Prove It is available digitally everywhere. A special physical edition will be released exclusively in the U.S. this fall.  
See Maccabees live dates and ticket info here