Slaven Bilic is getting animated, which means the furniture is taking a bit of a battering. Not in the way it did in the television studio at the European Championship, where his passionate performances involved leaping on to the table to celebrate a Dimitri Payet goal.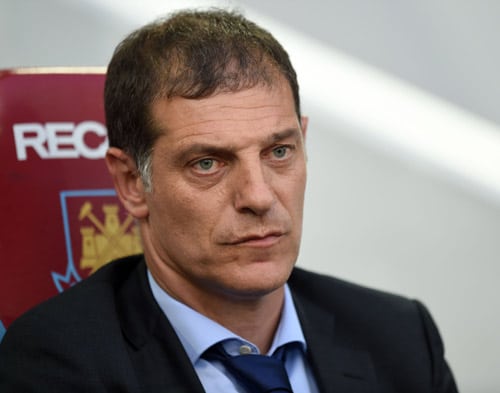 By Martin Samuel
Bilic is still in his seat. But glasses are shaking as he brings down his palm for added emphasis. And he emphasises… a lot.
'These days, people don't call Arsene Wenger the great football man, like they used to,' he says. 'Now they say he's naive — him, and all those type of coaches. Everyone talks about nice football but the age we are in, all they care about really is the result. And if you don't get the result, they kill you!
'They kill you in a very brutal way, the media, the fans, all of them. Even the managers who are very brave and want to play beautiful football, they are not secure. For eight out of 10 people, what was the label for Roberto Martinez? Naive. Naive! What did he want? He wanted to play great football! That's all.
'And I'm not saying I'm like that. I'm not, I'm not comparing myself — but people talk about keeping the ball, playing out from the back, but that's all it is. Talk!'
Crash. Bang. The cutlery bounces and comes to rest. It will be on the move again soon, when Bilic turns his attention to the price of English footballers, or the appointment of Sam Allardyce, or what attracts the finest foreign coaches to the Premier League.
Gaucho's
Most interviews these days take place in the sanitised confines of the training ground, with a representative of the club's media arm listening in. If the action moves outside it might be to a sushi bar, somewhere painfully healthy. Bilic's first question, 'Do you like meat?' suggests an earthier approach.
So we are in Gaucho's, a steakhouse, near his home in Canary Wharf. His hip plays up unless he watches his weight, he says, so he's restrained — lean steak, tomato salad, no bread, just the odd glass of red — unless you count the cigarettes.
There is quite the smoker's club in the Premier League this season. Liverpool request a smoking room for Jurgen Klopp on tour, Watford manager Walter Mazzarri sparks them up in the dressing room and Bilic arrives with a packet of Davidoff Classics, a luxury Swiss brand. He has always found it amusing that English football has such a strong drinking culture, but gets the vapours at the thought of a cigarette. As a player, he used to drink milk.
Not that it puts him off English players. Bilic had spent the day monitoring the negotiation for West Ham's latest signings, Andre Ayew and Arthur Masuaku. He loves both players, but insists his instinct is to try to buy English, or at least British.
Local Players
'My first thought is local, so a player from the West Ham area,' he says. 'Then English, then based in Europe. You need that core, that group of English players, that is where the spirit of the team comes from — but it is hard because they are so expensive. We tried to get Andrew Robertson from Hull, who is Scottish. I like him, he is good, he is young, and can improve.
'We thought we made a high bid, £7million, but Hull wanted £15m. What can you do with that? I speak to friends in Germany, they look at the transfer fees at English clubs, Championship clubs, and players are costing £12m. So when an English club calls, what do you think they say?
'But you have to try because you need that core English group. It is the heart of the club. Not just here. In Italy, you need Italians, in Spain, you need Spanish. People look at the great AC Milan team, Ruud Gullit, Marco van Basten, Frank Rijkaard — and they were fantastic players. But Milan wasn't them. Milan was Franco Baresi, Paolo Maldini, Alessandro Costacurta.
'It is like Juventus now. Sure, Paul Pogba and Sami Khedira, and Gonzalo Higuain — but that team is Gianluigi Buffon, Giorgio Chiellini, Claudio Marchisio. They are the ones. I know players in Italy, players I have worked with, players from Croatia. They will tell me.
Italians
"Before a match, three days in camp, and we all moan. But not the Italian players. They are like: this is what we do. Three days, so what?"
'The food comes round at night. Players are starving, they maybe take a bit extra here or there. Not the Italians. Wait for the dietician, eat what he says. If they have to go to bed hungry, they're hungry. It is a different attitude with the players from the home country; I can't explain it.
'When I came to West Ham, we had great players, Florin Raducioiu, Ilie Dumitrescu. But they weren't West Ham. West Ham was Steve Potts, Julian Dicks, Ian Bishop. Those were the guys you looked to in the dressing room. You've got to have it.
'Jose Mourinho goes to Manchester United. Everyone is wondering what he will do with Wayne Rooney — but who is the first guy he works into the team? Rooney. Everyone thinks Michael Carrick will leave. Has Carrick left? No.
'Mourinho had his English group at Chelsea, too. He knows John Terry is the guy who will be the manager on the field. The first guy to tell another player if he thinks something is wrong.
'We have that: Mark Noble, Andy Carroll, Aaron Cresswell, James Collins. I am not saying you have to be the loudest man, but it's good for a manager when you know you have a group who will drive the rest.'
Finding Players
So how to explain the absence of opportunity for English players, if the homegrown core is so vital? 'Well, it is getting harder to find these players if you are a club like West Ham, because the fees are so high,' Bilic explains.
'You can produce your own but for a manager that is difficult because nobody has time to fail. You play a lot of kids, it is a risk. Are they ready? Probably they aren't ready. Sometimes managers don't want to be the guy who plays the kids, because he gets the sack.
'They want to be the guy after the guy who plays the kids, because then the kids are ready and that manager gets the credit. It is hard to give young players experience in the Premier League, because nobody can make a mistake, even for one season.'
The price of failure is a recurring theme for Bilic. He looks at his Premier League colleagues — Pep Guardiola, Mourinho, Klopp, Mauricio Pochettino, Arsene Wenger, Antonio Conte, Ronald Koeman, Claude Puel — and there are nowhere near enough prizes to go around.
Other Tasks
Then there is his job. Qualifying for the Europa League's group stage, filling the Olympic Stadium, making West Ham's fans want to come back next year, trying to improve on last season's unexpected seventh place. Bilic has trust in his employers, but knows how quickly the landscape can change.
'You start each season at zero again, and last season means nothing,' he says. 'Look what happened to Mourinho at Chelsea. If it can happen to him, it can happen to any of us. You will be disappointed if you expect long-term credit.
'It's fine to have a contract, but in reality your contract is the next few months, so you might as well enjoy it. There is no point being afraid, not doing the things you wanted to do, putting a blanket over your head, oh my God, oh my God. The pressure is there anyway, and it is everywhere. Championship, League One, no different. So I decide to enjoy it.
'The problem is we can't all win. Someone has to come 19th, someone has to come fifth. But it is a special league. I'm not saying the best, because English clubs are not winning the Champions League — and in Spain and Germany the coaches will say they have no easy games, too. But it is not like England.
China
'China have money, but they don't have tradition. So English football is the best situation if you are trying to build. They have the history, the gates, they invented football, the media loves it, they have everything — and now money, too. Every club can have a project, can be somewhere else in five years.
'In France, there is a big difference between Paris Saint-Germain and, say, Montpellier. So Mourinho goes there, he wants to compete, but there isn't the competition in the title. In the end, you win the league at those clubs, you may still get the sack because it is not enough any more.
'People were looking at Guardiola at Bayern Munich and saying, "I can do that". So they come here because they want to compete.
'This league is particularly difficult because everyone gets the same money. The League basically says, "Stuff you, Manchester United — we are going to give Bournemouth enough money that they are not down there, they are up here, and they are going to compete with you…
Managing In England
'This is reflected in the managers that come. The best managers are happy to take any job in England. Not just the top five. Rafa Benitez goes to the Championship, because Newcastle is a massive club; Puel goes from Lyon to Southampton; Quique Flores — he is a world-class manager. He went to Watford! Now Walter Mazzarri, who did great with Napoli and Inter — he is at Watford, too!
'Managers aren't just looking for Manchester United, Chelsea, Arsenal and Liverpool. West Ham? That's great — because you feel you have the ingredients. Of course, Manchester City and Manchester United are better than us on paper, we know that. But we are good enough that if we play well, and they play a little bit below par — not s***, just a little off — with a bit of luck we can win.
'Football has changed. Leicester won the league, Atletico Madrid got to the final of the Champions League, smaller teams did well in the European Championship. All the managers are looking at this. If Albania have got a chance of beating France when they are organised, then let's get organised. It's not all going to be Iceland but I think you will now see a lot more defence-minded teams in the Premier League.
Changes
'In 2008, Spain were dominant and for years everyone wanted to be like them and Barcelona. Now it will be different. The fans will be shouting to organise. Is it good for football, for the spectators? I don't know. Don't get me wrong. West Ham are closer to Leicester than Barcelona. I am not a hypocrite. I admire Leicester, but…'
He pauses. '…and it is going to get worse for the biggest clubs. Say you are Manchester City. You want a striker. You already have Sergio Aguero, but you think Robert Lewandowski is better — I don't, but maybe you do. You spend a lot of money, but he improves you only this small amount, because he cannot be so much better than Aguero, it is impossible.
'Then you are West Brom. You want to buy Salomon Rondon — and he is a great striker, better than you have. He is going to improve you in a big way. Now, years ago, to do that deal you would have to sell Saido Berahino, who is your big asset. But now you don't. You can have Rondon, and Berahino.
'I asked my chairman for money this summer. I'm not saying we can compete with Manchester United, maybe not even Everton — but he did not tell me we had to sell Dimitri Payet or Manuel Lanzini to get what we needed. If we could find one, and we could afford him, we do it.
The Best League
'That is why it is the best league to work in, to play in, the most competitive one and the most covered one in the whole world. This is the NBA, this is Hollywood. And we are human, so we want to be a part of something big.'
Bilic might have been part of something very big had the Football Association decided to go with a foreign manager this summer. He was among the names floated, along with Wenger — the honorary Englishmen.
Ultimately, an early decision was made to go with Allardyce, his predecessor at West Ham. The locals prefer Bilic's brand of football but he isn't bothered by that.
'I think Sam will do well,' he insists. 'The players will respect him. He's a big man. He's Big Sam. You see him on the television, he fills the screen. You are looking for the board with the sponsors names behind. Where have they gone? You can't see them.
'Guardiola, he's not a big guy. It doesn't matter, he's Guardiola, the players will listen. And when Sam comes in, they will listen, too. He will get his point across because he's imposing — he's a guy who makes you pay attention.'
Article Courtesy of The Mail Online