Attorney Bill Copeland made some controversial jokes at a Scottish awards ceremony where Celtic's Ange Postecoglou was named manager of the year.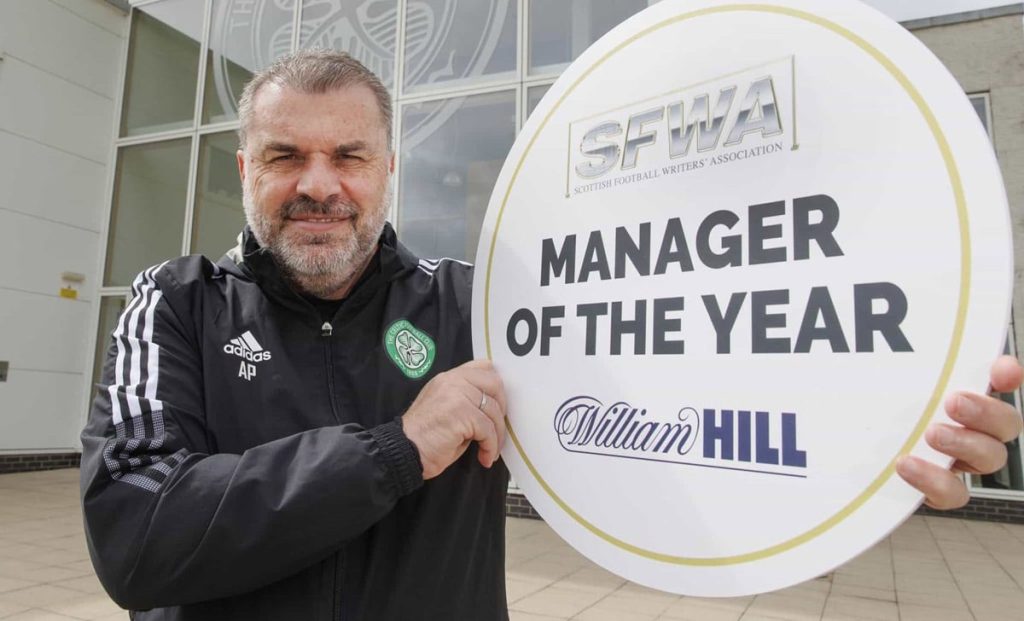 Awards Night in Scotland Marred By Controversy
They say timing is the key to comedy. Apparently, attorney Bill Copeland, a regular on the rubber-chicken circuit in Scotland, didn't get the memo. The only upset that could have been expected out of Sunday's Scottish Football Writers' Association (SFWA) gala dinner in Glasgow would have been if Celtic's Ange Postecoglou had not taken home Manager of the Year honors.
However, the Hoops gaffer did, in fact, get the spoils, only to have his evening spoiled by a few ill-timed "jokes" from guest speaker Copeland. Now, we're not in favor of censoring comedy and failure to accurately read a room is a mistake we've made ourselves. More than once.
Bad Taste
But this is more than that—and Copeland is an attorney, not a comedian. Recently, the Scottish Football Writers' Association has worked to diversify its ranks, which means the gala increasingly draws a far less homogenous crowd (read: fewer old white men) with each passing year. Yes, there is still work to do, but things are getting better.
Which is why the group's decision to invite a guest speaker—Copeland—that would use the moment to make misogynistic, homophobic and racist "jokes" is all the more appalling. This was an awards gala. Not a roast or a comedy open mic.
Apology
Postecoglou, ever the diplomat, hoped that this would be a "teaching moment" for the SFWA. He also expressed hope that the controversy would not detract from the purpose of the evening. Unfortunately, it's likely too late for that. Postecoglou won his award for taking his Celtic squad, which features four players from Japan, back to the top of the Premiership. Later in the evening, Copeland reportedly made a joke about "n-ps" (a racist slur directed at people from Japan).
A quick scan of the tables at the event highlighted the increasingly diverse crowd. More women, more people of color. Perfect time for an alleged comment about "p–fs" from Copeland then (sarcasm). Now, the slurs allegedly used by the speaker come from the Telegraph, so consider the source. Still, several journalists—up to 14, according to reports—left the event in protest after the first round of "jokes." (Again, it is important to note here that Copeland is an attorney—not a comedian.) Kudos to them.
The SFWA has also issued an apology. Fine. Still, if this is a "teaching moment," to use Postecoglou's phrase, then here's the lesson: It's 2022, not 1962. We would have hoped that would have been obvious to an organization of journalists.
---

Check our soccer TV guide for all upcoming matches