The EPL is not the NBA and individual players are not necessarily supposed to play decisive roles in determining who wins a title in what is very much a team game. But, if this past weekend's matches are any indication, the EPL title race could come down to the performance of two of its most dynamic stars in Mo Salah and Kevin De Bruyne.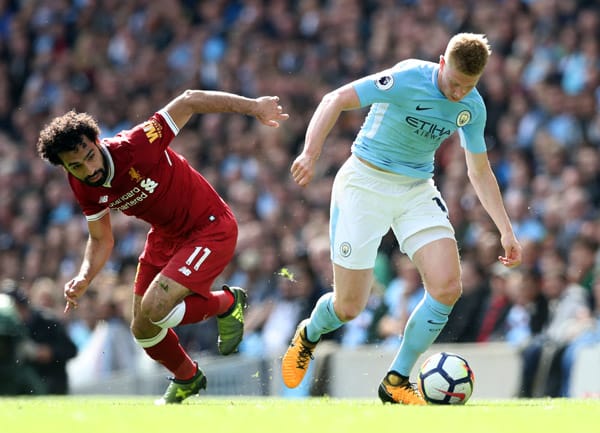 By Greg McKay
In Sunday's early game, Raheem Sterling rightly took many of the plaudits following his two goal performance against Crystal Palace. But while Sterling has been putting them away with ease recently, it is the return of De Bruyne that may see Manchester City back on the title winner's podium come the end of season.
On Sunday, De Bruyne was at his Geppetto like best, pulling all the right strings in midfield. Sterling's first goal came credit of a perfectly weighted ball played by De Bruyne, while the Belgian also freed Gabriel Jesus for his goal in the late stages of the match. With City continuing to compete on multiple fronts, returning a player of the talent of De Bruyne to full fitness is like making the proverbial new signing in April.
Salah Strikes
On Merseyside, Liverpool faced what could have been the sternest test left for the club this season, playing a Chelsea side fighting for its manager's future and a top-4 finish. After rarely getting on the scoresheet in recent weeks, Salah has scored two critical, well-taken goals in the past two weeks. The Egyptian's goal against Chelsea had all the hallmarks of the unplayable Salah of last year—solid first touch, followed by a cut inside on his left and a powerful shot in the top corner.
While Liverpool have not always won the beauty contest this season, Klopp's men have shown a willingness to play to the final whistle and eek out results. But having Salah back at his world-beating best makes for a team that looks like it could push City to perfection in the final games of the season. If the teams do finish with 98 and 97 points, respectively, they'll have treated fans to a fascinating title race and beautiful football all along the way.
World Class
City and Liverpool both have a number of players who reliably play at a world class level — van Dijk, Mane, Sterling and Aguero to name a few. But, having two of the real talents in the EPL finally putting their stamp on games could go a long way to deciding who is holding the trophy at the end of the season.
If Salah continues on current form, a player that strikes fear in defenders equally whether it is running at you or when he's teeing up a strike from thirty yards, Liverpool will push City every inch of the way.
On the other hand, if De Bruyne returns to full fitness and is the player who unlocks defenses with the ease of the likes of Iniesta, it could give Guardiola that one additional piece that allows Manchester City to keep pace on all fronts this season.
Aside from the superhuman talents of Messi and Ronaldo, football is a game that is often won or lost by all eleven players, particularly when you look at the body of work over a full season. It's not a game that can be easily taken over by one player on a regular basis in the way that a basketball game can be but if recent games are any indication, Salah and De Bruyne will have a massive say in which team lifts English football's biggest prize in May.