The US Treasury Department said on Wednesday it had sanctioned former NY Red Bulls and Barcelona defender Rafa Marquez and more than 20 others for suspected links with an accused drug kingpin, tarnishing the reputation of one of Mexico's sporting giants.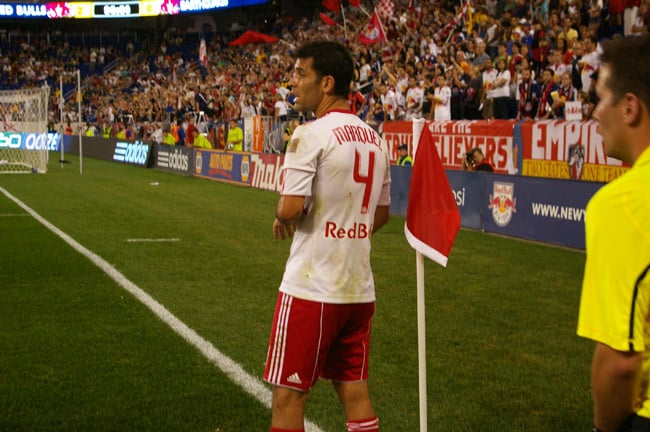 Former Red Bulls Player Rafa Marquez Sanctioned For Drug Trafficking Ties
Marquez, 38, along with a popular singer known as Julion Alvarez and nearly two dozen other Mexican nationals, is accused of financial ties with Raul Flores Hernandez, a suspected drug trafficker with links to the Sinaloa cartel and the Jalisco New Generation gang.
The US Treasury Department said the designation was 'the largest single Kingpin Act action against a Mexican drug cartel network that OFAC (the Office of Foreign Assets Control) has designated'.
'Raul Flores Hernandez has operated for decades because of his longstanding relationships with other drug cartels and his use of financial front persons to mask his investments of illegal drug proceeds,' OFAC Director John E. Smith said in a statement, calling the move a 'major joint action' with Mexico.
Marquez gave a voluntary declaration before the Mexican attorney general's office on Wednesday, the office said in a statement. Marquez, who hails from the cartel-riddled state of Michoacan, is one of the country's best know sportsmen and has played in Europe for club sides Barcelona and Monaco as well as spending two seasons in New York. He still occasionally captains the Mexican national team, having represented his country in four World Cup tournaments.
According to documents on the Treasury's website, Marquez was linked to Flores Hernandez's organization via a football school called Escuela de Futbol Rafael Marquez as well as various other sports and health outfits. Marquez's current team, Club Atlas in Guadalajara, could not immediately be reached for comment.
Story appears courtesy of The Mail Online