They came in as champions and Marcos Senna and Raúl went out as champions Sunday night, helping lead the New York Cosmos to the NASL Championship title.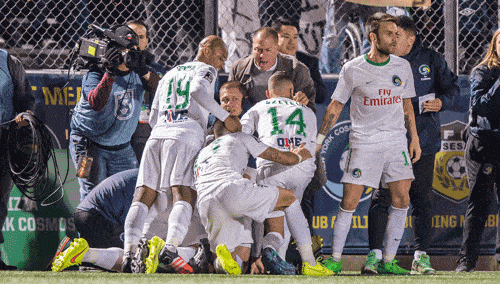 The two Spanish legends announced their retirement from the sport earlier this season and were given the sendoff they deserved in front of a NASL modern-day postseason record crowd of 10,166 at Hofstra's Shuart Stadium with a 3-2 win over the Ottawa Fury FC.
Raul
"I'm very happy. It was my last game in my career," Raúl said. "I'm very proud for everything I did and thank you to the club, my teammates and the fans for this amazing year. For me now, I start a new life with another project. I'm happy, but I'm also very sad."
For Senna, it is a second NASL title in three years with the Cosmos since the club's reboot, while Raúl closed out his lone season in New York with one more championship.
"To win next to Raúl was an ideal situation. I'm thankful for him being here throughout the year as he made the difference many times and scored many goals," Senna said. "In addition, today he didn't get the goal, but he got the assist. He's a player that is a game-changer." While it wasn't a Hollywood ending with the late winning goal, Raúl did get an assist to cap Cosmos striker Gaston Cellerino's hat trick in the 85th minute.
Dream
"It is like a dream," Raúl said. "I would like to say thanks to all my teammates, the club, the supporters. I'm very happy. I have one part of my heart for the Cosmos." Senna and Raúl's influence was felt beyond Sunday's final, even beyond the Cosmos magical run through an undefeated spring season and finishing atop the combined standings.
"We're going to miss them tremendously, most importantly, two great people," Cosmos captain Carlos Mendes said. "I think they are top professionals who came in and trained hard every day and their experience has rubbed off on the guys. You can't really replace Marcos and Raúl and obviously the locker room will be different next year."
Cellerino Hat trick
Cellerino got the party started early for the Cosmos, scoring in the eighth minute. Danny Szetela started the sequence with a strong run down the left sideline and headed a ball into the box that Cellerino took off his chest. He took another touch inside the box before slotting past Ottawa goalkeeper Romauld Peiser from eight yards out.
Cellerino added his second goal in the 72nd minute, two minutes after Ottawa equalized on a goal by Tom Heinemann off a through ball from Andrew Wiedeman. Walter Restrepo chipped a sublime ball toward the back post where Cellerino tapped in the go-ahead goal.
Cellerino capped a spectacular performance five minutes from full time when he was played behind by Raúl on a quick counterattack and pushed a shot past Peiser from 16 yards out.
Savarese
"Today he was fantastic," Cosmos head coach Giovanni Savarese said of Cellerino. Ottawa, which was reduced to 10 men in the 68th minute when Mason Trafford was given a straight red card for a stomp on Sebastian Guenzatti, pulled a goal back late when Heinemann slid in to tap in a rebound in the first minute of second-half stoppage time.
There were some nervy moments late, but when referee Alan Kelly blew the final whistle, the celebration was on. And when it was all over, Senna and Raúl were lifted in the air by their teammates and given a champions sendoff.
"We feel very lucky, our organization, to have these two great players retire with us," Savarese said. "These two great players I had the pleasure to coach makes a coach's life easier because of the quality when they play.
"They were very important all year to push everybody to higher standards. The way they finished their careers today couldn't be any other way because they've been successful."