World Cup Diary: Quarter Finals, Morocco 1 Portugal 0, England 1 France 2, Morocco become the first African Nation to reach the World Cup Semi Finals while England's defeat has an all too familiar ring to it.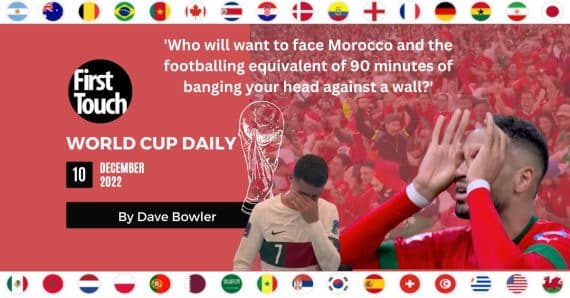 Morocco Make World Cup History As First African Nation To Reach A World Cup Semi Final..While England Go Home.
By Dave Bowler
Dreams go on, dreams fall apart. It's the nature of the World Cup, and the reason why knockout football is the best and purest form of the game – Champions League and Europa League etc please take note.
For Morocco, the impossible dream remains alive. The first African nation to ever reach the last four of the World Cup, their victory over Portugal came, once again, by doing exactly what they do best and not being swayed from it for a moment. The best defensive side in Qatar, they were once again brilliantly organised, wholly committed, but added to that is a growing confidence and stature.
En-Nesyri gave them a first half lead with a strong header and from there, Portugal, however many attackers they threw on, including Ronaldo, didn't really look as though they were going to claw the game back. You can have 73% of the ball, but if you can't produce anything with it, it is of no value to you. If this World Cup that has been overflowing with on screen stats at the drop of a hat has shown us anything, it's that none of them matter. It's goals that count.
Farewell Cristiano Ronaldo
Morocco looked comfortable throughout until that inevitably nervy last few minutes, while Portugal only looked increasingly desperate. The end, when it came, was not just that of a game, but of an era, for Ronaldo will now never add the World Cup to his haul, having won pretty much everything else he has ever entered. Time waits for nobody though and his is now gone, certainly at this level.
As noted after Morocco came through the last round, the World Cup has never produced a real outlier as a winner. That might no longer be true in a week or so, because who will want to face Morocco and the footballing equivalent of 90 minutes of banging your head against a wall?
England Lose, As They Always Do
France are the team next up after they came through against England. It could have gone either way, but whenever you use that phrase, it's a given that in the end, England will lose.
When it really matters, when it comes down to the knockout games against the big nations, England always lose, and always have since 1966. They have not had a single win against a serious nation at the top of its game in a knockout fixture since Geoff Hurst's hat-trick – Germany in the Euros in 2021 doesn't count, as their performance in Qatar underlined.
Having been lauded for their attacking talent, they couldn't score from open play. Defensively, while they dealt well with Mbappe, they allowed Giroud a free header. You can't do those things at elite level and hope to get away with it.
As manager, Southgate will inevitably take some criticism for the exit but in truth, the blame does not rest with him. Indeed, he has done more to mask England's deficiencies than any manager since Sir Alf himself. The problems are more deep seated, and they lie largely within the Premier League.
Too much too soon for England's elite
It pays young English players far too much, far too soon. It ensures that none of them need ever leave their comfort zone, much less the country. Wouldn't footballers like Foden, Rashford, Grealish all be better for three years trying to make their way in Spain, Italy, Germany? Is it any coincidence that Bellingham has been their best player in Qatar, a youngster who has had the guts to go and test himself in another country?
England's elite players are, by and large, too soft, have it too easy and, in that final analysis at the highest level, that is the difference between winners and losers. That may be a harsh lesson in the immediate aftermath of an emotionally crushing defeat, but it's one that has been avoided for too long and far better to do that than wallow in the self-pity of 'cruel on England' headlines that are being served up.
To suffer a cruel exit once is, well, cruel. To do it every two years, like clockwork, and still fail to do anything about it, is masochism.
Read Dave Bowler's World Cup round up every day
---

Sir Alf Ramsey: England 1973 focuses on the final full year of Sir Alf's reign as England boss. The nation that won the World Cup in 1966 failed to even qualify for the 1974 tournament. Ramsey was suddenly a man out of time, both on and off the pitch. The failing fortunes of the England team mirrored those of a post-Empire nation heading for its own a fall.
A must read for all fans. Order your copy in time for the holidays.