World Cup 2022 Diary: Day 13. South Korea 2 Portugal 1, Ghana 0 Uruguay 2, Cameroon 1 Brazil 0 Serbia 2 Switzerland 3. Poetic justice was served as a cruel blow to Luis Suarez as Uruguay crash out of World Cup.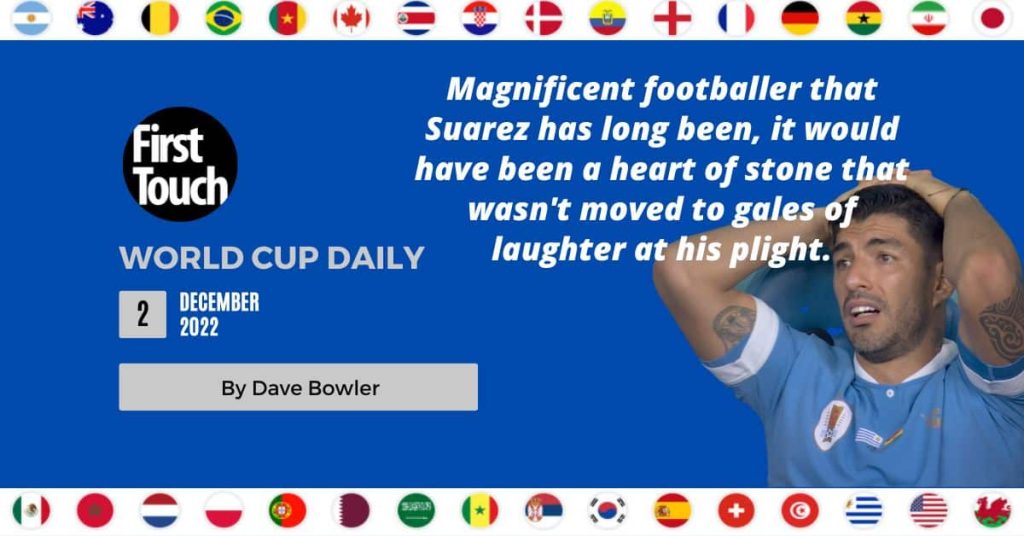 By Dave Bowler
The final round of group games continued to bring the excitement, reminding us all that football is at its best when there's real jeopardy involved.
DRAMATIC WIN FOR SOUTH KOREA
South Korea set the tone in the day's early games, coming from behind against a much changed Portugal. Even then, the European side had started well and for much of the first half in particular, looked the major threat in the game. Ricardo Horta gave them an early lead, and it wasn't until Ronaldo produced a brilliant assist – at the wrong end of the pitch – that South Korea got back into the game.
All through the second half, with Uruguay having a solid lead over Ghana, South Korea were on the way out. But fittingly for this group stage, in the final seconds, Son produced a superb break and inch perfect pass for Hwang Hee-Chan to finish beautifully and send them through to the next round.
It was a bitter blow for Uruguay who had done their part of the deal by beating a disappointing Ghana 2-0, inspired by Suarez who had been the guiding force behind both de Arrascaeta goals. They looked set to progress until that final blow from the South Koreans, ending a few Uruguayan careers in the process.
GHANA PAY BACK SUAREZ
Magnificent footballer that Suarez has long been, to see him knocked out of the World Cup while playing against Ghana, who he had cheated out of the World Cup in 2010, was poetic justice of a kind. As he was in tears at the end of the game, it would have been a heart of stone that wasn't moved to gales of laughter at his plight.
There was drama too in the other group. Brazil made almost a team full of changes and paid the price by losing in the final minute to Cameroon, not that it mattered much, for they still topped the group as Cameroon went out. Aboubakar grabbed the winner in time added on – or hours added on as if seems to be in this competition – and was then promptly sent out for taking off his shirt and getting a second yellow, which somehow summed up their hapless campaign.
SWITZERLAND TO PLAY PORTUGAL
It was in the other game where progress was decided, the Swiss coming through with a 3-2 win over Serbia. The game swung back and forth, Switzerland, who only needed a draw, taking the lead, falling behind and then going on to win again. Serbia will curse some profligate finishing, in this game and others, for their exit from a competition that they looked equipped to go further in, but it is Switzerland who will next try to deny Ronaldo his next aim of overtaking Eusebio as Portugal's greatest World Cup goalscorer. South Korea's prize is to take on Brazil.
Let us hope now that we are in the knock-out phase that, as in thee final group games, both sides go out swinging, throwing punches, rather than one, or both, playing for penalties. Wars of attrition, in this heat will be debilitating, and with the amount of added time on that we now get, will see games lasting longer than "Lawrence of Arabia" did.
Read Dave Bowler's World Cup round up every day
---
Sir Alf Ramsey: England 1973 focuses on the final full year of Sir Alf's reign as England boss. The nation that won the World Cup in 1966 failed to even qualify for the 1974 tournament. Ramsey was suddenly a man out of time, both on and off the pitch. The failing fortunes of the England team mirrored those of a post-Empire nation heading for its own a fall.
A must read for all fans. Order your copy in time for the holidays.