Nobody would have blamed Sami Hyypia for being less than enthusiastic having arrived in New York City on one of the hottest days in recent memory. But, the once imposing Finn took time out of a busy schedule to speak with FirstTouch about what he has been doing since leaving management, views on some of his contemporaries thriving as managers and, of course, his outlook on the current Liverpool team.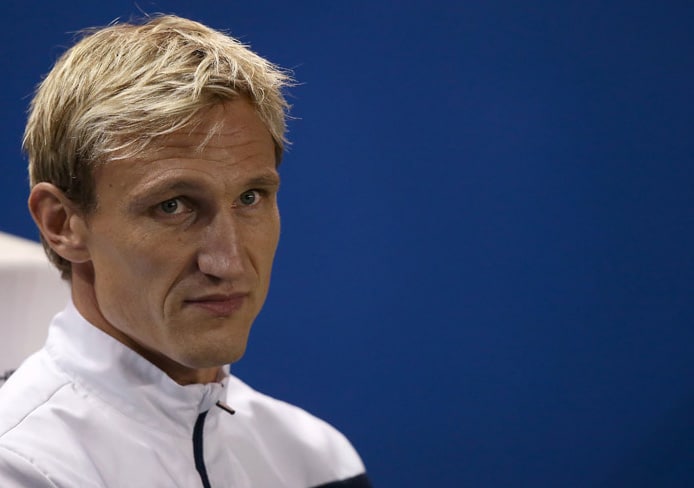 By Greg McKay
Hyypia was in town for the International Champions Cup contest between Sporting Lisbon and Liverpool at Yankee Stadium, spending time with stateside Liverpool fans and serving as a club ambassador. Hot weather notwithstanding, it became immediately clear that Hyypia is enjoying what he described as "being in between jobs" and noted his appreciation that Liverpool maintains connections with former players. Asked whether he sees himself returning to management one day, Hyypia said "Yes. Opportunities do get presented that are interesting but I am looking for the right role."
With new managers like Frank Lampard jumping into the deep end with massive clubs like Chelsea, while other players Hyypia shared a field with having spent more time at less high profile destinations such as Steven Gerard at Glasgow Rangers and Patrick Vieira at NYCFC and now OGC Nice, we asked whether Hyypia thought there was an ideal path to becoming a successful manager. Hyypia emphasized there isn't one right path, noting "The media has their view on what is a 'big' or 'small' club but for a manager you learn your trade no matter where you are coaching."
Mistakes
At the end of the day, Hyypia highlighted that you have a whole staff so young managers are always learning from the more experienced members of their back room staff. Hyypia shared, "I started managing at a big club – Bayer Leverkusen. I made mistakes as a new manager but learned a lot of lessons as well."
As discussions shifted to the current state of Liverpool Football Club and comparisons to his Champions League winning team from 2005, Hyypia focused on the path last year's team took to get to the final. Describing the comeback against Barcelona, Hyypia sounded like any other Liverpool supporter around the world, describing it simply as "incredible".
Asked what Liverpool need to do to match the success they've had in Europe in recent years with a domestic league title, Hyypia demurred, noting, "Last season was fantastic. To finish with only one loss is an amazing season."
Pressed for where they fell short, he noted a run of games where they struggled to score goals. One wonders if one more talisman to support Salah, Mane and Firminho could help push Liverpool over the hump this year.
Pre-Season
Focusing on Liverpool's preseason tour, Hyypia emphasized how important the tour is for young players and experienced stars alike.
"For young players, it is a chance to show that you can perform at a high level outside of training and demonstrate to the manager he can trust you in matches."
More experienced players, on the other hand, are able to focus on fitness and getting to peak condition for the upcoming season. As a former player, Hyypia noted that while he does miss the locker room dynamic at times, he is able to get something similar from his weekend team and is enjoying traveling in a club ambassador role.
As interesting and thoughtful as Hyypia was in his answers, what came across most clearly from the interview was the fact that Hyypia still feels very much a part of Liverpool Football Club and proud of where the club have gone since he last played for them in 2009.
Asked for his predictions of who will win the EPL and Champions League next year, he said with a laugh "Liverpool and Liverpool. And the FA Cup, I hope."