It was all smiles after the end of the U.S. Men's National Team's recent three-nil victory over Panama. While there was plenty to be optimistic about with a positive scoreline following an extended search for a new permanent manager, a good result against mediocre competition won't necessarily have national team fans jumping for joy just yet. Still, the match was a useful lens for seeing how quickly players would take to Gregg Berhalter and his revamped vision for the U.S. team.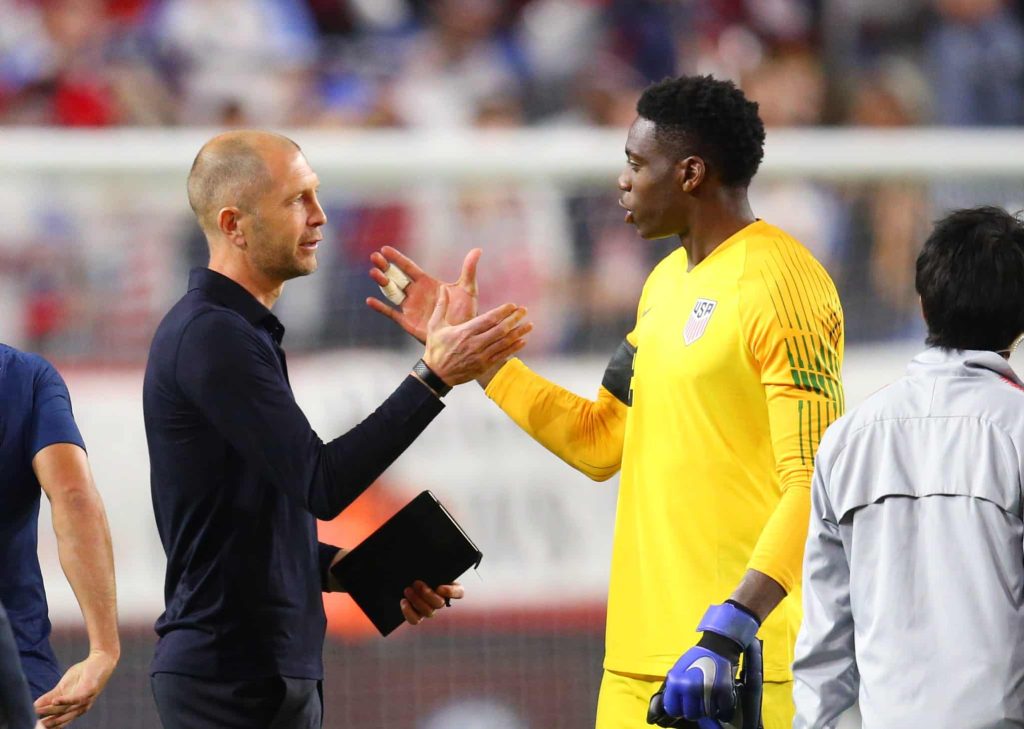 By Greg McKay
At the start of his first camp in charge, Berhalter stressed several goals for the January gathering. First, Berhalter wanted to encourage players to be brave in possession, playing balls that break defensive lines in midfield.
He also wanted to create imbalances in attacking areas designed to exploit numerical advantages in the final third. Last, Berhalter emphasized that most important for his first camp was building a team culture and creating competition within the squad.
In terms of players being brave in possession, it was clear early on in the match that Berhalter's charges took the guidance to heart. Unfortunately for Berhalter, though, the players relied on to play the more ambitious balls out of the back, Aaron Long and Daniel Lovitz, lacked the technical ability to connect with players upfield.
Panama easily broke up several passes designed to split the Panamanian midfield. Michael Bradley, on the other hand, successfully played several intricate balls to U.S. attackers in behind Panama's midfield that led to clear scoring chances. Going forward, it will be interesting to see how first-choice U.S. backs such as John Brooks and Matt Miazga handle the challenge from Berhalter to play difficult passes through the lines.
Lima Threat
On creating imbalances in attack, it was a hallmark of the U.S. game plan that when they had possession Nick Lima, the U.S. right back, tucked inside almost as a third central midfielder. The strategy led to Corey Baird getting free a number of times down the right side as Panama was forced to tuck in defensively to deal with the added threat of Lima.
Lacking in the end, however, was final product from Gyasi Zardes, who too often missed clear cut chances and failed to link up well where the tactical system created opportunities to combine with midfield runners.
Adding the likes of Bobby Wood or young prospects Timothy Weah and Josh Sargent to the mix, all of whom are more technical and better finishers than Zardes, should provide more end product from the U.S. number nine position going forward.
Team Culture
Last, Berhalter emphasized his primary goal for the January mini-camp was beginning to develop a team culture and fostering competition in the squad. Based on the performance, there were elements that were distinctly Berhalter and would have reminded fans of his Columbus Crew side – namely the tactical discipline and patience in possession.
At the same time, positive performances turned in by Baird and Djordje Mihailovic will push other young players looking on from outside the camp to raise their play when they join up next time.
Even Michael Bradley, a player who had an abysmal 2017-2018 season for club and country, turned in an assured performance that shows he will not ride quietly into international retirement to make room for the likes of Berhalter's former club captain Will Trapp.
Looking ahead, the game against Panama didn't feature many players likely to be on the plane to Qatar in 2022 and Panama provided minimal resistance with several debutants of its own. While Berhalter's cerebral style is interesting from a tactical perspective, if the team doesn't play exciting football and win games, all the tactical nuance in the world will fall on deaf ears.