NJ/NY Gotham FC won the club's first National Women's Soccer League (NWSL) Championship 2-1 on Saturday night against the OL Reign. Gotham FC captain and global soccer icon Ali Krieger retires as a champion after playing all 300 playoff minutes of the club's run to the title. In her 10th regular season, she and teammate Kristie Mewis are the longest-tenured players in league history to win the championship for the first time.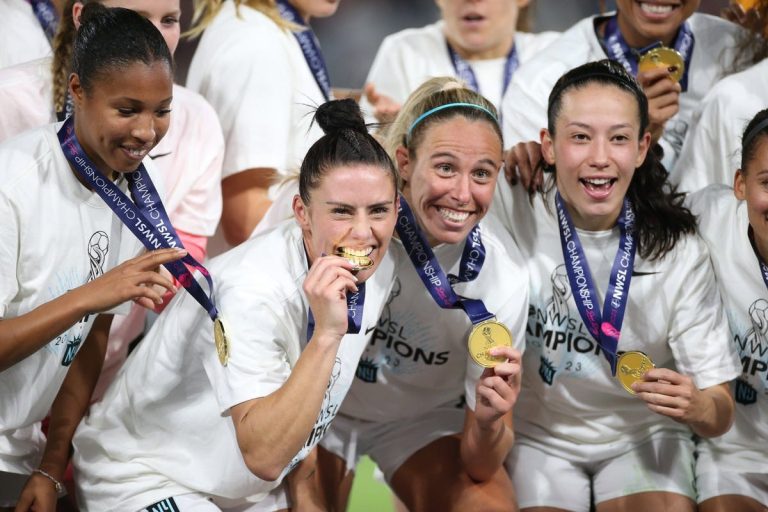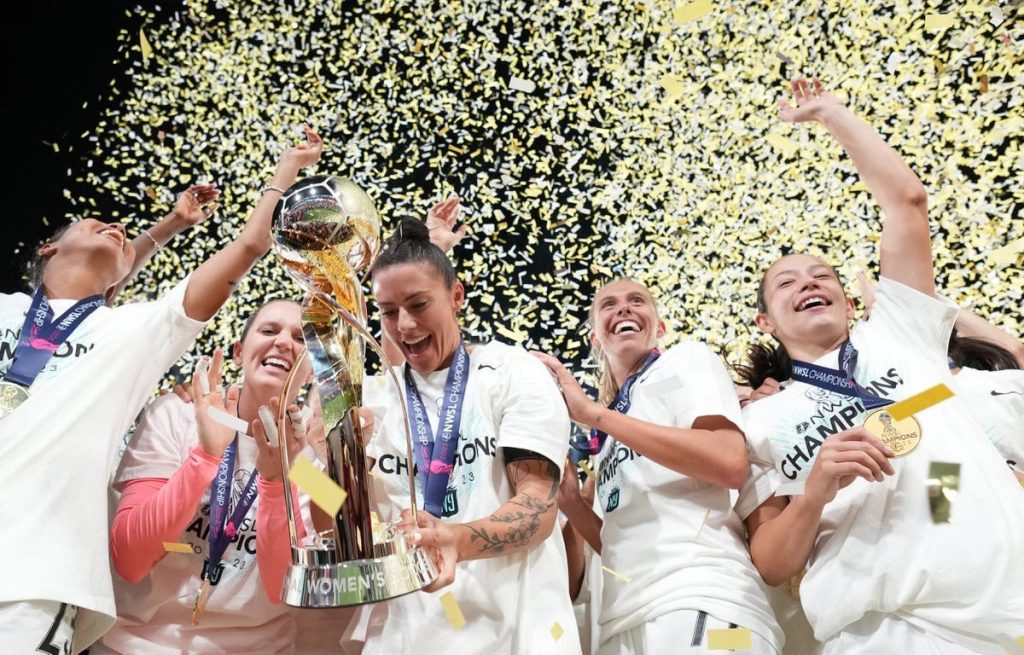 First Half
US Women's star Megan Rapinoe ended her career on a sad note, having to exit her final game with an injury after just 3 minutes
"This is a tough one, definitely not how I envisioned this last one going," Rapinoe said.
Gotham FC opened the scoring in the 25th minute on a skillful play initiated by forward Purce. The winger sliced through OL Reign's defense, maneuvering around three defenders. She beat one with a meg, glided around another, and juked by the last one to play the ball across the goal to an open Williams, who struck a low driven ball to the bottom corner. The goal is Williams' second in a final and her fourth career playoff goal.
In the 29th minute, OL Reign evened the score with a goal from Rose Lavelle.
Gotham FC found the back of the net again in stoppage time of the first half. Purce played the ball towards the top of the six-yard box, where 2023 World Cup champion Esther of Spain redirected the ball a header into goal. Esther becomes the fifth player to score in a NWSL final the same year that they won the Women's World Cup. 
Going into the half, Gotham FC had 55% possession compared to OL Reign's 45%. The club also led in shots with six total, while the Reign only had two. 
Second Half
In the 59th minute, goalkeeper Mandy Haught was called upon when Reign forward Veronica Latsko broke free and had a one-on-one opportunity. Haught cut down the angle and made the save to keep the game at 2-1.
Gotham FC's defense then held OL Reign without another shot until deep into stoppage time.
With OL Reign pushing for a late equalizer, a dangerous through ball was ruled by VAR to have been handled by Haught outside of the 18-yard box, resulting in a red card for the Gotham FC goalkeeper in the seventh minute of added time.
With Gotham FC out of substitutes, midfielder Nealy Martin went in goal for the second time this year, both in San Diego, and her wall stood tall on the free kick by Lavelle in the 12th minute of added time to deny what turned out to be the final chance of the match for the Reign.
With the win, Gotham FC completes the best turnaround season-to-season in NWSL history. Additionally, Purce was named the NWSL Championship performance for her stellar performance.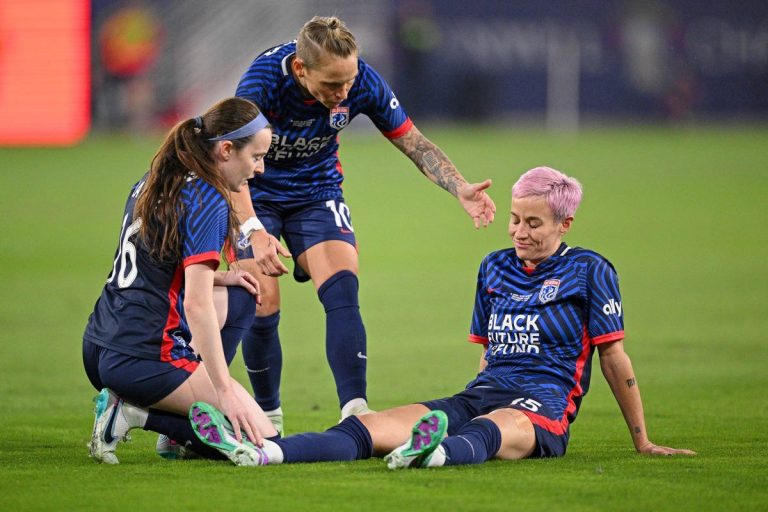 NJ/NY: GK Mandy Haught, D Jenna Nighswonger, D Maitane López, D Ali Krieger ©, D Bruninha, M Nealy Martin, M Delanie Sheehan (Allie Long, 82'), M Yazmeen Ryan (M Sinead Farrelly 69'), F Midge Purce, F Esther Gonzalez (Katie Stengel, 89') , F Lynn Williams
Substitutes Not Used: GK Michelle Betos, D, Kelley O'Hara, DKristen Edmonds, M Sinead Farrelly, M Allie Long, F Mana Shim, D Ellie Jean, F Katie Stengel
TOTAL SHOTS: 9; SHOTS ON GOAL: 2; FOULS: 11; OFFSIDES: 1; CORNER KICKS: 2; SAVES: 1 
OL: GK Claudia Dickey, D Phoebe McClernon, D  Lauren Barnes ©, D Alana Cook, D Sofia Huerta, M Megan Rapinoe (Bethany Balcer, 6'), M Emily Sonnett, M Jess Fishlock (Elyse Bennett, 85'), M Veronica Latsko (Quinn, 76'), F Rose Lavelle, F Jordyn Huitema
Substitutes Not Used: Quinn, Angelina, Nikki Stanton, Bethany Balcer, Sam Hiatt, Laurel Ivory, Laurel Ivory, Olivia Van der Jagt, Elyse Bennett
TOTAL SHOTS: 7; SHOTS ON GOAL: 2; FOULS: 4; OFFSIDES: 5; CORNER KICKS: 1; SAVES: 1