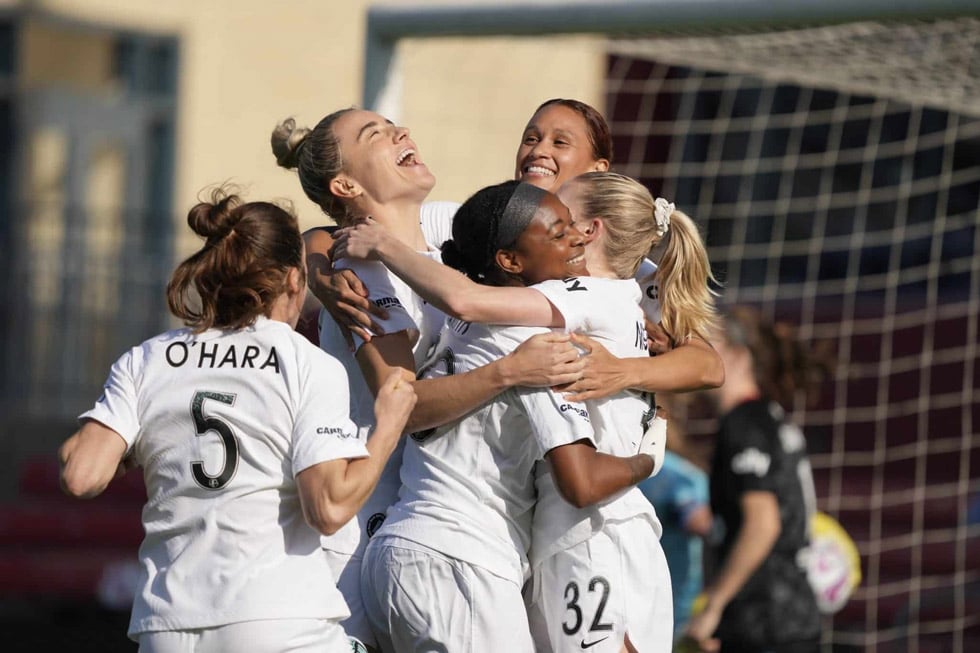 After a pair of first half goals from first round NWSL Draft pick Jenna Nighswonger and forward Lynn Williams, Gotham FC earned a 2-1 victory over the Chicago Red Stars to close out the club's three-match road swing.  The result marked the club's first win over the Red Stars since 2021, and made Gotham FC one of only two clubs in the league with four wins this season.
"This is a massive win. It shows the style and the winning mentality that this team has," said Gotham FC Head Coach Juan Carlos Amorós. "In the back of three away games in a week where we needed everyone to step up, everyone stepped up. And today, in the first half, it was fantastic. [In the second half], we were tired after the long week, but the team never gave up. Keep going, keep going, keep working and we were able to win away from home. Credit to all of the players, whether they played today or not, and to the staff. This is a big win for Gotham."
Early Goal For Nighswonger
Rookie sensation Jenna Nighswonger scored the first goal of her NWSL career in the fifth minute to put the club ahead 1-0. Her goal marked the club's fastest goal to date this season, and it was Gotham FC's first goal scored in the first half this year. With the finish, Nighswonger becomes the sixth rookie (fifth NWSL draftee) to score in the 2023 campaign.
Reflecting on the goal, "It was all about [Taylor Smith] doing really well, getting the 1v1, having the cross, and just putting myself in a good situation where if there's any rebounds…just being there to get a tap in, which is kind of just what happened," said Nighswonger. "I'm excited to have gotten the start at left wing and to have made an impact."
Lynn Williams Seals The Deal
Gotham FC continued strong through the first half tallying 11 shots before Lynn Wiliams solidified their lead, scoring her 61st regular season career goal and taking sole possession of the second-most goals scored in NWSL history. Her goal in first half stoppage time on Sunday night broke the previous tie with Christine Sinclair, who moves down to third all-time with 60. For Williams, this also marked her 103rd career goal contribution in all NWSL competitions. Sinead Farrelly's assist on the play marked the midfielder's first NWSL assist since August 2015, when she assisted on a Portland goal, also against Chicago.
Mandy Haught made her regular season debut with three saves and one clearance, earning the full 90 minutes for the first time in league play this season. Earlier this season on April 19, Haught earned her first start of the year and played the full match in 2023 UKG NWSL Challenge Cup action, posting a 1-0 shutout over the Washington Spirit.
"We have an absolutely fantastic goalkeeper union," said Amorós. "Mandy has been outstanding at training and she was very very good in difficult conditions, especially in the second half."
Midfielder Jenna Nighswonger was named the Gotham FC Player of the Match presented by CarMax.
Gotham FC Starting Lineup

  
Mandy Haught, Kristen Edmonds, Ali Krieger, Kelley O'Hara, Bruninha, Jenna Nighswonger, Allie Long, Kristie Mewis, Yazmeen Ryan, Lynn Williams, Taylor Smith
Up Next
Gotham FC defender and Brazilian National Team player Bruninha will face off against the Orlando Pride with fellow Brazilian stars Marta and Adriana at Red Bull Arena on May 14 at 5:30 p.m. ET. Gotham FC will host an Asian-American, Native Hawaiian, and Pacific Islander (AANHPHI) commemoration in addition to celebrating Mother's Day. Single match tickets for Gotham FC home matches are available HERE.

Never miss a Gotham FC game!
Find out how to watch Gotham FC with our soccer TV guide