NJ/NY Gotham FC fell to the Portland Thorns in the 2021 NWSL Challenge Cup Championship on Saturday, May 8, in Portland, after losing 6-5 on penalties. With no extra time per Challenge Cup rules, regulation goals by both team captains, Carli Lloyd and Christine Sinclair, sent the match to penalty kicks where a sudden death strike proved to be the ultimate winner for Portland.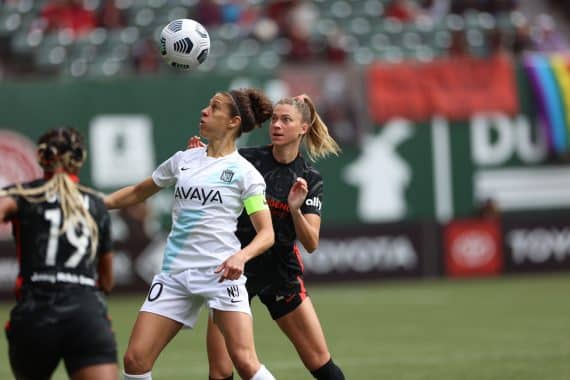 The Final started with the Portland Thorns on the scoreboard early. All-time goal scorer and Canadian international, Christine Sinclair, collected a turnover deep into Gotham FC's own half and curled a left-footed shot past DiDi Haracic in the eighth minute. After conceding an early goal, Gotham FC had difficulty settling into the game, allowing Portland to be a persistent threat on their goal.
The Thorns nearly netted a second goal in the 39th minute on an awarded set-piece resulting from a Gina Lewandowski yellow card. Lindsey Horan delivered a strike over the wall from several yards outside the 18-yard box that was saved by the far post. Gotham FC's attack had sporadic moments of opportunity, but it was ultimately the defense that kept the score 1-0 heading into the half.
Second Half
Coming out of halftime, Portland pressed on and was determined to exhaust the visitors, but Gotham FC saw their way back into the match. Imani Dorsey floated a cross into the box that found Carli Lloyd's head, leveling the score 1-1 in the 61st minute.
Portland nearly regained the lead on several occasions in the half.  Heroics from Mandy Freeman saved the day with a goal line clearance in the 72nd minute that had DiDi Haracic beat. Minutes later, a goal by Simone Charley on a through ball by Meghan Klingenberg was called back for being offside.
Gotham FC nearly had the game-winner in the dying minutes of stoppage time as a header by substitute forward Ifeoma Onumonu connected, but glanced just wide of the goal. As a result, full-time ended and with no extra time, the match commenced to penalty kicks.
Gotham FC took a momentary 2-1 lead in the penalty shootout after veterans Allie Long, Carli Lloyd, and Portland's Christine Sinclair all buried their shots while Meghan Klingenberg's hit the crossbar.
With an opportunity to advance Gotham FC's lead, Jennifer Cudjoe's shot hit the corner woodwork and allowed Portland to level the score with Lindsey's Horan's take. A missed strike by Nahomi Kawasumi in sudden death resulted in forward Morgan Weaver scoring and winning the 2021 NWSL Challenge Cup for the Portland Thorns.
Lineups:
NJY: 13-DiDi Haracic; 3-Caprice Dydasco (15-Sabrina Flores, 82'), 12-Gina Lewandowski (24-Estelle Johnson, 45'), 22-Mandy Freeman, 28-Imani Dorsey; 6-Jennifer Cudjoe 9-Nahomi Kawasumi, 16-Allie Long; 23-Midge Purce (25-Ifeoma Onumonu, 73'), 10-Carli Lloyd ©, 4-Paige Monaghan (20-Evelyne Viens, 73')
Substitutes not used: 1-Kailen Sheridan, 5-Nicole Baxter, 8-Erica Skroski, 17-Domi Richardson, 21-Mandy McGlynn
POR:  24-Adrianna Franch; 25-Meghan Klingenberg, 4-Becky Sauerbrunn, 20-Kelli Hubly; 14-Natalia Kuikka (18-Christen Westphal, 67'), 10-Lindsey Horan, 19-Crystal Dunn, 36-Angela Salem (11-Raquel Rodriguez, 67'), 9-Sophia Smith (22-Morgan Weaver, 76'), 7-Simone Charley, 12-Christine Sinclair ©
Substitutes not used: 15-Madison Pogarch, 30-Celeste Boureille, 31-Bella Bixby, 34-Tyler Lussi, 39-Meaghan Nally, 40-Marissa Everett