England reach the semi finals of the World Cup finals for the first time since 1990. They will play Croatia for the chance to play in their first final since 1966.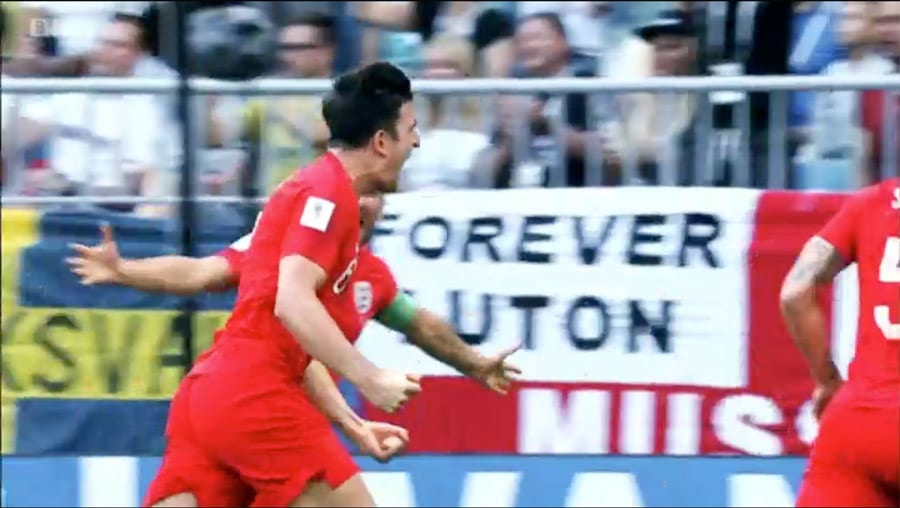 Croatia Beat Russia
Vladimir Putin, winner of elections at home and abroad, finally discovered that the penalty box is mightier than the ballot box. Not even he could fix this one to go the way he wanted.
He tried, God knows he tried, issuing a decree that allowed Fernandes to trade his Brazilian nationality for a Russian one. That looked amongst the finest political decisions of the age when he popped up to steer a powerful header home and send the game to penalties. It looked a little more suspect when he shanked his spot kick wide of goal and so give the Croatians the final bit of encouragement they needed to finish the job.
It was tough on the Russians but wholly proper in a footballing sense for Croatia, without finding the football they're capable of, were the better side Modric, as ever, the maestro at the middle of it all. But a team as technically limited as the Russians should never got within a million miles of a World Cup semi-final and so to come as close as they did was an epic achievement for them. They did it courtesy of a few moments of inspiration throughout the competition, most notably from Cheryshev who did it again in this game, scoring another magnificent goal, but largely on an absolute and unquenchable desire not to let their nation down.
That carried them on time and again, through long periods when they simply couldn't get the ball off Croatia, yet refused to allow them the space to do much with it. And had they been able to hold on to the lead to half time rather than conceding to Kramaric's stooping header six minutes before the break, who knows?

Dreadful Game
Croatia were in control from there but a number of injuries and clever game management by the Russians took us into extra-time. Again, Croatia were on top and when Vida's header wormed its way through the box and into the corner, it looked all over, but this Russian side refused to be beaten and somehow contrived to take the game all the way to the spot, only to finally be defeated.
If Croatia are to progress and reach the final that their potential suggests they should, they will have to overcome their tendency to get worse as tournaments go on, something they've done all too often in the past, flattering to deceive. This was very nearly another example of that for though they were better than Russia in a generally dreadful game, they couldn't put them away and rarely looked likely to.
They looked exhausted by the end of the game, partly from the emotion of the occasion, partly from the pounding they took from their opponents. How they recover from these exertions and the injuries they suffered will be critical, but at least against England they should be facing a team that will look to play a bit rather than doubling down on defence as Denmark and Russia did. That should suit them better.
England Ease Through
In the other quarter-final, England eased to victory over a disappointing Sweden side which not only failed to get going as an attacking unit – no real surprise – but also failed to do the things it is normally good at, defending set plays. They had no answer to England from free-kicks and corners – who knew Tony Pulis was Gareth Southgate's mentor? –  while England's second goal was so laughably easy you'd be rollocking a school team if they'd conceded it.
For long stretches, watching this was the international equivalent of Stoke versus Burnley, with apologies to fans of both of those, always a game where the first goal was going to be critical. England, to their credit, were the only team interested in getting it and, lo and behold, it came from a header, Maguire doing the honours.
Pickford Saves
From there, a brief flurry just after the break aside, there was only ever going to be one winner, Alli confirming the win by the simple virtue of standing still and waiting for the Swedish defence to run away from him. For all that it was routine stuff though, England will still be concerned that against such a limited side, they were left feeling grateful for three fine saves made by Pickford.
Ultimately, England did what they had to do and did it at a canter, so much so that they will have kept plenty in reserve for the semi-final game having merely had to do a little light sparring against flimsy opponents in getting through. Will that give them plenty of energy when it matters most against a Croatian side that had to battle through against an obdurate Denmark and then the entire Russian nation, or will that very lack of competition, and the sharpness it brings with it, leave them wanting come the final analysis? Much will depend on the freshness of Modric. He holds the key.
---