Premier League teams are typically scorned and made out to be the pantomime villains of the FA Cup when they field vastly weakened teams, while Non-league clubs are considered the Cinderellas of the ball.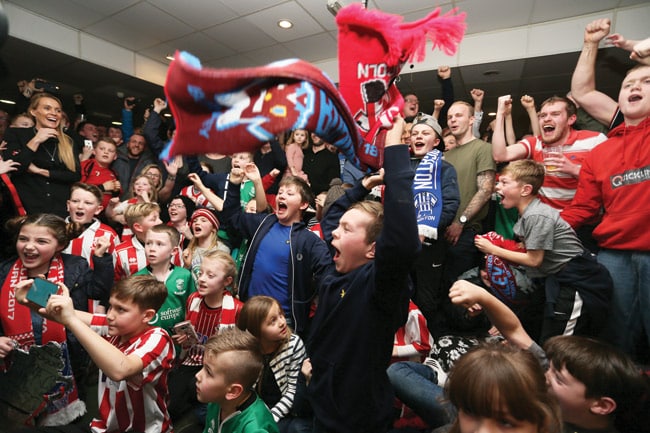 The Matty Lawrence Column: Imps, Devils, & Filthy Lucre..This Week In The FA Cup
Lincoln City Upset Burnley
Sutton United turned this thesis on its head this week – but more about them later. Luckily, we have Lincoln City to talk about, and to fly the flag proudly for the National League's participation in the FA Cup.
The upstarts from Lincoln had the audacity to stroll into Burnley of the EPL and turn them over on their own Turf Moor: with added kudos of making Joey Barton a laughing stock with his embarrassing histrionics (cheating!).
I've been lucky enough to come into contact with Imps boss Danny Cowley in my non-league playing days when he was manager of Concord Rangers and seen him go from strength-to-strength as a manager. Cowley is amiable, affable, football smart and above all else a hard grafter. In fact, he reminds me very much of Burnley's Sean Dyche, another first-class human being – and amazingly humble with it.
Cowley left Concord on an upward trajectory and continued to further his reputation at Braintree Town before leaving for Lincoln City. Lincoln currently sit top of the National League with promotion back to the Football League very much in sight. With the forthcoming FA Cup quarter final against Arsenal, he has one hell of a season in the offing.
National League Scrappers
And do you know what really made me sit up and take notice? Not the victory against Burnley, but the 1-0 away win at North Ferriby a few days later in their bread and butter scrap in the National League. I'm not ashamed to say that I swooned when I heard goalscoring hero Sean Raggett state after the Burnley match that there was no time to party because they had to prepare for North Ferriby away on the Tuesday.
That tells me a couple of things. Firstly, these players have their feet firmly on the ground and, secondly, Cowley has his squad singing from the same hymn sheet: yes, the FA Cup run is getting the headlines, but it all means nothing to the playing and coaching staff unless they get promoted. Notice I didn't mention the chairman, as he was without a doubt giggling into his bubbly and bank statement in the bar after the Burnley heroics.
Wayne Shaw Sutton Utd Sideshow
Sutton have won many fans and plaudits during their absolutely phenomenal FA Cup run that culminated in them drawing Arsenal at home in the last 16, and rightly so. But how did they reward us, the neutral observers, willing them with all our hearts to cause the biggest upset in FA Cup history? They lifted off the lid of the trophy and pissed in it; well, at least it felt that way.
The football match was turned into a sideshow by Sutton's reserve goalkeeper Wayne Shaw. Shaw found out that bookies were offering 8-1 on him tucking into a snack during the game, so he made sure he did. (I'll wager he lumped on it and I bet a few of his mates did, too).
I was appalled and disgusted. The media regularly batter EPL and Championship teams that disrespect the FA Cup and here they were basically colluding with Sutton to do exactly that. As the rotund substitute tucked into a pie on the sideline it was blatantly obvious that this was 100% contrived. Self-respect died that moment, and all for a few quid. Andy Warhol must have turned in his grave, because that surely wasn't what he was insinuating when he said that everyone would get their 15 minutes of fame.
Football Or Fame?
As it turns out, the stunt was not just contrived, but it also probably went against the betting rules in football. Perpetrator Wayne Shaw is not only a member of the squad, but also the playing staff. He even proved stupid enough to implicate his teammates, it seems. On a morning TV show (sacrilege in itself) he blabbed, "We're not allowed to bet, but a few of the lads laid on."
Cue the usual riposte that it was just a harmless bit of banter. Not surprisingly, Richard Watson, Gambling Commissions Enforcement and Intelligence Director, didn't concur; "Integrity in sport is not a joke and we have opened an investigation to establish exactly what happened."
Look, this isn't some hatchet job, and I certainly pitied the fact that Shaw subsequently lost his job, but I honestly just hate it when people lose sight of the real reason they are in such privileged positions. Shaw had the wonderful opportunity to face-off against Arsenal because of Sutton United's amazing success on the football pitch. Why suddenly turn the wondrous occasion into a reality TV show?
The sad thing is that no-one is even talking about the FA Cup tie that truly should have cemented Sutton United, once again, into the annals of history. Coventry City, anyone? Let's just leave it there and leave Sutton in our rear-view. C'mon Lincoln give us another day to remember….and for the right reasons, please.
RIP Paul McCarthy
This week's column cannot pass without a mention to a former colleague of mine: Paul McCarthy. We spent a couple of seasons together at Wycombe Wanderers and bonded as teammates, driving partners and occasional roommates on the road. Paul was a good footballer, great guy and someone I feel privileged to have met.
Paul passed away last weekend at the age of 45. My thoughts are with him and his family at this tragic time.