If we told you Tottenham won the summer ICC tournament, you'd think it was the setup for a joke. But Spurs actually did win on goal differential.
Tim Hall's View From 101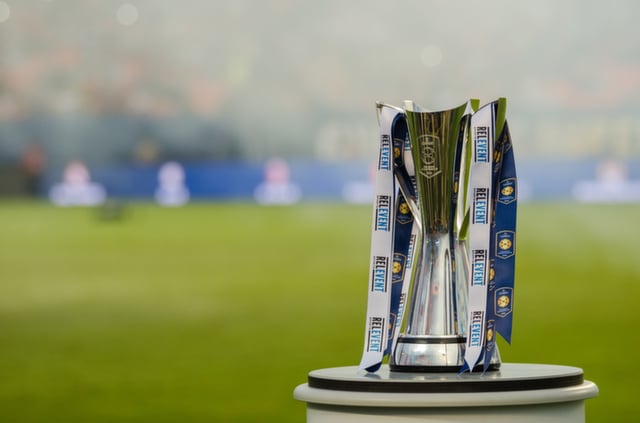 There is no tradition like a new tradition. That may be doubly true for sports and triply so for soccer. There are no games any more, no meaningless friendlies where players can get a good run out so the manager can see where they are at.
No, if there is a dollar to be made and a ticket to be sold, then you can be fairly sure someone, somewhere is trying to make the game into a rivalry or a tournament or dangle a trophy at the end. It's enough to make you wonder if someone at FIFA has a 25% stake in a confetti cannon concern.
International Champions Cup
One of the most egregious examples of this that has metastasized in recent years is the International Champions Cup. It used to be perfectly fine for the big European teams that could afford it – and had a big enough international following to justify it – to come on over to the United States, or go to Asia.
They could have a kick around against whatever competition they could find as they wrapped up their preseason training, against teams in other parts of the world that were typically in form.
The ICC, in a way, relates back to the Major League Soccer All-Star Game, which has since 2005 featured a collection of the best players in MLS against one of Europe's brightest teams.
Money-Maker
Eventually, someone got it through their head that it made no sense for the Chelsea's and Manchester United's of the world to fly all the way across the Atlantic Ocean just to play in one exhibition. The US was a big enough place where money could be taken from easy marks in two or three locations.
They also figured they could have the powerhouses knock around the MLS teams for fun, at least until the MLS teams started knocking back (see: New York Red Bulls 4-2 Chelsea in 2015.
So now the European giants just play against each other in front of rapt, full-kit wearing audiences across the US. And England, France, Italy, Ireland, Austria, Spain, Portugal and even Singapore.
Spurs Win ICC
In total for this most recent edition of the International Champions Cup, eighteen teams played in twenty-three venues over three weeks. If we told you Tottenham won, you'd think it was the setup for a joke. But Spurs actually did win on goal differential, because when you have one, eighteen-team group playing three matches each, you're going to need to be buttoned-up on tiebreakers.
The ICC is surely not the first cash grab peddled to American audiences with the promise of an all-important tin cup at the end, and now it is no longer the most recent either. The newest addition to the schedule is the Campeones Cup, which was contested last week.
Liga MX
It's another in Major League Soccer's gambits to try and get Mexico's Liga MX to like them. This particular trophy was up for grabs between the most recent MLS Cup winner, Toronto FC, and the winner of Mexico's Campeon de Campeones, which itself is a one off game between the winners of Liga MX's apertura and clausura mini-seasons.
So, to clarify, that's MLS Cup champions Toronto, who are nine months, and most of the following MLS season, removed from that title, playing against Tigres, who themselves were halfway through the following apertura, on a Wednesday night in front of allegedly 12,000 fans. Tigres won to hoist the first-ever prestigious Campeones Cup and the confetti did fly.
Not that North America should be taking all the blame for this. Our European cousins are plenty adept at pulling trophies out of nothing, or slapping a new coat of Johnstone's paint on a previously disregarded competition. Just ask an Englishman about the Checkatrade Trophy.
Nations League
The newest innovation in meaningless silverware is the Nations League. Both CONCACAF in North America and UEFA in Europe are rolling this out, in a bit of simultaneous invention that would make Alexander Graham Bell and Elisha Gray blush. Luckily when Bell and Gray were finished, we got the telephone out of the deal. With Nations Leagues, we get actuarial tables.
The basic idea of the Nations Leagues is to have different nations play each other in games of football. "Weren't they already doing that?" you might ask. Yes, but this is different, because reasons. One of those reasons, ostensibly, is that the lower tier nations would have games automatically scheduled for them without having to call each other (again, thanks Messrs. Gray and Bell)
Effectively, the Nations Leagues segregate teams according to their rankings, and has them play against teams of their own stature. As for the opinion that a country like Greece might have more to learn punching above their weight against Spain than against Lithuania, or conversely that Spain might want a decent jog against Greece before a big tournament instead of facing Germany?
Shiny Trophies
Well, no, see, because there's a trophy involved! Everybody wants a trophy! Look, it's shiny! Also, presumably these tournaments will be the qualification stage for the actual continental tournaments – the European Championship and the Gold Cup. Although, if you have a continental tournament, why do you need a new continental tournament just to determine how to get to the old one?
Nations League
The Nations Leagues may not be the new kids on the international block for very long however, as Celtic, Ajax and others this week let slip that they are eyeing a third European club competition to slide in just underneath the Europa League.
It is tentatively, and cleverly, being called EL2, although the name Challenge League has been floated as well and is much better and therefore doesn't stand a chance.
The Challenge League would even out the Champions League and Europa League and give Europe three, thirty-two team competitions, allowing teams from Austria, Scotland and the like the opportunity to compete for a trophy of their own, without the big meanies coming along and kicking sand in their faces.
It is an easy criticism made by the uncreative that these darn millennials are all snowflakes and the reason the world is going to hell in a handbasket is because they got participation trophies when they were young and are entitled.
Meanwhile, old white men in boardrooms are two focus groups and one sponsorship deal away from creating a soccer tournament called the Budweiser Participation Trophy, touring that dog-and-pony show around the world, charging $100 for an upper-level ticket, and touting the prestige and honor of winning it.
And of course, their friends in the confetti cannon business will get a taste of that action.