Everton are unlikely to have sobered up by Sunday after pulling off a brilliant comeback at Goodison, from 2-0 down to 3-2 winners.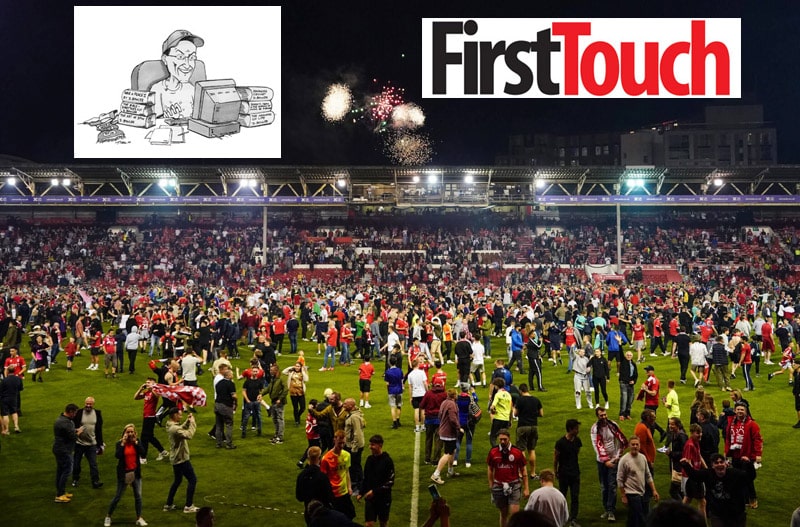 It's been a week dominated by penalties and who's to say that we're out of the woods with them yet? 
By Dave Bowler 
Certainly you'll get  short odds from Sports betting Canada on the Scottish Cup final ending in a draw on Saturday and Rangers being put through the turmoil of deciding another huge game from a distance of 12 yards. It was the way the FA Cup final went last weekend and then Nottingham Forest made their way to Wembley via the play-offs thanks to some goalkeeping heroics from Samba Brice at the conclusion of their tie with Sheffield United.
But is it really the best way to settle games, or might we just as well toss a coin? Some, Gary Lineker amongst them, believe it's a real test of both technique and character, and that the better side ultimately wins, but does that stack up? When you look at the Europa League final, you'd be hard pressed to find a better player on either side than Aaron Ramsey, yet he was the only man to miss.
And Mason Mount, the final culprit for Chelsea in a shootout where Liverpool's Sadio Mane also missed. Would those two not be up there as among the more gifted players in the Premier League and, in Mane's case, celebrated for being ice cold in front of goal?
Goalkeepers
None of those were particularly good penalties, Ramsey's especially, but at the same time, if the goalkeepers at Wembley had elected to go the other way, both end up in the back of the net. You could argue that the takers telegraphed where they were putting the ball, but most goalkeepers, in their candid moments, will tell you they've already decided which way they're going before the taker has lined up the ball – they do their research.
Coaches clearly believe that some players are better up to the job than others, hence the late bringing on of specialist takers or goalkeepers in the dying seconds of extra time. That always seems a huge risk to me, especially in terms of penalty takers.
You get maybe 60 seconds on the pitch, the ball might not come anywhere near you, and suddenly with your first touch of the ball, you're meant to stick it in the net to stay alive / win a cup final? That feels like a very special kind of torture to inflict on anybody. Of course, their plans were disrupted by the late injury to Barisic, but if I was a Rangers fan looking at who to question about the defeat in Seville, von Bronckhorst might be the one I'd try before a clearly unfit Ramsey.
Penalties
Deciding the outcome of a season's toil on the basis of something that seems to be more luck than judgement is a terrible method and, in the final analysis, anti-climactic. For all that it might be exciting, especially for a neutral, were Liverpool or Eintracht really deserving winners of their finals this last week?
Both games got what they deserved – draws. Some of us – me included – would prefer the old school method of playing replays into July if needs be in order to find a winner but sadly, those days are never coming back.
In which case, let's go back to the future and exhume the old NASL / MLS shootouts where the attacker had five seconds to score from 35 yards out. The whole point of football is that goals should be difficult to score, should be prized, otherwise, it's basketball. Penalty shootouts are basketball, with their 9-8 scorelines. If you want a real test of footballing skill, a shootout should end 1-0 or 2-1. Bring them back!
EPL Deciders
There'll be no shootouts in the Premier League this weekend of course, with plenty still up for grabs, though it is hard to see Manchester City failing to beat Aston Villa. The league title should be theirs but Liverpool must regret those dropped points against Spurs in the aftermath of the Champions League semi-finals.
Playing the day before City, who had just endured disaster in Madrid, had Liverpool beaten Tottenham, the pressure might have been too excruciating for City to handle. That Spurs result got them off the hook, they took full advantage, and they now stand a win away from a fourth title in five years.
Tottenham's point at Anfield has helped then get into a position where the fourth Champions League spot lies in their hands, their only challenge being Arsenal. In the past, you'd be forgiven for expecting Sunday to be St Totteringham's Day, the day when Spurs are, well, Spursy, and blow it by losing at Norwich of all places.
Conte
But with Antonio Conte in charge? Surely Tottenham will take all three points and secure fourth position. Even if they miss out, it's Arsenal who look the more flaky at present and who would put money on them beating Everton to sneak past Spurs?
Except of course that Everton are unlikely to have sobered up by Sunday after pulling off a brilliant comeback at Goodison, from 2-0 down to 3-2 winners to dispose of Crystal Palace and secure top flight football for next season, something that seemed less than certain a few weeks ago.
That means that the final relegation place lies between Burnley and Leeds, on the same points, but with Burnley 20 goals better off. Leeds go to Brentford, Burnley host Newcastle, neither opponent having much to play for. It's in Burnley's hands and, at home, and on current form, they must be red hot favourites to beat the drop. In which case, a small investment on Leeds might not be a bad idea…