"It's not for me to tell Wayne Rooney where  to play". Thus said the England manager Sam Allardyce after his side had squeezed through their opening World Cup qualifier against Slovakia on Sunday night, the only goal coming of the game coming with virtually the last kick of the ball, Adam Lallana's strike postponing what would have likely been a prolonged inquest into the game.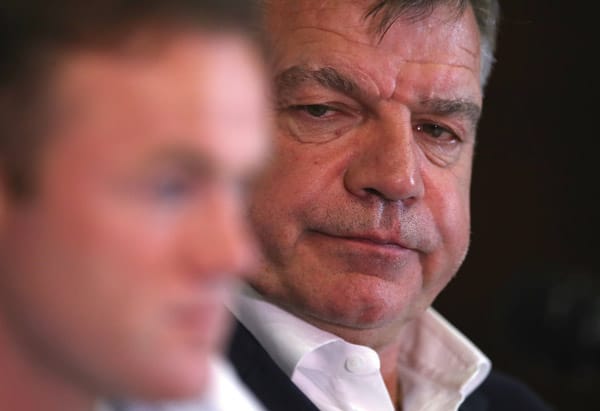 Allardyce clearly wanted no such post mortems afterwards, focusing instead on he relief he felt at getting off to a winning start against ten man Slovakia and the lucky coin given to him by a supporter prior to the game – "let's see how far that can take us!"
The continuingly vexed question about the role of Wayne Rooney would not go away though, but when asked, Allardyce was all bluster. "We're not going to talk about that are we? Wayne was brilliant. It's not for me to tell him where to play". And with that, he was off on the next question, deliberately shifting the focus, trying to concentrate on the win.
Clearly, it's all a diversionary tactic for Allardyce, if not quite the employer of the tactical straitjacket that his caricature would suggest, is not one given to bestowing absolute freedom on any of his charges either. Certainly a player of Rooney's international experience should have the opportunity to take up positions on his own say-so at times when he spots an opening or the threat of danger, but England are not so dripping with gifts across the rest of the side that their captain can simply be given a blank sheet of paper.
The Rooney Problem
It's highly unlikely that Allardyce truly has that in mind, more that he wants to head off questions about an issue that is proving stubbornly difficult to resolve, for him just as for his predecessor – just what do you do with Wayne Rooney these days?
It seems there is agreement that his days as an out and out striker are behind him, though that looks perplexingly early at just 30. Nonetheless, if, as seems the consensus, he's no longer a number nine, just what is he?
England have a surprising reluctance to play him in the number 10 role that you would think was the obvious one. Instead, it seems that they see him as somebody lying deeper yet, spraying passes around from the midfield and unleashing England's attacking players on runs behind the opposition defensive lines. That might work, although there weren't too many signs of it against Slovakia, but surely Rooney can't drop so deep, as he did in the first half, that he is playing behind his own central defenders? At times, rather than being the number 10, he was more of an advanced sweeper.
Balance
Balance continues to be the issue that England struggle to resolve, one that didn't look right until Slovakia went down to ten men and England could dispense with one of the two holding midfielders and play Alli further up the pitch, giving Rooney a better focal point than the lone centre-forward in Kane.
It's a system they can probably pursue in qualifying, playing Alli rather than Henderson perhaps, for the likes of Malta and Slovenia are unlikely to require two holding midfielders, allowing Rooney to wander and Alli to get forward, but that then sucks England into the trap of ages – qualify with ease and then find that your tactical plan doesn't hold up to closer scrutiny from better sides.
When push comes to shove in Russia, assuming England get there, they will need greater tactical discipline against more accomplished teams and while Rooney might be allowed some freedom when England are in possession, when they don't have it, Allardyce will expect him to help keep the shape, something he has preached throughout his managerial career.
All of that is to assume that Rooney continues to be selected, likely now that he has been named captain again. These are two big years for him at international level an arena where, for all his records, he has perhaps under-achieved in the dozen years since he announced himself in such impressive fashion at Euro 2004.
Allardyce will hope that by giving him responsibility in such clear form, by buttering him up as having more experience of knowing what to do than even his manager does, Rooney will thrive and, in his swansong tournament, give a career defining performance. It's a big gamble but it might be worth it. After all, nothing else seems to have worked does it?