He came like a thief in the night, or at least like the ill-gotten gains of one. In a trade that had people staring at their phones and monitors in disbelief, Dax McCarty was acquired by the New York Red Bulls in June of 2011. The fact that he was traded for the mercurial Dwayne De Rosario, who had only been signed two months earlier, made the trade that much stranger. In fact, the trade that brought DeRo to New York was announced on April Fool's Day, and yet it was the deal that sent De Rosario away that seemed more like someone's idea of a good rib.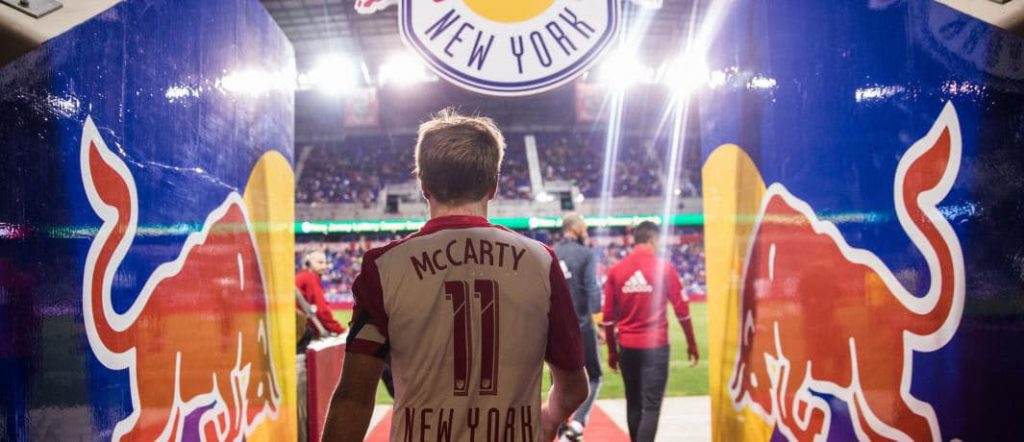 Tim Hall's View From 101
De Rosario was a high-risk, high-reward player, someone with a big ego but with a skill set and en eye for goal that could and often did supersede it. That said it was always likely that the DeRo deal was going to crash and burn, but after just two months?
On the other hand, Dax was the safe deal. Even in 2011 at the age of 24, it felt like he had been around since the Gold Rush, with a handful of caps for the US National Team in his pocket and proven Major League Soccer success with FC Dallas. A solid, feisty presence in the midfield, a quieter workhorse to flesh out the team behind the big names of Thierry Henry and Tim Cahill.
The DeRo-for-Dax deal felt like a step down in talent but a step up in maturity, and even though De Rosario would go on to burn New York on occasion and make them pay for their 'mistake', five-and-a-half years on Dax McCarty can point to two Supporters' Shield with the Red Bulls as proof that it turned out to be a good deal, even if it was quite a surprise.
Dax Surprise
So much the same way as he arrived, Dax McCarty left on Monday night, a holiday Monday when people are rolling their eyes at the dinner table over the thought of going back to work even though it means a four-day week. Also it was as Dax was in transit to the January USMNT camp in California. A camp he was late for because he got married over the three-day weekend. Tough to say who was more surprised by the move: the supporters or the player.
McCarty was "traded" to Chicago for money. Usually the word you want there is "sold", but since it is invisible allocation money that can only be used to game the MLS salary cap and not briefcases full of cash handcuffed to the wrists of besuited bodyguards, perhaps our usual tropes of language need a rethink.
In the space between the two unexpected deals, Dax McCarty became the captain of the New York Red Bulls and one of the rocks that would lead them through the transition from Thierry Henry's Team to the current era of the parsimonious, best-value-for-money Red Bulls. Both incarnations of the club have been successful, one Supporters Shield each, and both thanks to McCarty's work in the center of the field.
Role Play
It's been McCarty's transition into a deeper, holding, defending midfielder in front of the back four that has been a revelation and a rejuvenation for his career, especially as New York switched to a high-pressing style under Jesse Marsch in 2015.
In that role, covering more ground than shadows, with the ability to turn around and get his head up to get the ball out of the back in a hurry and start the attack in a blink, Dax had a career year in 2015, and for the first time in six years, for the first time since joining the Red Bulls in fact, McCarty was called in to a US camp this January.
Doing the yeoman's work in the midfield isn't particularly flashy and not the most direct way to win anybody over, so Dax threw himself into the mix. Quite literally, in fact. With a reckless, terrifying abandon, McCarty would launch all 5-foot-9 of his body at balls and frequently win them.
Two headed goals in the 7-0 rout over NYCFC by one of the smallest players on the field speaks to the commitment level from both sides that day, and a stoppage time, full extension, laid out parallel to the ground header to win against Real Salt Lake in 2013 helped gain the club their first piece of meaningful silverware and somehow did not end up with a bloody and concussed ginger fellow being carted off the field at full time.
Character
As much as the highlight reel will show the goals and the assists (15 and 30, respectively), it will also show the character of McCarty: pumping his fists at the stands, kissing the badge after a playoff winner against DC United, getting up in the faces of players taller than he to give them what for after a hard tackle.
That, as much as anything else, is the sort of thing that endears players to the fans here. Yes, we'll cheer you for a goal, but we'll love you for a fistfight.
The pugnacious Red Bulls captain was well-loved here though. Quick with a smile or a joke, by all accounts got on well with his teammates, even started an Instagram account for his bulldog.
But in a flash, he's gone.
Maybe it's the fact that the Red Bulls don't want to spend parts of this upcoming season without McCarty and teammate Sacha Kljestan in the midfield, as both will likely figure in to USMNT Gold Cup plans this summer. Perhaps the Red Bulls are serious about going younger and bringing up academy products Tyler Adams and Sean Davis to make the final step towards starter.
Maybe there's a big name signing just over the horizon and the invisible Garber Bucks from Chicago will be used to knock our socks off.
Or maybe this is just a business, and Dax McCarty isn't the future and maybe not even the present anymore. Yes, he'll only turn 30 this season, but he's been a pro since 19, and a durable, start almost every week and give you ninety minutes pro at that.
That is a lot of wear and tear. Just in the last five-and-a-half years Dax had become the franchise leader in games and minutes played. While it would be lovely to be loyal to a guy who was a part of winning you the first two Supporters Shields, it's likely that he's not going to be a part of winning you the next two, so best to get value for him while there is demand.
It's a hateful business, this. But it's a business nonetheless.
Thanks, Dax. Thanks for everything. Congrats on the nuptials. Best wishes. Pet your dog for us. No hard feelings. It's just business.