Ultimately, it did the trick, so to criticize seems churlish, but as Aston Villa walked out to face Crystal Palace at Villa Park on Tuesday night to the strains of "Heroes" by David Bowie, it sounded pretty startling. I'm sure the late Thin White Duke, famed for his mischievous sense of humour, would have appreciated the bleak irony in what might have been meant as a tribute but could only come across as ludicrously ill-chosen by the team rooted to the bottom of the league.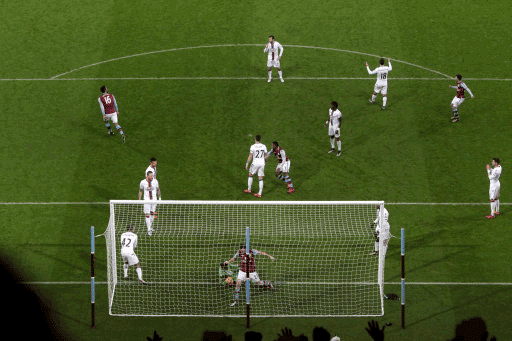 By Dave Bowler
"Scary Monsters & Super Creeps" might have done the job perhaps, "Ashes to Ashes" would have been a worthy lament for the Birmingham team or, perhaps, simply "Sorrow", for this Aston Villa is doing its level best to become the worst team the Premier League has ever seen, though at least they are now in double figures, on 11 points after beating Palace.
No, mathematically they will not be the worst, for Derby County's superhuman effort in accumulating just 11 points in 2007/08 has now been equalled and will surely never be surpassed. Or underpassed. Or whatever. But Derby had only just been promoted, as had Sunderland when they managed a mere 15 two seasons earlier.
Even when the Black Cats went down with 19 in 2002/03, they'd had just four years in the top division.  Watford's 24 from 1999/2000 – again a newly promoted club – might take some catching mind you, but even if they surpass that, would that make Villa's class – or lack of class – 2016 better?
Heroes & Villans
For Aston Villa are one of the great clubs of England, one of its biggest, but it isn't just about ancient history and the carrying of a big name that demands they do better. The fact is that Aston Villa have been dipping their bread in the Premier League's gravy train since the day it first started in 1992 and 23 years on, all they have to show for that is this?
As things are now unfolding, they are a classic case of the catastrophe that can envelop you when you lower your horizons to the point where mere survival is enough. Oscar Wilde famously wrote that, "We are all in the gutter, but some of us are looking at the stars". Sadly, Villa are looking down the drain.
It's all very different from those days a decade ago when Randy Lerner breezed into Villa Park and a bright new dawn looked set to follow on the back of his millions. And then, Manchester City happened and Lerner realised that his millions had been relegated to small change against their billions. Hopes of finishing fourth and being in the Champions League perished, as did Villa's plans for expansion.
Instead, he has presided over years of gradual decline. For the last four seasons, they have not finished any higher than 15th and at no time have they ever really addressed the fundamental issues. Instead, they have continued to stockpile flaky, show-pony footballers who are guaranteed to go missing time and again when it matters, the fans' frustrations finally boiling over with them in incidents at Sunderland and Wycombe after yet more inept displays.
Bad Managers
If it wasn't bad enough to buy bad players, they've compounded it by selling good ones. For several seasons, they have been kept up essentially by Benteke, Vlaar and Delph. None of them are there this season. Go figure what's happened next.
They did get a good chunk of money in return for Benteke, all of it squandered on yet more flakes. To add insult to injury, if their player recruitment has been bad, then their managerial work has been more absurd still. Oh to have been a fly on the wall when they decided that appointing the hilariously inept Tim Sherwood – one tactic: "all pile on and we'll see what happens" – was a good idea.
Yes, that won them just enough points to survive last term, but keeping him in post this season was a car crash waiting to happen. Then they dithered too long in sacking him, allowing Sunderland – another long term basket case – to finally get it right by appointing Sam Allardyce who might not entertain or win many friends, but will at least give the Black Cats a chance of survival.
Big Sam
Which is to say that Sam would have got to Villa if invited. I doubt he would because you cannot see anything in that squad to give any manager any hope that he might turn things around. Remy Garde looks a more gifted manager and has them more organised than Tactics Tim ever did, while he has clearly identified a number of the more undesirable elements in his squad who he wants to turf out. But who will have them? And who will want to come to a team hurtling towards the Championship?
If Garde keeps Villa up this term, when he pops home to France in the summer, he won't need a ferry, he'll be able to walk across. Assuming that miracle doesn't happen, then he will have a mountain of work to do just to give Villa fighting chance of stabilising at the lower level. That they should have come to this is a crying shame.