With perhaps the exception of Leeds United's survival at the expense of Burnley, the outcome of the EPL final day was pretty predictable – but the way it got there was typical of the chaos which that competition is so gifted at generating. Let's face it, if prior to the games you'd fancied a bit of a flutter at best sports betting sites, the sensible money was on Man City to emerge as champions, Spurs to clinch the last Champions League berth with the Leeds / Burnley conflict coming down to a coin toss.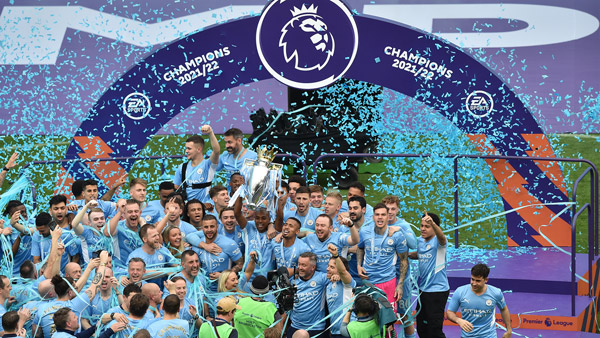 By Dave Bowler
Spurs' was the most straightforward achievement, never really in doubt from the moment they opened the scoring at hapless Norwich who, incidentally, have much to do if they are to bounce straight back into the Premier League at the first time of asking after a thoroughly dispiriting campaign.
Tottenham's win might, perhaps, be the most significant long-term event of the day. The finances it will trigger should be enough to help them persuade Antonio Conte to stay and his record suggests that if anybody is going to be able to break the City/Liverpool stranglehold on the Premier League, it's Conte. It might not happen next season, but Conte's Spurs averaged 2 points a game, without having a summer transfer window to work with.
On that basis, you could easily see Tottenham getting up into 80 plus points territory next term, though such are the ridiculous standards that Liverpool and City have set, that would still only get them third place – and who knows what will happen yet at post-Abramovich Chelsea? It would be great for the game if either of those could muscle in on the double act at the summit but it might take a little longer yet.
CITY FUTURE
Had Manchester City not found that explosive burst of three goals in 742 seconds then the Etihad would have been a pretty grim place to be following a season with nothing to show for it, not even a cup final. Having only to beat a pretty ordinary Aston Villa on home soil to win the league, had they not done that, would Guardiola have stayed for the final year of his contract?
Would the crushing disappointment of that, off the back of the defeat to Real Madrid have turned it all sour? But now, with a fourth title in five seasons in the trophy room, with Erling Haaland to join in the summer, City look an even stronger force next term. Whether that is good for the Premier League is another thing.
We can probably rely on Liverpool to keep them honest at least. While there was inevitable disappointment at Anfield when they realised that City had got the job done, they still have bigger fish left to fry this season with the Champions League final to come. Klopp and his staff will certainly earn their money in getting them prepared this week because understandably enough, Liverpool have begun to look just a little weary and rather looser defensively over the last four or five games.
They've continued to find ways to get the job done, as great sides do, but Real Madrid have had a considerably less intense month of preparation for the game and that might well prove to be critical in the final analysis.
ANCELOTTI VS KLOPP
Ancelotti versus Klopp is one of those great managerial confrontations which just makes this Champions League final between two of the competition's greatest achievers all the more special. It will all be about those fine margins that pundits so love to talk about, but the most important one could well be which side has the fitter, fresher players.
For all that I think that Liverpool are the better side, I wonder if that easier run-in to the final might ultimately work in Real Madrid's favour? To the great relief of Liverpool fans who might be regular readers, I'm going to go for Real Madrid as winners. You can thank me later.
At the other end of the table, it was Burnley who finally fell of the Premier League perch and into the Championship. Leeds did what they needed to do by winning at Brentford while Burnley couldn't finish off an end-of-season-happy Newcastle at home.
DYCHE
Having had their fate in their own hands, that's a pretty terrible failure from the Clarets and the inquest will be on over whether they should have sacked Sean Dyche or not, whether he should have gone earlier and all of that. One thing is for sure, as a Championship club, they would have been easier to back with Dyche at the helm in August then they are now.
Talk now is of their finances. With a £65million loan needing almost immediate repayment, you can see why they gambled on changing the manager I an effort to stay up, an effort that very nearly worked. But now, you can only see a summer of departures from Turf Moor as they try to realise some of that money, all of which will only make it harder for them to achieve the immediate return to the top flight that they desperately need.
For Leeds, it was vindication of their controversial sacking decision, replacing Bielsa with Jesse Marsch. All concerned with have heaved a mighty sigh of relief at the final whistle and Leeds now have a chance to not only regroup, but perhaps to hold onto some of their key assets.
They've certainly learnt one vital lesson after being too passive in the market last summer – stand still in the Premier League and you'll get trampled to death by those coming up behind you. It'll be interesting to see what they do between now and the start of the strangest season in English footballing history, the one with a World Cup right in the middle of it.
But first, the final World Cup qualifiers…