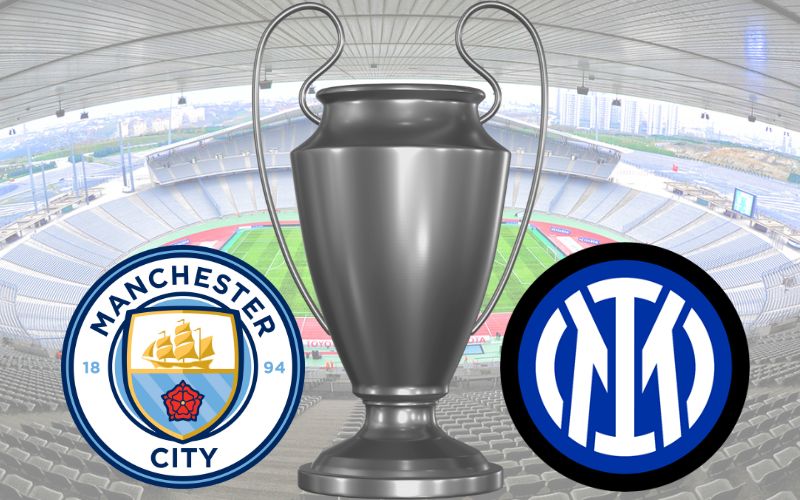 The best club competition on earth is set to close with its final match on June 10, 2023. This season's Champions League final will be contested between three-time winners Inter Milan and second-time finalists Manchester City.
Despite winning this trophy on three occasions, Inter Milan head into this match as underdogs due to Man City's current form. Our Champions League preview will discuss critical match information about the final. We will also consider how both finalists got to the final during this preview.
Match Information
The 2022/23 UEFA Champions League final is scheduled for Saturday, June 10, 2023, at Istanbul's magnificent Atatürk Olympic Stadium. The stadium was built in the beautiful Başakşehir area west of the mesmerizing Bosphorus.
The Atatürk Olympic Stadium will host over 75,000 eager spectators, all ready to witness the pinnacle of European football.
This stadium has hosted a major UEFA competition final before, the unforgettable 2004/05 Champions League final between Liverpool and AC Milan. That epic match remains one of the greatest Champions Finals since the competition began 1955.
On May 25, 2005, Istanbul witnessed an incredible showdown! Despite being down 3-0 at halftime, Liverpool made a remarkable comeback and eventually won in a thrilling penalty shootout.
This comeback, known as the 'Miracle of Istanbul,' is considered one of the most memorable moments in European football history. Interestingly, this year's final will be between Italian and English football clubs.

Road to the Final: Manchester City
Bookies heavily favor Manchester City to secure a victory against Inter Milan. This is no surprise, primarily due to the exceptional performance of prolific City goalscorer Erling Haaland who could single handedly dominate the tie. This is the most popular prediction for people that want to bet on Champions League.
Haaland holds the record for the most goals scored in a single Premier League season (36 and still counting, with two matches remaining). With a remarkable tally of 12 goals in 10 UCL appearances, he has played a pivotal role in Manchester City's triumphant campaign.
Moreover, the 22-year-old sensation has left his mark in the UEFA Champions League, rewriting history with an astonishing 35 goals in a mere 29 appearances. His remarkable performances have etched his name in the record books.
Thanks to Haaland's contributions, Manchester City has had a relatively effortless journey in the Champions League. Their goal-scoring prowess is unmatched, as they have surpassed their opponents with an astonishing margin of 31 goals to a mere 5. City has eliminated formidable teams like Real Madrid, Bayern Munich, and RB Leipzig through their performances.
Road to the Final: Inter Milan
Inter Milan secured their spot in the UCL final as they triumphed over their city rivals, AC Milan, with a 3-0 aggregate scoreline. Dominating both legs of the semi-final series, Inter Milan put in an incredible attacking and defensive performance to reach this stage.
Before their Semi-final clash with AC Milan, the Italian side had defeated Porto and Benfica. Inter has excelled in cup competitions despite a poor league outing this season. The Milan-based outfit will face Fiorentina in the Coppa Italia this week. A win in that match will significantly boost the team's morale ahead of a possible fourth champions league win in Istanbul.
Betting Tips
This section presents free tips on our expected outcome for the 2022/23 Champions League final.
Straight Win For Man City
Inter Milan was impressive against their city rivals AC Milan in the semi-final. However, they face the arduous task of overcoming the formidable Man City in Istanbul. So far, the Milan side has kept six clean sheets against their opponents throughout this competition. However, Man City should break their defenses due to their possession-style game.
Man City have showcased their brilliance throughout the current champions league campaign. In most matches, the citizens have delivered commanding performances.
Their second-leg thrashing of Real Madrid serves as an actual example. Despite their positive performances in cup competitions this season, a win for Inter seems unlikely.
Man City to Win Both Halves
Apart from securing a win in this match, we expect Man City to establish a lead at halftime. Inter has played well on many occasions. However, the undeniable truth remains that Man City has a more effective attack capable of tearing teams apart.
City has taken a resounding lead during the first half against topsides several times this season. As a result, expect them to lead by the end of the first half. We also expect City to score a lot of goals in this encounter.
Inter Milan Vs. Man City
All signs point to a City win in the final. A loss for the Citizens in their FA Cup final match against Manchester United can turn the momentum in favor of Inter Milan. Overall, we expect to see an exciting football game with many fireworks. Who knows, we may be about to witness another miracle in Istanbul.