Cosmos youngsters Eric Calvillo and Alexis Velela are set to compete with the United States Under-19 National Team in the 2016 Slovakia Cup. NYCosmos.com sat down with current U.S. U-19 head coach and former U.S. National Team goalkeeper Brad Friedel to talk about his squad.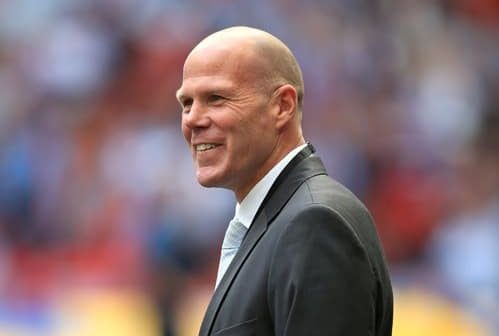 In January you were appointed head coach of the United States Under-19 National Team. In what ways would you like to help this team and its player improve?
Brad Friedel: There's lots of ways. The main thing over my first six months in charge that I've wanted to do is try to expand the group. I want to see as many players as possible, and understand the many different levels these players are competing at.
The first group that I called [in January for the Copa del Atlántico tournament] was mainly kids that the U.S. Soccer Developmental Academy system. I think Eric Calvillo was the only one that had just signed professionally. While he was a Cosmos player, he hadn't joined the team yet.
This time I've called quite a few players that are in the professional environment. It's really good to see the differences in the players. This is all about getting players prepared, and seeing what '98s are out there that can help Tab Ramos' group of U-20s. It's also part of the core group for the next Olympics. The '97s and '98s will be the core group of players playing to qualify for the next Olympics. So we have both short-term and long-term goals with the team.
It's also forever changing. I hope every single camp I will give some players that haven't been in the system a chance, so we can try to get around our big country and the globe as best as possible. We don't want players to fall through our fingertips.
What have you learned about being a head coach in your brief tenure with the U.S. U-19s? How would you characterize your coaching style?
You learn every day, the same as you do when you're a player. Being with the national team, a lot of people think you have more downtime. That's actually not true. You stay busy with the scouting. Because our scouting endeavors domestically involve a lot of travel, it really becomes full time. [U.S. Soccer Development Academy Scouting Director] Tony Lepore has done a very good job with getting together our scouting network. We all get a lot of help from the scouts.
But you also need to see a lot of players face to face, especially if they've never been in the system before. It's important to do your due diligence in that manner. You have to see as many clubs as you can and speak with them on an ongoing basis. You see what areas you want to be developed. And you have to have a good rapport with all the club teams. If there is that good communication, it can really benefit the player.
As far as coaching style, I was educated mainly at Tottenham. It's a very family-oriented coaching style, with a lot of hard work. I'm demanding of the players, but it's also what I would deem to be enjoyable work. There's certain qualities you need, no matter what formation you play, no matter what team you're playing.
Whether it's three at the back, four at the back, whatever. You're teaching the kids to deal with certain instances that occur in the game. How to deal with transitions, winning the ball, keeping the ball, going up against faster or slower players, more physical players, all of those things.
One thing is that the players have to feel wanted and important. I try to instill that in all of the players.
Having a U-19 age group for U.S. Soccer is still a relatively new development. Why do you think it's important to bridge that gap between U-17s, U-18s and U-20s?
It's not just the U-19s; the U-16s are really important now as well. As it relates to the U-19s, when we had the group of U-17s in residency, then you would have the U-18 group, and then you'd have a gap. A lot of players who may not be in the U-20 or U-23 system yet – it could be physicality or that the coach doesn't know them that well – this is a group that can help with that.
There's a lot of communication between the U-18 coach, Tab and I. We give these players the international experience they need in youth development, because those experiences are different than club experiences. The players need them both. The federation has spent a lot of time with these players from young ages, and it's a shame for them to have gap years in their international development. That's why I think the U-16 and U-19 programs are such important additions.
In your eyes, what would make this Slovakia Cup a success for the U.S. U-19s? What do you hope to see from your squad?
I have a few things. If I can find players that make me very comfortable calling Tab and telling him to add them to his group, that's one point of success. Another point of success is winning all the games.
This is a group that's either professional or on the verge of turning professional. Winning is an important part of that development. I know there's a lot of talk about when winning factors into development, and I think there are certain ages when winning is absolutely important.
Another point of success is how we actually play in the games. That's more of an internal success that I'd discuss with my own coaching staff. Can we improve from one game to the next? When we see certain things and explain them to the players, can they take them and use them? I also want to keep all the players that are here in the system, because that means they've done the job.
It's very important that these players understand they're representing the United States. There are certain criteria that we as coaches demand from them. Hope they show those qualities each and every time. The more players I get that can do that, the more of a headache it becomes for us coaches, but that's a great headache to have. We want the chance to make those tough choices.
In January you named Cosmos midfielder Eric Calvillo U.S. U-19 captain for the Copa del Atlántico tournament in Spain. What sort of leadership qualities does he have that you thought made him a good fit for the role?
It's funny; that was the first time I had met all the players. You try to look at players' personalities, and Eric is an infectious character. He had no problem voicing his opinion amongst the players and no problem speaking to adults. Those are qualities that you need as a leader.
What I hope is that I get a group of players together and I can pick 11 as captain. You definitely need more than one leader on the field to win games. Eric possesses those leadership qualities, which are very good to have. When you're out on the field, the coaching staff isn't out there battling with you. You need players to make decisions and communicate with the other players. Eric showed early on that he possesses a lot of those qualities.
What about Eric and Cosmos defender Alexis Velela made you believe they were important players to bring along for the Slovakia Cup? How do they fit into what you're trying to do on the field?
They both have made the move into the professional environment, which is a really good step in a young player's development. Technically they both possess good quality. Now it's a matter of taking that and displaying it in competitive professional soccer. Every team that we play against at this level has professional players.
The mentality is a big part of it. With this camp I wanted to see the difference in the mentalities with the professional players. Alexis fit that mold, and I've been speaking with [Cosmos head coach] Giovanni Savarese quite often. I've also had scouts out watching training. It's another part of their developmental pattern. They've both been part of the national team program before, and I saw Eric at my first camp. Now this is my first chance to see Alexis.