Here is our guide to watching Arsenal in Florida. Find all the Arsenal supporters clubs in Florida and meet other Gooners in Arsenal bars in the Sunshine State.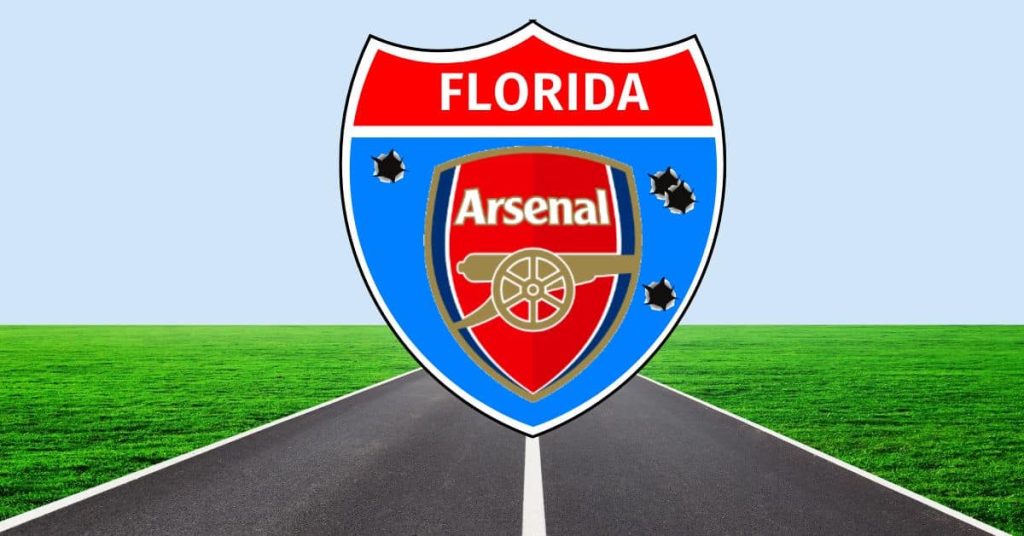 ---
Guide To Arsenal Supporters Groups In Florida
Tallahassee
Gooners
There are five official Arsenal groups in Florida. In the top left corner, you will find the lads and lassies of the Tallahassee Gooners. The links from ArsenalAmerica to their social media pages are broken, but that's what First Touch is here for. The Arsenal pub in Tallahassee is the 7th Hill Taproom, an establishment famed for its craft beer. Come for 3 pints, and leave with 3 points!
Arsenal Bar in Tallahassee – 7th Hill Taproom
---
Gainsville
Gooners
Arsenal fans are enjoying their season in the sun right now, none more so than the Gooners in the Sunshine State. Our next port of call is The Queens Arms in Gainsville, Florida where you will find the Gainsville Gooners – probably the only Arsenal fan group in the world with an alligator on their logo, but we're here to be proved wrong.
Arsenal Bar in Gainsville – The Queens Arms
---
Orlando
Gooners
This is one of the more popular travel destinations among the many Arsenal bases due to its proximity to DisneyWorld and the Florida beaches. Out-of-State and international visitors rub shoulders with local Orlando Gooners at The XL Soccer World in Winter Park – an adult and youth soccer field complex with an adjoining bar and restaurant. It's perfect for scheduling a five-a-side game before lunch or after the Arsenal match.
Arsenal Bar in Orlando – XL Soccer World
---

Gulf Coast
Gooners
Tampa is a hotbed of soccer in the USA and home to the legendary Tampa Bay Rowdies. The Gulf Coast Gooners was officially sanctioned in 2010 but formed some years before that at MacDinton's Irish Pub where Florida-based Arsenal fans would drive from miles around to meet up for games. You should be prepared for an energetic and lively atmosphere on match day.
Arsenal Bar in Tampa – MacDinton's Irish Pub
---
Miami
Arsenal 
Last but by no means least of the Florida Arsenal groups is the Miami Arsenal Supporters Club (MASC). In fact, with over 10,000 social media followers they are the largest Arsenal supporters club in Florida. There's even an Arsenal Miami podcast for your listening pleasure. They also do a fetching line in merchandising – because The American Social is the only bar in Florida where they choose to wear a MASC.
Arsenal Bar in Miami – The American Social
---
How To Watch Arsenal in Florida.  


Check our soccer TV guide for kick-off times and channels