World Cup 2022 Diary: Semi Final, Argentina 3 Croatia 0. Lionel Messi led his side to a sixth World Cup Final with another inspired display as Luka Modric bows out from International football with Croatia.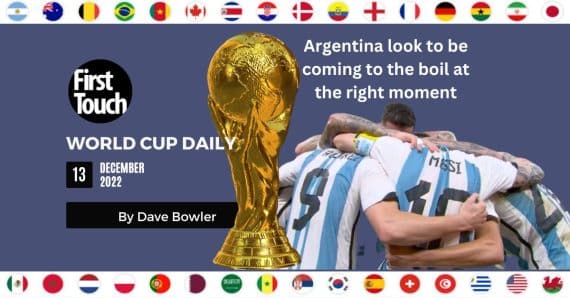 Argentina Beat Croatia 3-0 To Reach Their Sixth World Cup Final
By Dave Bowler
Modric comes to the end of the line. Messi stands on the brink of what has long seemed to be his destiny. That was the outcome of the semi-final between Croatia and Argentina, an absorbing contest for much of the first half, a foregone conclusion for all of the second.
In the end, Croatia's durability finally fractured, perhaps worn down by consecutive bouts of extra-time and penalties, perhaps simply unable to withstand an increasingly confident looking Argentina, and an irrepressible Messi.
Not that he is the only weapon in the Argentine armoury for on this night, he was pretty much matched by Alvarez, creator of the penalty which Messi converted with ferocious intent after 34 minutes, scorer of the two goals that then sealed victory. The second was worthy of winning any game, collecting the ball from his captain inside his own half and then driving forward with absolute conviction and electrifying pace.
You might argue that he was fortunate with two ricochets from Croatian defenders that fell kindly, but that's unfair. He made his own luck with the quality and determination of his play, unbalancing them, forcing them into errors on which he capitalised.
Alvarez Goals Help Argentina To Final
Messi was the creator for Alvarez's second, dashing away down the right. If he no longer has the acceleration to leave defenders in his wake, he still has the footwork to leave them looking foolish and he employed that to the full before teeing up Alvarez to slot in.
There was no denying the merit of the Argentine win. The better team by far, they look to be coming to the boil at the right moment. That opening defeat against Saudi Arabia, and the dreadful first 45 minutes against Mexico are a distant memory as they are clicking to gear certainly as an attacking force. Questions remain about their defensive solidity, exposed by the Dutch in the previous round, though Croatia were never really able to raise a sufficient gallop to exploit any potential weakness.
It was a sad end for the glittering career of the magnificent Modric, only the third place game left ahead of him at this exalted level, but not even he could turn the tide in his team's favour. That tide seems to be carrying Messi along with it, though there will be concern that he looked to be struggling with his fitness in the opening half an hour. Surely the fates will not deny him that second final now?
Read Dave Bowler's World Cup round up every day
---
Sir Alf Ramsey: England 1973 focuses on the final full year of Sir Alf's reign as England boss. The nation that won the World Cup in 1966 failed to even qualify for the 1974 tournament. Ramsey was suddenly a man out of time, both on and off the pitch. The failing fortunes of the England team mirrored those of a post-Empire nation heading for its own a fall.
A must read for all fans. Order your copy in time for the holidays.