VAR finally comes to the Scottish Premier League this weekend. For those of who have been living under a rock for the past five years or so, VAR, or video-assisted refereeing, is tasked with confirming, or rescinding, potentially controversial or contested calls on the pitch, using enhanced video and computer technology. For example: close offsides calls and red-card challenges.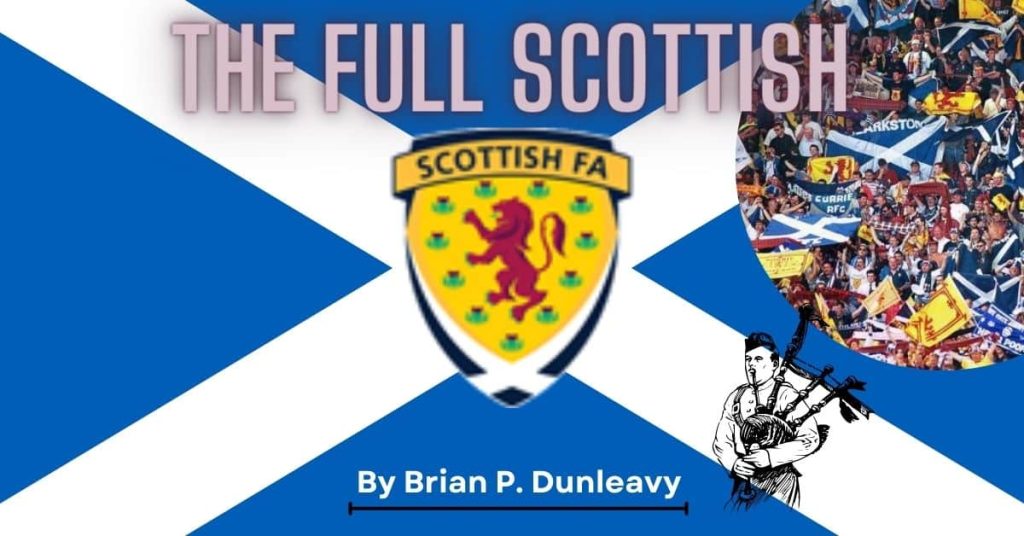 The Full Scottish by Brian P. Dunleavy
However, instead of limiting the controversy surrounding refereeing decisions, VAR has only added to it—humans still have to interpret what they see on the screens, after all. In addition, some, particularly viewers of the English Premier League, have said that the delays necessitated by video review have, at times, disrupted the flow of matches.
Well, we'll all see just how this will play out in Scotland, when Hibs and St. Johnstone kick off at Easter Road on Friday.
And Scotland won't be breaking new ground with its approach to technology-reinforced match officiating. As in other domestic leagues around the world, for each match, there will be a minimum of three people watching remotely. One video assistant referee (VAR), who is a category one official, one assistant video referee (AVAR) and one replay operator (RO). There will also be a VAR observer in the room.
All will follow the action and the three VAR officials will communicate with the on-field referee over any potential checks on anything in the "attacking phase of play" prior to goals, potential red cards, fouls in the penalty area and cases of mistaken identity.
Still, as in other leagues, the on-field referee has the final say on all decisions, in some cases after reviewing the footage himself or herself on a pitch-side monitor.
Cameras
For accuracy, a minimum of six cameras will be in operation at every match in the Premiership, with one looking along each 18-yard line, one high behind one goal, and one low behind the other. In those matches being broadcast live, all television cameras will be made available to the VAR team.
All of this sounds good on paper, and most seem supportive of VAR's introduction—Scotland being one of the last countries in western Europe to use it. Said Rangers bench boss Giovanni van Bronckhorst: "It's very good for everyone because it will make the decisions the referees make on the pitch even better."
Still, not everyone is anxious to see it used. In the interest of equal time, on Friday, Celtic's Ange Postecoglou told the press, "I think the best outcome for VAR this weekend is if we don't use it. It means all the decisions are right. The best referees are the ones we don't notice because the game is more important and I'm sure the referees prefer it that way as well."
Imagine, a match in Scotland without a refereeing-related controversy?
Keep dreaming.