A Ronaldo hat-trick was the explanation point on a classic World Cup match. The rest of World Cup 2018 is going to have to go some to live up to the game that ended Spain 3 Ronaldo 3 in Sochi.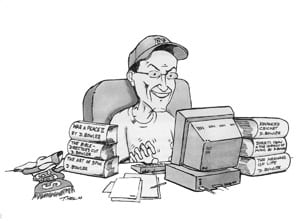 World Cup 2018 Diary: Spain And Portugal Set The Standard
By Dave Bowler
Spain 3 Portugal 3
Cristiano Ronaldo stepped up to score the 51st hat-trick in World Cup history and the 51st of his career, thereby doubling his total of World Cup goals spread over four tournaments inside just 90 minutes. That in itself is remarkable enough, but the goals that bookended the night, the one that gave Portugal the lead and the one that saved the day were extraordinary.
First, an utterly nerveless and unsaveable penalty after a lengthy delay was impressive enough. But to step up with four minutes to go and take the last chance of saving the game – and this after he'd barely seen the ball for 40 minutes, so in command had Spain been – by curling, dipping, bending and squeezing a free-kick into the only channel via which it could have gone in, that's breathtaking.
That goal, coupled with the Iranian win over Morocco would, you'd think, see Portugal into the knockout stages, perhaps even as group winners, something which could be hugely significant. Ronaldo deserved it, his colleagues a little less so perhaps for, willingly as they worked, Ronaldo's starring vehicle is stuffed with a decidedly ordinary supporting cast.
Cristiano Ronaldo Hat-trick
In a virtuoso opening 20 minutes in which he scored, Ronaldo also provided a glorious opening for strike partner Goncalo Guedes which he fluffed horribly with a dreadful first touch. That would have made it 2-0 after 23 minutes and perhaps the jig would have been up for a Spanish side who are notoriously frail in their tournament openings.
But within a minute, it was 1-1, old fashioned centre-forward play from Diego Costa battering a route to goal, from which point, Spain settled into their standard rhythmic swagger and dominated possession.
Even a dreadful error from David de Gea on the brink of half-time which gifted Ronaldo his second for 2-1 was but a brief blip as Spain picked it up again after the interval and were in front before the hour, Costa poaching a goal from close in at a free-kick, Nacho creaming a 20 yarder across goal and in for 3-2.
Spain
Spain, not for the first time though, were made to pay for not turning dominance into more goals and that enabled Ronaldo to magic up that insane climax. Yet for all that they'll be disappointed in the immediate aftermath, in the morning Spain will look at the draw and, more important, the way they played, like the Spain of 2008-2012 vintage, and see this as a satisfying conclusion to a horror show of a week.
Not many teams could have ridden out the managerial shambles they've been confronted by and come out as largely unscathed as they did tonight. Taking the positives is a horrible and generally meaningless footballing cliché that normally covers a multitude of sins. In this particular instance, it's the sensible course for Spain to follow. Put it this way, the other watching nations will be considerably more daunted by the thought of playing Spain than Portugal, even with Ronaldo.
Uruguay Stumble
After being the pantomime villain at the last two World Cups – punching Ghana out of contention in South Africa, biting Italians in Brazil – has Luis Suarez chosen anonymity this time around?
That's the early conclusion to be drawn from a dreadful performance in Uruguay's first game of the tournament, where he missed two golden chances to put Egypt to the sword and was otherwise missing in inaction for the 90 minutes.
Suarez's bad day at the office did, paradoxically, indicate why Uruguay are dark horses for the competition among some. For they are blessed with not just one top striker but two and, although he didn't find the net this time, Edison Cavani was a perpetual nuisance to the deep lying Egyptian defence, produced a couple of really stinging efforts that tested both the frame of the goal and Mohamed El-Shenawy inside it.
It was the constant probing of Cavani in particular that ultimately wore down the Egyptian defence, Uruguay clinching victory with an injury time winner from a routine set piece, Jose Gimenez rising above three defenders to perfectly place an effort into the top corner and put Uruguay in the box seat regarding qualification.
Egypt
For Egypt, things are less clear. They're well organised, if limited, but they only have one world class striker and Mo Salah wasn't risked despite the pre-match pronouncements that he was fit to happy.
Coach Hector Cuper said afterwards that it was merely a precautionary measure to keep him on the bench but that he wasn't even introduced for ten minutes at the end when Egypt were clearly drowning and in need of an option to get them up the pitch will open whip conspiracy theorists into a frenzy in the days leading up to their second game with Russia, a game they are surely going to have to win if they wish to progress. But on this showing, no Salah, no party.
Late Goals At The World Cup
Late goals have been an early trademark of this World Cup and the nightmare that descended upon Morocco's Aziz Bouhaddouz in the 95th minute maintained the trend, giving Iran a first World Cup win in 20 years.
It was harsh on the Africans who should have put the game away in the first half but with Iran improving, if rarely threatening after the break, those first half failings always looked set to haunt them. With virtually the last touch of the game, they did, Bouhaddouz stooping at the near post to thump an awkward looking header just inside the post and seal the game.
Morocco
With Spain and Portugal left to play, the result all but eliminates Morocco, a side seen as having the potential to embarrass Portugal in the group stage. For all that they had the better of the possession and certainly of the first half, it was nonetheless an unexpectedly flat display from the Africans who were, perhaps, affected by their nation's failure to win the rights to host the 2026 World Cup earlier this week.
Iran had dramas of their own to contend with as Nike put the boot in – or more accurately, took the boot out – earlier this week as a result of new US sanctions on Iran. As it turned out, they were able to just do it for themselves instead.