As a prelude to this week's column I sadly have to acknowledge the passing of yet another legendary player. Football lost a gentleman this week. I played with Ray Wilkins at Wycombe Wanderers FC. I was managed by Ray at Fulham FC. Ray coached me at Millwall FC. Ray Wilkins was a man the term legend was invented for. I am stunned and saddened by the news. Farewell to a wonderful human being.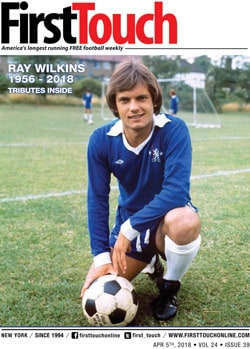 ---

Ronaldo Wows The Critics
The Champions League quarter-finals got underway on Tuesday and were illuminated by a scintillating overhead kick from Ronaldo in Real Madrid's 3-0 win over Juventus. It was a strike that saw numerous football commentators, pundits and journalists falling over themselves to claim that they had just seen 'the best goal ever'. Yes, it was a strike of high quality, but paid as much service to an abnormal lack of marking in a Juventus penalty area, as it did to the gymnastic ability of an aging Ronaldo. And let's be honest if a strike like that happened in League Two it would be forgotten relatively quickly and Gary Lineker et al would still have dry underwear.
I appreciate the quality of the goal, but detest the sensationalism of the modern pundit clamoring to proclaim "the best" of any facet of the game every other week. Ronaldo's goal was a great one, but let's just be happy with that. In fact, any casual football observer would only need to spend a few minutes wracking their brain to recall overhead-kicked goals of equal, or greater skill: Wayne Rooney's for United, and Zlatan Ibrahimovic's strike against a floundering England and Joe Hart, to name but two.
Champions League showdown
Ronaldo's aerobics, however, were overshadowed a mere 24 hours later by the all EPL Champions League encounter between Liverpool and Manchester City at Anfield. This was the first time since 2009 that Liverpool had hosted a Champions League quarter-final and the asking price for tickets on the black market to witness this highly anticipated clash were way up there in the stratosphere.
Before the game kicked off I had plenty of time to ponder the outcome as I sat on a transatlantic flight that touched down in Heathrow on the morning of the game. I envisaged a pulsating game between two highly attacking teams featuring goals galore at both ends. This due to the fact that Liverpool are the only team to have beaten Man City in the league this season, scoring four times in the process, balanced out by the other fact that this tour-de-force City side banged in eight goals past hapless LFC keepers over the two domestic contests.
I myself would not be among those fortunate, ticket-holding Liverpool fans at Anfield, but would instead be relying on Five Live's radio commentary, as my presence was required at the next most important fixture of the day…my son's Under-13 match
Robbie Savaged
While daydreaming that Liverpool would manage to take at least a one goal cushion into next week's return leg at the Etihad Stadium, I witnessed my boy's team suffer a 5-0 drubbing on a quagmire of a local park field with both penalty spots and the center circle submerged under murky brown water (not to mention the scattered deposits of neighborhood hounds), before trudging frozen and demoralized to my dad's car. Oh, the glamour of kids park football in England.
Settling in to listen to the 'Battle of Britain' I was horrified to discover that Robbie Savage was on co-comms duty.
Paraphrasing Steven Patrick Morrissey in a slightly dubious manner:
"So, I broke into the car
With a sponge and a rusty spanner
I said: "Eh, I know you, and you cannot speak"
He said: "That's nothing – you should hear me on commentary duty."
(Look, there's never a wrong moment to shoehorn a tribute to The Smiths lyrics in a column, especially in such a derogatory fashion).
So with the radio abruptly switched off to preserve my dad and I's sanity, my enjoyment of the game was reduced to reading a Twitter feed. And who woulda thunk it? I predicted there would be goals, but who on earth could have foreseen such a 19-minute avalanche from the potent Liverpool strike force?
Salah 12' Oxlade-Chamberlain 21' Mane 31' – This was a demolition of the highest order. Add to that a Liverpool clean sheet with only two fit center-halves and you have a near perfect performance from Jurgen Klopp's men.
But should we really be so surprised? Liverpool haven't lost in fifteen home games in Europe dating back to October 2014. Jürgen Klopp has defeated Pep Guardiola seven times in his burgeoning managerial career.
Manchester City's last seventeen results at Anfield read P17 W0 D5 L12.
Regardless of the stats, I happily admit that I was stunned by the dominance of the performance and the result. City failed to manage one shot on target for the first time since 26th October, 2016. Looking ahead, if Liverpool can push the tie over the line next Tuesday, then nobody will fancy visiting Anfield on a big semi-final European night – Real Madrid, Bayern, Barcelona, beware. Meanwhile I am feeling a strong desire to return to New York for the second leg, out of range of inane commentators and stray dogs on kids footy pitches.