The initial reaction to Christian Pulisic making an estimated £58 million move to Chelsea was decidedly mixed. Many British and European commentators were often skeptical, arguing the signing had more to do with Chelsea's marketing strategy than Pulisic's quality on the pitch. Former Chelsea midfielder and ESPN FC host Craig Burley, for example, described Pulisic as "timid and frail" and as recently as last month suggested Pulisic shouldn't expect a spot in the side just "because he can sell shirts."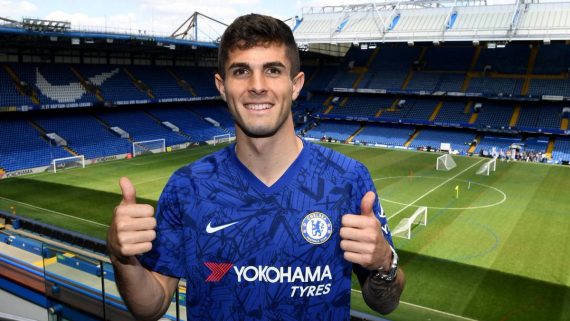 Christian Pulisic Joins Chelsea – And Not Just To Sell Shirts
By Greg McKay 
Others viewed the move as not without risk, but one that presented an excellent opportunity for a player to continue to develop in a competitive squad with a manager who is willing to trust youth. If nothing else, it showed a player willing to leave the safe confines of Dortmund and challenge himself at one of the most demanding clubs in Europe.
Barely twelve months on from joining the Blues, Pulisic's performances have proved better than even the most optimistic member of American Outlaws could have predicted. In his first season in the English Premier League, he has tallied seven goals and two assists through nineteen appearances, all while navigating an abbreviated off-season, long-term injury and the COVID-19 break. Pulisic currently sits behind only Tammy Abraham and Willian in Chelsea's goalscoring charts.
Immediate Impact
But more than his contribution in terms of goals, recent performances have shown Pulisic is fast becoming, along with Willian, the most critical piece of Lampard's offensive puzzle. He has been hugely impactful scoring a hat trick against Burnley and go-ahead goal against Manchester City, and has also put in strong shifts in games where his name may not appear on the scoresheet.
For Pulisic to take the next step from promising young talent to a player that is in the conversation as one of the best attacking midfielders in the Premier League, he'll need to demonstrate not just that he can score and assist but that he can consistently lead Chelsea offensively.
The recent match against West Ham was a great example of the types of performances that can draw accolades—Pulisic was constantly driving forward at the Hammers back line and wreaking havoc. A clever move against Issa Diop led to Willian's penalty and a blazing run forced Declan Rice to chop him down for Willian's free kick goal.
Looking To Lead
More importantly, throughout the game Pulisic was demanding the ball all over the pitch and consistently drawing two or three Hammers players to defend. Although his name didn't end up on the scoresheet and Chelsea ultimately dropped points due to some naivety (or in Lampard's words, "stupidity") from Marcos Alonso and Antonio Rudiger, it was the type of assured performance which suggests Pulisic can play a leading role for Chelsea.
This is all not to say that Pulisic has arrived or that the work is over. Just as British and European commentators are inherently skeptical of American footballing talent, U.S. fans are wont to overhype the next big thing in U.S. Soccer. However, unlike any other American who has come before him, Pulisic is proving worthy of the hype.
He still has much room to grow as an attacking player but is ahead of the curve in terms of where most would have expected upon his arrival in West London. In less than a year in the English Premier League, a league notoriously difficult for players to adjust to, Pulisic has been a critical attacking piece in a Top Four side with legitimate European and domestic title aspirations in the coming years.