Patrick Bamford is back at Middlesbrough following a £6m transfer from Chelsea and looking for a fresh start of his own.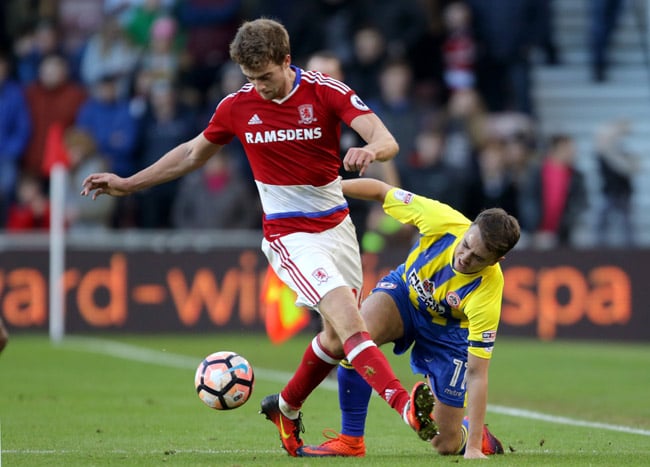 Playing For Boro
'People were asking me how I could come back here because it's an eye sore,' Bamford said.
'But look at this, it's great. Up here everyone is a massive Boro fan. That's why I liked it here first time. We can brighten up people's lives and this afternoon reminds you that football brings people together.'
Bamford's last spell at Middlesbrough was two seasons ago when, on loan from Stamford Bridge, he scored 17 Championship goals as Aitor Karanka's narrowly missed out on promotion.
Determined to play in the Premier League, he left and has subsequently been on other loans at Crystal Palace, Norwich and, this season, Burnley.
Bamford's last goal, however, was almost two years ago and it was for Middlesbrough. In truth, the 23-year-old's time away from the club has been disastrous. He has barely played for a season and a half.
He laughs about it but that's not because he doesn't care and admitted yesterday that his last loan spell, at Burnley, has left him particularly driven to make up for lost time.
Burnley Spell
'Me and the boys got on fine but me and Sean Dyche just clashed,' he said. 'I could sit down and talk to him now and be civil but we had different ideas of football. I didn't get a chance. His team has done great, mind. I can't argue with that.'
Bamford's back story is well known. Privately educated with a string of GCSEs, he is also a talented musician. Having turned down a Harvard scholarship, he wouldn't change any of it but wonders now if his upbringing has worked against him with some.
'There were a few comments at Burnley,' he said. 'Dyche said that because I had come through at Chelsea – and because of the way I had been brought up – I had never had to work for anything.
Cleaning Toilets
'My background is irrelevant and I didn't even come through at Chelsea. I started at Nottingham Forest cleaning toilets and scrubbing the shower floors. So saying I didn't want it enough was upsetting. I went home every night wondering how to get in the Burnley team. It was: 'You've been brought up nicely, had everything handed to you'.
'Is that what people think just because I went to private school and played instruments People don't know. My parents never let me have everything. If I started something I had to finish. Like with violin. I started when I was seven only because my best mate wanted to. I hated it and wanted to quit but dad made me continue and I got to grade seven.
'My parents said I had to know the value of stuff and work for stuff. But when you get dragged along in paper headlines about things outside the game, football people pick up on it. People think I don't mind that much but for me not playing is the hardest thing ever. Sitting in the stands has been a nightmare.'
The day he scored his last goal in April 2015 Karanka described Bamford as: 'The best young player in the league. He is amazing'.
It was strange, therefore, to read the Middlesbrough manager's comments this week as he talked about the club's failure to spend big in the January window.
'Patrick didn't play for 18 months so I don't think he is an amazing improvement,' said Karanka.
Chelsea Failure?
When this was put to Bamford he was unfazed.
'I totally didn't know about that and I'm not worried,' he smiled. 'He has spoken to me a few times already and we have a great relationship. Even after I left first time we were texting and in contact. He trusts me and that's important. He said last week: 'I know you will try and do everything at once. But remember that you haven't played for 18 months. I know you will become the player we know you can be but don't try and do it all in one go'.
'For me, that was perfect. I know I will get in to the team when I am ready and I think that will be in the near future but he is playing it his way. He has worked at Real Madrid with Mourinho. He has seen how to manage players. And he will get me to where I need to be.'
Part of Bamford's charm is his lack of pretence, his totally disarming candour. He never kicked a ball for Chelsea but said: 'Maybe I have failed but I haven't given up on that one yet'.
Boro Love
Asked meanwhile how he has progressed with a public vow to develop an 'edge' like Diego Costa, he laughed: 'I have tried but it's difficult when you only ever play in training!
'You don't want to leave one on your team-mate do you? I spent a whole pre-season with Costa and even though he was one of the funniest guys in the team, he did train with an edge. The ball got played up to him once and Cesar Azpilicueta just nudged him and he turned round and looked at him as though he was about to kill him. I was like: 'Woah'.
'I have remembered what he does with the ball though. I will never forget that.'
All Bamford wants to do with the ball now is start putting it in the net again. Video footage of him smiling as he was reintroduced to the Riverside crowd at the weekend was charming.
'I was actually smiling as Aitor had turned and said: 'Wow, they do still love you here don't they?' It was really nice.'
Interview courtesy of mailonline.com