Mason Holgate believes he has found his way at the top level by fighting it out with the Premier League's elite.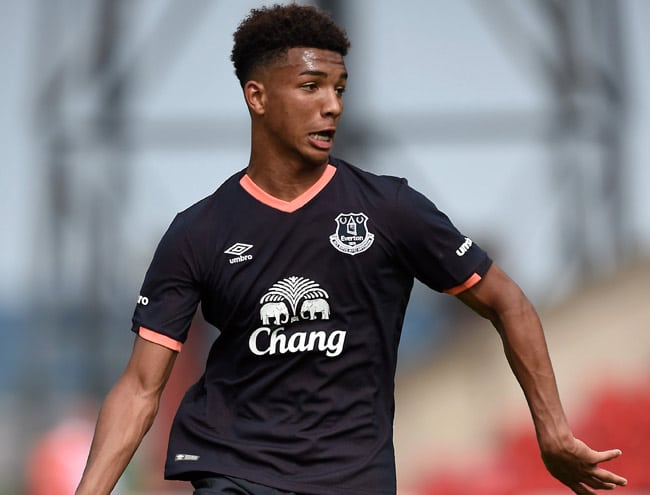 Interview With Mason Holgate – Everton's Rising Star
A crash course of facing the likes of Harry Kane, Zlatan Ibrahimovic and Anthony Martial have set Everton's rising star on his way – and now he is targeting a regular place against those kind of opponents.
Holgate was presented with his 'Debut Ball' last week – a memento to mark his first Premier League appearance on the opening day of the season against Tottenham. Three more top-flight outings have followed since but he's looking ahead rather than backwards.
Holgate's 293 minutes of Premier League football so far and a grounding from Everton's top youth side have given him belief that he can do it at this level.
'I don't feel any different in myself. I don't feel out of place when I'm out there,' the 20-year-old told Sportsmail. 'I know if I'm needed or when I play I can do it at this level.
'I'm just trying to get as many games as I can, showing people what I can do and hopefully break into the team. That's what I'm aiming for now.
'I started the season with a couple of games – that helped me out because it's led me to know what to expect and to know what to do to get to that level so that's helped me out. I think it's been a good season so far and hopefully I get more games in throughout.'
From Barnsley To Everton
Holgate's journey from Barnsley to Everton – for a fee of around £1million last year – and an emerging Premier League career for a ball-playing centre back have drawn obvious comparisons with Manchester City's John Stones.
The £47.5m Manchester City and England star, now 22, took a similar path to Holgate and is now first choice for a title-contending club and his country.
Everton's latest impressive young defender, though, is a man who listens little to the noise around him. The Stones comparisons go in one ear and out of the other.
'I don't compare myself to him,' Holgate says. 'We're two different players – it's a coincidence that we've come through the same clubs and that.
'I just try to concentrate on myself and get myself going. I don't really compare myself to him much now. He's no different to the rest of the lads who were here helping me out really.
'It's a good mix at Everton. There's a lot of young lads but there's also a lot of experience. When I was looking to the decision to leave Barnsley I was looking at people who'd been in my shoes before: Brendan Galloway, John Stones, who have had the same kind of decisions to make.
Development
'Everton's got a good pathway through for people coming from the Football League so I think it definitely helped my decision when I came to deciding.'
Holgate's first-team push has gained more voices behind it given Everton's recent run of poor form. Three Premier League clean sheets this season is not a figure befitting a team with top-table ambitions.
However, Holgate says the experienced heads around him, combined with a season working with former Everton defender and now Under-23 boss David Unsworth, are helping his development.
In manager Koeman, in particular, he could hardly have a better tutor given his experience at the back for Barcelona in the early 90s.
'He knows what he's talking about – he's one of the best defenders ever,' Holgate says of his manager. 'When he's talking to me about positional things and things I need to be doing it's good I know that he knows what he's talking about.
Help
'There's a lot of experienced people that have been playing at the back and in and around the two positions that I play so that's helped me out. Seamus (Coleman) helps me and speaks to me a lot and then you've got Jags (Phil Jagielka) and Ashley (Williams) who are two very experienced players as well.
'With those three people helping me out and with years of experience it makes it easier for me when the time comes.
'Unsie's (Unsworth) helped me out a lot too, because when I first came I always saw myself as a ball-playing centre half whereas my defending was a bit suspect at times.
'He's sorted my defending out and made me concentrate on it a lot more positionally and commanding things so he's definitely helped my all-round game in the year that I spent with him.'
Now, after a breakthrough year, Holgate's thoughts turn to the next 12 months and a regular first-team place.
Article courtesy of mailonline.com