World Cup 2022 Diary: Day 12. Croatia 0 Belgium 0, Canada 1 Morocco 2, Japan 2 Spain 1, Costa Rica 2 Germany 4. There were more upsets at the World Cup today as Japan win Group E after beating Spain. Belgium and Germany go home.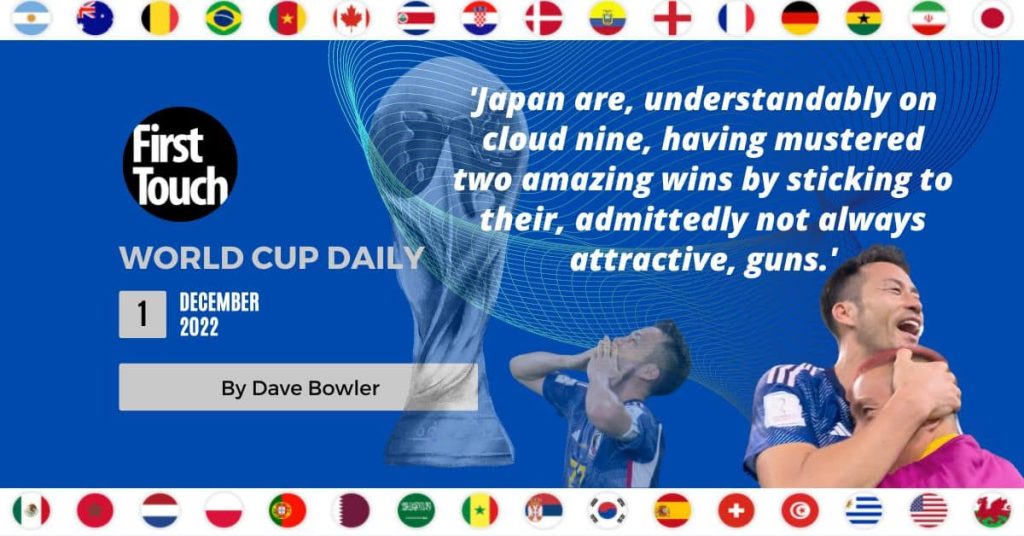 By Dave Bowler
JAPAN BEAT THE PERCENTAGES
"Well it was just 17, you know what I mean?" No, not The Beatles, but the percentage of possession it took Japan to defeat Spain and so knock Germany out of the World Cup. Somewhere, Tony Pulis and Sam Allardyce are both uncorking a very nice bottle in satisfaction that their methods have proved fruitful at the highest level.
Football, so said the mighty Pele, is the beautiful game. But there are days when it is also the bizarre one. Spain, so hugely impressive in their opening games, completely dominated Japan.
They played something like 830 more passes during the game, and ended up beaten by a side that knew its limitations, played wholly within them, never tried to get above themselves, arguably enjoyed one huge slice of luck from a refereeing decision in their second goal, and ultimately finished top of a group that contained two of the giants of world football, winners of two of the last three World Cups.
The simple facts are that on a night when Germany had to win, they did, and found it still wasn't enough. On a night when all they had to do was draw to top the group, Spain couldn't. They lost to Japan, and finished second. For a brief moment, as Costa Rica led Germany, Spain were also out. Costa Rica, the only team to beat group winners Japan, finished bottom. How can you not love a game like that?
Mathematically, in the end, it was resolved by Spain beating Costa Rica more convincingly than Germany did, which many would had imagined might have been the way we'd have separated first and second in this group, not second from third.
GERMANY REFLECT
Germany will now slink home, the players back to their clubs, German football stuck in three more weeks of hiatus until the Bundesliga restarts, with only the rest of the World Cup to watch. That, and the inquest into what went wrong yet again. Two straight group exits at the World Cup, with a dismal Euros in between, requires plenty of soul searching and coach Hansi Flick will surely be a victim of that.
But where do they turn next? Do they go for the big name boss, a Thomas Tuchel? Or do they promote from within? Qualifying for the next Euros is quickly on the horizon and Germany, that most rigorous of nations, are in urgent need of a new plan.
Japan are, understandably on cloud nine, having mustered two amazing wins by sticking to their, admittedly not always attractive, guns. Spain will be moderately satisfied to have advanced but will have questions to answer about how deep they can go into the tournament having so flagrantly wasted so much possession against Japan and having failed to defeat Germany when they were there for the taking.
BELGIUM'S GOLDEN SUNSET
Earlier in the day, there were further upsets, of a sort, as a desperately out of sorts Belgium bowed out of the competition with barely a whimper. They pad the price for taking their 'golden generation' en masse to one tournament too many.
Unable to raise a gallop, or seemingly any enthusiasm, when it mattered, they completed a colourless competition with a desperately drab 0-0 draw with a Croatian side who didn't offer much more. There's little to suggest they can get anywhere near the final this time after their heroics of 2018, though their mood might be buoyed by the thought of Japan in the next round. Similarly, Japan will already be planning on allowing Croatia to pass themselves to death before taking advantage of their exhaustion.
MOROCCO TOP GROUP F
Morocco topped the group, deservedly so, after defeating Canada 2-1 in their final game. Defensively they are very sound and that will give Spain, their next opponents, pause for thought. Morocco know exactly how they want to play the game, they don't deviate from it and they have a side that believes in their plan implicitly, giving every last ounce of energy to it. In a normal World Cup, you would see their competition coming to a close against Spain, but this is not a normal World Cup.
NEW WORLD ORDER
We've now seen Germany, Belgium, Denmark and Mexico bow out, while Argentina and even Spain have flirted with disaster. Has the lack of preparation time been a cause? Have players who were fighting for league points at big clubs a week before the World Cup kicked off been simply unable to switch their mindset to the demands of the international game?
Have the conditions in Qatar proved too difficult for some? Or, perhaps more fascinating, are we finally seeing a changing of the guard in world football? Are the nations from Africa and Asia – as well as the USA and Australia – finally ready to break through the glass ceiling and start to compete as equals in the latter stages of the World Cup?
Now that would be something worth seeing.

Read Dave Bowler's World Cup round up every day
---
Sir Alf Ramsey: England 1973 focuses on the final full year of Sir Alf's reign as England boss. The nation that won the World Cup in 1966 failed to even qualify for the 1974 tournament. Ramsey was suddenly a man out of time, both on and off the pitch. The failing fortunes of the England team mirrored those of a post-Empire nation heading for its own a fall.
A must read for all fans. Order your copy in time for the holidays.