For James Morrison of Scotland and West Bromwich Albion, 2013/14 was a year of misery. However, the campaign just ending has been like a breath of fresh air. Why? It's all in the mind you know…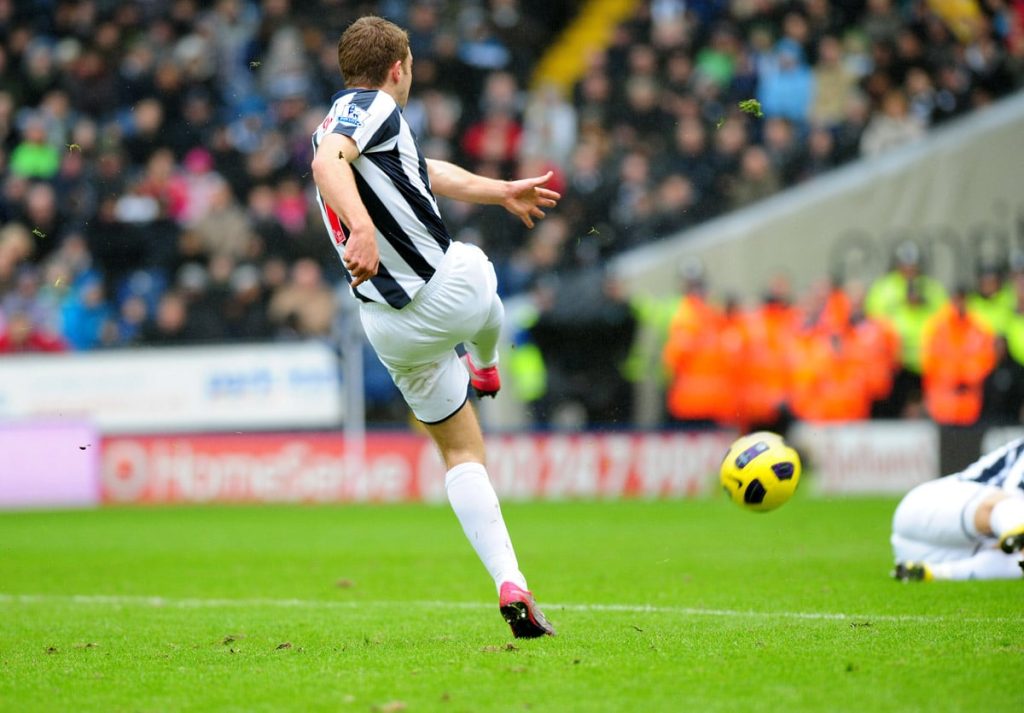 By Dave Bowler
"I know this season went a bit closer to the wire than everybody would have liked. But for me, it has been really enjoyable. It wasn't the best start to things. I had an injury that I'd carried for the second half of last season and it took a little bit longer than I'd hoped. I missed the first three games of the season with that but since then, I've had a pretty consistent season.
"But what I really focused on coming into this season was just enjoying my football. I'm enjoying my work, because looking back, one of the reasons I struggled a bit the previous season was that mentally. My head just wasn't right.
"This year I've put that right and felt the benefit of it. I made a decision to not let things that are out of my control affect me, concentrate on me and my game. They say that you learn most from the bad times and I certainly did last season. I think that's the best way to be at the Albion because it's been a lively place over the last few years hasn't it? The Premier League is a tough environment as well. I've seen what it can do to people when things aren't going well.
Mental Strength
"You have to be mentally strong. I think I've moved forward with that this year, and on the pitch, I've been consistent in a couple of different positions so I'm pleased with that. Where in the past I might have kicked up a fuss if I wasn't playing where I wanted to, now I just get on with it. It must be my age!
---
"We've had four head coaches in two seasons now. So I've come to the conclusion that if you want to do well here, you need to be adaptable. It's been seven managers in my eight years here. That isn't ideal, but as I say, you have to be mentally right to cope with that. You never know what will happen when a new one comes in. You don't know if they'll like you, if you'll be their sort of player. That's part and parcel of football. But I've played regularly under every manager, which is great. I'm happy to have dealt with that side of things.
---
Albion Regular
"Ever since I came here, I've been more or less a regular in the team. I've played over 250 games and that's despite having missed most of one season with injury. So I'm proud of that game tally. That injury was a pretty tough time because it went on for a while and took time to resolve.
"So I didn't come back until the end of February in that promotion season under Robbie di Matteo. But for that freak injury, I'd be up around the 300 mark now. That's a target for next season hopefully, to get up close to that".
"I turn 29 later this month and people talk about me being in my prime. Funny, I don't feel like it physically! As you get older and play more games I've found that you tend to get more and more niggles. That's not just me. I think if you ask lads like Brunt, Gareth McAuley, Jonas Olsson, Joleon Lescott, we would all say the same. The body does complain every now and again but luckily, we've got good pros here. We play through that and just get on with things.
Experience
"Go back a few seasons and physically, I felt great. I could just play and play. But as you get older, you have to look after yourself a bit more. What you do gain is experience. I've played over 250 games here, nearly 100 for Middlesbrough. I've got nearly 40 caps for Scotland so I've played a lot of football. Being able to use that experience, along with looking after myself physically means I think I've got a lot of good years ahead of me yet.
"I made my debut for Middlesbrough in the FA Cup at Notts County in January 2004. Then I played against Portsmouth in the Premier League that May. After that I started to play more often the following season. I've been around a while in the Premier League now and it has changed a lot in that time.
"It has become a more athletic league. It's a lot more about speed, running distances, stamina. At the same time, the tackling side has gone out of the game. That's a bit disappointing I think, because you lose a bit of the spectacle.
Media
"What has changed massively is the media side, the amount of exposure football gets on television especially. Then things like Twitter have just added to that. On matchdays, you can be coming off the pitch after a hard 90 minutes still blowing from the game. Before you've even got in the dressing room you're getting grabbed to do a TV interview. That's a bit dangerous I think.
"All you want then is to get in the dressing room, sit down, and clear your head. But then you get reporters maybe asking you tricky questions about incidents in the game. So it's very easy to say the wrong stuff.
"Clubs need to warn players about what might be coming before they do those interviews. Because it's so easy for something to go wrong. Saying that, this season, the club has done a really good job on the PR side. The contrast to last season is massive and that's been important for us".
Euro Qualifier vs Republic Of Ireland
While players head straight for the beach after Sunday's final round, James has further footballing business to attend to. Scotland are in the ascendant at present and a crucial European Championship qualifier with Ireland awaits. The Scots hope to close on their first tournament since the 1998 World Cup.
"Things are going very well with Scotland at the minute. I've got a lot of admiration for Gordon Strachan. He's a great coach, a great manager. There's a very good feel to our group, a good spirit. Every time we meet up, we're happy to see each other. Like here, every time we go on the pitch, we know what we're looking to do. We're solid and on top of that, we've got some exciting players. There's real strength in depth now, players are fighting for their place, and that makes all the difference.
"It's frustrating that we don't play Ireland until the middle of June. Because it's three weeks after the season, which is awkward for everybody. It is a long season and then you have to keep focused for the best part of a month. We're meeting up for ten days in total. We're in a training camp and we really need to use that to the full.
"This is a massive game in Dublin because whoever wins that is in with a great chance of finishing in the top three. It would be a big step towards qualifying for the championships next summer. We know it's going to be a tough one. They'll be out to redeem themselves after we won at Celtic Park. But a win for us would put us five points clear of them and that would be a big gap".
Looking Ahead
And so we close by looking to the future. If James isn't in his physical prime any more, what of the future? Has he begun to ponder a day when the boots get hung up one last time?
"I'm not sure about the future, but I've got a good few years to make my mind up yet. You look at coaching and you see how stressful it is, so I need to give that more thought. It's one that's a few years away yet, but I would be disappointed in myself if I didn't stay in football. I've built up my football knowledge over the years so I'd like to use that. I don't think it'll be in the media though – I say too much stuff don't I!? I do say what's on my mind and that doesn't always go down that well!"
Cultural Changes
He's right, but doesn't that just show what an infantile world football is sometimes? We are always saying there are no characters in the game any more. Yet as soon as somebody says anything interesting, we rush to mock outrage. It seems footballers just can't win sometimes.
"It is a shame, but these days, you do have to say the right things don't you? If you don't, you get into trouble. I do think that is one of the down sides for modern players. The fact is that you are always on duty really. Back in the day, fans used to be able to mix with players.
"Nowadays, you can't do that today because if you have a quiet pint with somebody, or if you have a cigarette, it's on Twitter inside five minutes! I do think the game has lost a bit in that way. You can't interact with fans the way players used to, but that's the modern world.