This week Matty Lawrence delves into the question of who are the most injury-prone footballers, from Daniel Sturridge to Jack WIlshere.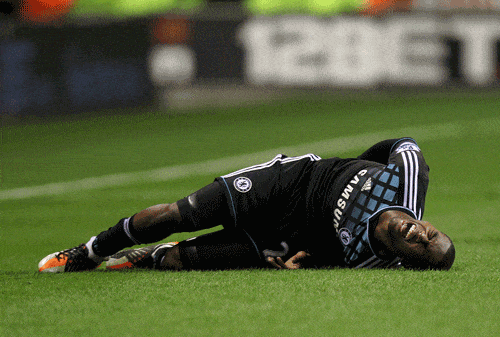 Who Are The most Injury-Prone Footballers?
No politics; was the only rule from the gaffer when I joined First Touch. Well, three weeks in and I guess it's time to try his patience. Come on, it is the General Election on my side of the pond.
By the time you read this I will have placed my 'X' in a box and be glued to the telly box to see how things are panning out. The United Kingdom is pretty much resigned to another hung Parliament……….I would prefer to hang half of Parliament, but, maybe, that's just my take on politicians.
Now, I don't want to get too deeply entrenched in politics, so I shall just run through our main political parties manifestos as if they were in charge of the English Premier League: The running order is purely alphabetical before anyone starts accusing me of any political bias. My only bias is that I prefer the letter 'A' to 'Z.'
The Choices
Conservatives: very much pro Chelsea and Manchester City. Lovers of big business and high finance and not averse to letting Chairman funnel money, tax free, through such places as the Cayman Islands.
Green Party: only off shore wind power can fuel stadium floodlights. All pie packaging within the stadiums must be recyclable; along with all old managers…………please see, Ron Atkinson, Alan Curbishley, Kevin 'do I not like that' Keegan,' Avram Grant et al.
Labour: strongly recommending a 75% tax bracket for all English Premier League managers and players.
Liberal Democrats: not really sure that a trophy should be awarded at the end of the season. The game is all about the taking part and having fun; no need to burden ourselves with the winning.
SNP (Scottish National Party): What English Premier League?
There you go: the choices are out there. I for one would rather see Keegan and Atkinson go head-to-head at Prime Minister's question time than Cameron and Miliband.

Let's get on with the football
I picked up the newspaper earlier and was intrigued to read an article about Daniel Sturridge. The guy had tweeted/instagramed/sent via carrier pigeon the obligatory selfie of himself lying in a hospital bed. I don't apologise for saying this, but, all I could think to myself was, "what the bloody hell has he done to himself this time?" Fallen out of bed? Slipped climbing out of his Ferrari? Run into Martin Skrtel in a dark alley?
Luckily, the article shed a bit of light on the subject. Sturridge has been suffering from a number of niggles and strains all season and the club doctors have been trying to get to the root of the problem to no avail. No expense has been spared and no stone has been left unturned. Sturridge has been over to see the Boston Red Sox medical team, courtesy of the Fenway Sports Group who also own Liverpool Football Club.
To be honest, I knew about this a couple of months ago and assumed they had reached a diagnosis and rectified the problem. Nope. This time Sturridge had been sliced and diced by a hip surgeon in New York City. The assumption being that the injuries manifesting themselves in Sturridge's thighs and calves were coming from the afore-mentioned hip. Sturridge was quoted in the piece:
"I just want to let the world know I've had a successful operation on my hip today and I want to thank God for allowing that to be possible." And the first thing that came into my mind was, I could have sworn God was omnipotent: why the need to leave Liverpool? If God does surgery, that is.
Most Injury-Prone Players
The fact that got me sitting up and taking notice came towards the end of the newspaper article. Sturridge was questioned on whether some of his previous niggles and injuries had been more psychological, than physical: he alluded to the fact that some may be hereditary. And, here in, lies the crux of the matter: hereditary.
Then your mind wanders and you start really focusing. How many players do you know that get deemed injury prone? Within thirty seconds and solely concentrating on the last decade within the English Premier League – Daniel Sturridge, Kieron Dyer, Michael Owen, Jack Wilshere, Carl Cort and Darren Anderton. I mean that was 30 seconds, if that. Delve further, think harder and longer ago and there are many others.
I also said "deemed" injury prone. The majority of them ARE injury prone: no two ways about it. Look at the facts and figures and they are frightening: certainly "frightening" if you are the poor bugger shelling out for the transfer fees and wages.
Michael Owen (Aug '04 – May '13)
£24m in transfer fees and just 84 league starts. That's without the sky-high wages. That's less than 10 starts a season. Yes, he was a phenomenal player for Liverpool and England at an early age. The minute that first hamstring injury took hold, his career hit the skids and he never recovered.
Carl Cort  (Jul '00 – Jan '11)
£9m in transfer fees and just 127 league starts. This time just over 10 starts a season. Another player who excelled as a younger pro, but knee injuries hampered him throughout his career. Almost unbelievably he still passed medicals and still found people to throw good money after bad.
Kieron Dyer (Aug '07 – Jul '13)
£6m in transfer fees and a whole lot more in wages. In his time he managed only 25 league starts. That is less than five starts a season.
The facts and figures are laid bare for all the players, but before I fall into a statistical coma, I feel I should end with Daniel Sturridge. After all, he started the ball rolling (pun very much intended) on this subject.
Daniel Sturridge (Jul '09 – May '15)
£15.5m in transfer fees and probably a figure nearly exceeding that in wages has yielded just 86 league starts in six seasons. Less than 15 starts a season and possibly a little elbow towards the reasoning behind his exits from Man City and Chelsea).
The factor with all these players? They all have the ability to change a game, or score you a hatful of goals. Some managers peer through their rose-tinted spectacles and think that the bad run of injuries may just dissipate. I fear that there is probably no such thing as just injury prone.
There is way more to it than that: the physiological make-up of the player and the genetics down the family line must be delved into. I know that players have medicals before they join a club, but sometimes that is just not enough. Many players I know have passed medicals only to breakdown a few weeks later with pre-existing conditions.
Dyer Warning
Having spoken to some physiotherapists they tend to allude to the fact that some players bodies are just not designed for the rigour of professional football. Kieron Dyer was certainly one of those players. The longevity was never going to be there. A good few seasons at the beginning of his career and you could largely draw a line under the last six seasons of his already short career. I fear that Jack Wilshere is going the same way.  I hide behind the sofa every time he goes in for a tackle.
His ability is nigh on limitless (no-one forgets him running the show for Arsenal vs Barcelona at the tender age of 17 years old). His ability isn't being questioned by me, but I believe he needs an almost non-contact style of play to remain in the game for a further decade.  Even then he will only be 33. I don't envisage him lasting anywhere near that long.
So the rumour goes, Man City may be trying to tempt Arsenal with a £30m bid for Wilshire this summer………..I would bite their hands off if I was Arsene Wenger.
The screening of players by clubs has got to get better. No fans want to see their hard-earned cash being wasted on another crock. The medical teams at clubs cannot just look at the here and the now and the scans and X-rays they have at their fingertips. As Daniel Sturridge himself said: some things may just be hereditary.