At some point you have to start to feel like there's something special happening with this New York Red Bulls team. After a 2-0 win at home over Atlanta to draw to within one point of the league leaders, the Red Bulls flew cross-country to California and thoroughly dismantled San Jose 3-0. Now, San Jose is a bad team that has been out of the playoff hunt since the first month of the season or so, but given the high stakes nature of the game the previous week, some might have expected New York to come out flat. Instead they came out and had one of their most complete performances of the year.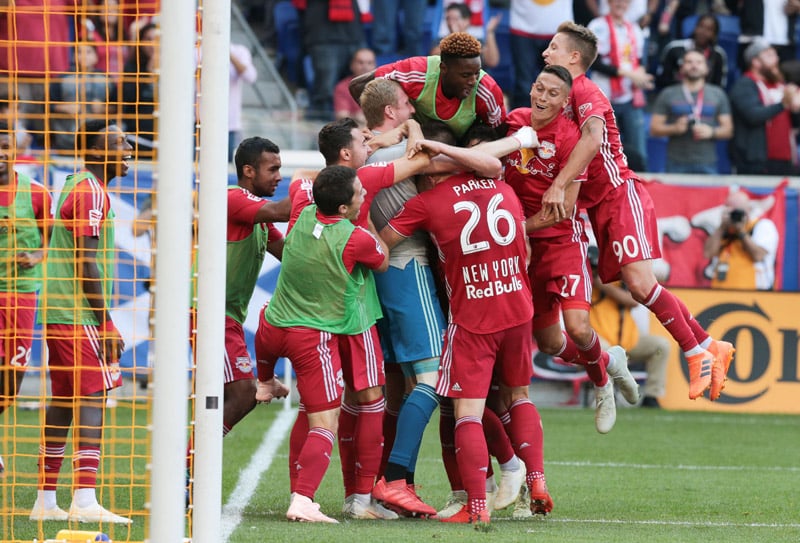 Tim Hall's View From 101
It isn't the deepest or most critical analysis to say that a team that may break the MLS record for points in a season and still not finish first is having a good season, but found in those two wins against the top and bottom teams in the league were moments that show exactly what this team has and what they're made of.
Consider the first half against Atlanta. Having already had a penalty opportunity wiped out by the fickle mistress of VAR, the Red Bulls pinned in their own end. Sean Davis steals the ball away from Atlanta's attack but is headed toward his own corner flag.
Hustle
In desperation, he makes a lunging pass to Kaku on the sideline. Kaku is similarly under pressure from two men, but is at least facing the right direction, and splits the attackers to find Davis, who had sprung to his feet and ran three yards up field.
Davis opens up his hips and taps it to Kemar Lawrence on the sideline, who one-touches it back to Davis. Davis is still under pressure, so he again slides to get the ball to Alex Muyl closer to midfield, who returns it to Lawrence who sends a probing ball through the defense to lead to a decent attack on the other end of the field.
This segment of play won't show up on the score sheet anywhere and probably didn't make it on to the big highlight shows that night, but it was so indicative of the kind of hustle plays that this Red Bulls team has been making all year, and precisely the ability of this team to create attacking moments out of the ether. This play in particular was led by three of the players who have been so instrumental to New York's success this year.
Davis Factor
Starting with the pivot man in all of this, it had been tradition to think of Sean Davis as one of the best young midfielders in the league, only now at 25 he's not that young anymore. While his midfield partner Tyler Adams is getting more of the international attention and national team call-ups, Davis has cemented himself in as the team's defensive midfielder who covers more ground than does the sunlight.
Second comes Kaku, the big offseason signing that didn't feel like a big one but a right one. All Kaku has done since arriving from Huracan is smile broadly, come off like an absolute sweetheart who loves his mother, and make big plays.
All five of his goals this season from the playmaker role have been game winners, and his fourteen assists this year already rank him in the top 25 in franchise history for entire careers. Last but not least is Kemar Lawrence. Taxi is one of the best wing backs in the league right now and, like the two men mentioned before him, has drawn interest from some of the big clubs in the big leagues.
Top Team
Which of these pieces will still be around come next season is always the question. Every year seems like a rebuilding year in MLS. But these guys are here now and part of a top notch team.  And that team aspect really came to the fore against San Jose, but not in the exhibitions of team football as described above, but more what came after.
Consider the goal that made Bradley Wright-Phillips the first man to score twenty goals in three separate MLS seasons. Red Bulls are up 1-0 in the first half, after an Alex Muyl goal that BWP could have tapped home, but let roll across the line. Wright-Phillips gets his head on a set piece that smacks off the far post.
San Jose's defenders don't follow the play, so the ball rebounds back across the face of goal to a charging Wright-Phillips, who blasts it back in that direction, off the keeper's head and in. Bradley does a, frankly, embarrassing little dance and is mobbed by his teammates, but it doesn't end there.
Celebration
Off a corner, centerback Tim Parker heels a ball down into the turf to pop it up, and Aaron Long is there to head the ball off the crossbar and in, 3-0. Long celebrates by – perhaps mocking, perhaps in tribute, doing BWP's heel-clicker goal celebration, and he likewise is covered in the dogpile.
In those celebrations, you can see all the outfield players coming together to celebrate, and moreover, you can see them enjoying their performances, and finding joy in their game and each other. It wasn't just a business trip out west to beat a team they should beat; there was an attitude and a swagger that flowed through them.
Hard work, teamwork, positivity. These are all words coaches love to say and that fans usually roll their eyes at. But with two trophies left on the table to win, the Red Bulls will need all of that and some luck to get either or both of them, and the good teams, the great teams, make their own luck with every little bit of ethereal magic they can find. This looks and feels like a team that is finding it.
This New York Red Bulls team is a good team, undeniably, but they may just have that bit of intangibles to be great, and to overcome decades of falling on their faces just before the finish line, they will need every bit they can get.