Dirty Leeds, a tagline for the ages. One at odds with their pristine white kit but immovable, never the less.
By Anthony Crewdson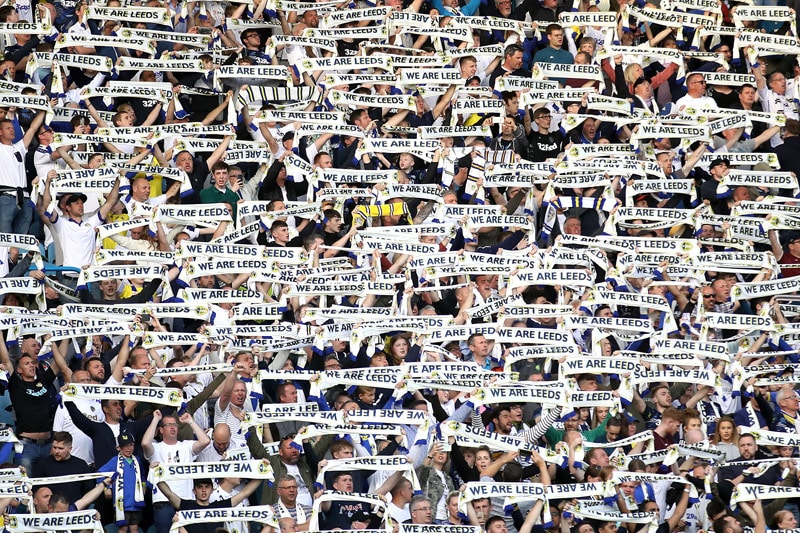 As this famous institution celebrates its centenary it remains a club either loved or loathed. There is no middle ground with Leeds United. Its passionate supporters wouldn't have it any other way and it is what has helped give the Peacocks their identity. Much derided but much loved, equally so. Never far from the news and seemingly courting controversy.
It is a club with a tumultuous past. Leeds United were founded in 1919 after the original club, Leeds City, had been thrown out of the Football League for making illegal payments to players during the First World War  – despite the practice being commonplace throughout the league.
The club had achieved only modest success up until Don Revie revolutionised Leeds United during his spell as manager between 1961 and 1974. Not only was he to revolutionise the previous gold and blue kit, adopting the all white strip associated with the all conquering Real Madrid side of that era, he was to transform the club and the city and put both on the footballing map.  But Leeds is also a club which has experienced success and heartbreak in equal measure. Revie's Leeds were to experience a decade of unrivalled success from the heady days of the mid-1960s through to the mid-1970s.
Revie
From being crowned Second Division Champions in 1963/64 to First Division champions a decade later Leeds at times appeared peerless. Arrogance combined with cynicism. Revie's team knew they were good and could bully opponents with their ruthless approach. But their tactics drew criticism and they won fewer trophies than their dominance on the pitch warranted.
Leeds often competed on all three fronts domestically, and on the continent in European competitions, but with a relatively small squad.  Although Leeds were crowned Division 1 Champions twice they were feted to be placed runners up five times during this decade in the top flight.
In addition to winning the FA Cup, in the Centenary Final against Arsenal in 1972, and the League Cup in 1968, they also lifted the former Inter Cities/UEFA Cup twice and were finalists once during this period. But for all their remarkable progress Leeds could also be considered unlucky, hard done by even. They undoubtedly suffered from a series of poor refereeing performances and to this day it's difficult being a Leeds supporter and not thinking those in charge of the game had an agenda.
Christos Michas was banned by UEFA from refereeing international club matches following his abject performance during Leeds' 1972/73 European Cup Winners Cup loss to AC Milan.
The Greek referee was subject to an investigation by his own association on suspicion that he had been bribed by the Italian giants.
Clough
Revie's Leeds had won every major honour during his time in charge with the exception of the then European Cup. Brian Clough was to follow Revie after the Teessider took up the opportunity to to manage the national team.
Clough's appointment was controversial and divided opinion. He failed to receive the backing of a squad loyal to a manager whom Clough had previously been critical of, and consequently he lasted a mere 44 days.
Jimmy Armfield then succeeded Clough and guided an ageing set of stars to Paris and the European Cup final in 1975 against Bayern Munich. But despite dominating the match Leeds were to fall foul of a referee too easily influenced by German legend Franz Beckenbauer. A blatant handball and a trip from behind on leeds forward Allan Clarke as he was clean through on goal were ignored.
More galling was the decision not to award Leeds a goal from a perfectly good strike by Peter Lorimer from outside the box. The goal was initially awarded but then was chalked off for offside, incorrectly so, after Beckenbauer had harangued the French referee Michel Kitabdjian. Munich eventually ran out 2-0 winners, undeservedly so, and the Leeds fans reacted by tearing up Parc des Princes.
Unloved
The club received a four year ban from all European competitions and quickly subsided into mediocrity. It was to be another 17 years before they were to play in the Champions League. Unloved and unwanted. Their notorious fans unwelcome on the European mainland and its football team consigned to the past.
This period was to define Leeds and give the club its identify. A club difficult for those on the outside to love but a club that gets under the skin of its supporters and, in many instances, its former players.
It seems fitting that the maverick in Marcelo Bielsa is in charge during the club's centenary year and Revie will no doubt have approved of his appointment and idiosyncratic manner. It would also be fitting if Bielsa was to oversee promotion to the Premier League in the manner of Don Revie.
Not quite dirty Leeds but still the tag remains.