Few men can have their entire lives, certainly on a professional level, summed up inside three minutes. You might be able to think of a few pop stars to whom that criteria would apply, but precious few footballers, if any. But inside three minutes in the Aztec Stadium in Mexico City on June 22nd 1986, just 180 seconds told you everything you needed to know about Diego Maradona.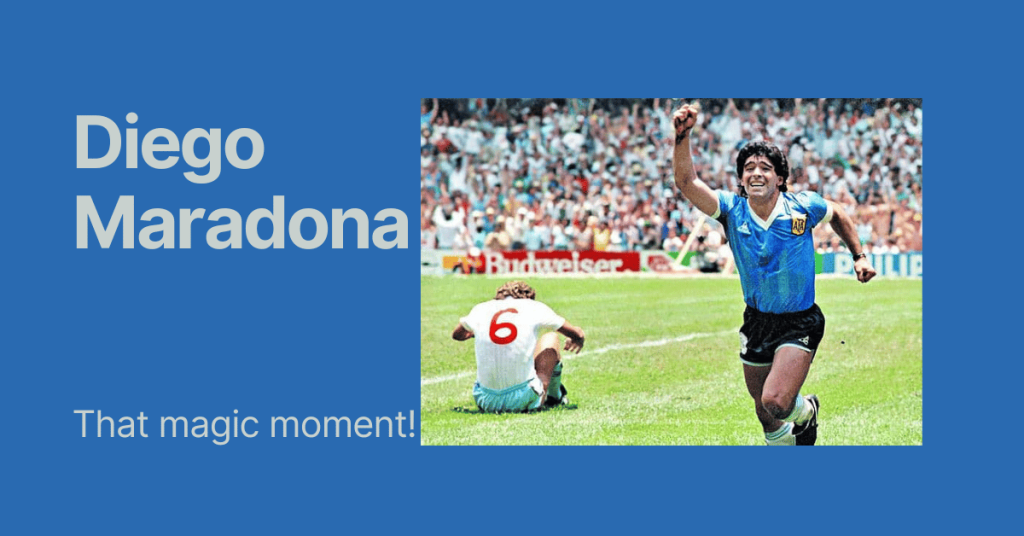 By Dave Bowler
From pit bull street fighter who would do anything it took to rise above the shanty town beginnings of his life on the outskirts of Buenos Aires to an angel, blessed by a genius that few before or since have even approached, scoring a goal that remains one of the very finest ever scored in World Cup history, acclaimed by FIFA as the goal of the 20th century.
The game was, of course, England versus Argentina in the World Cup quarter-final, the game that hangs around Maradona's neck like a medal or an albatross depending on your point of view, the "Hand of God" match. In a sense, it's a shame that this should be the career defining game, because the concentration on that first goal when Maradona leapt to punch the ball past Peter Shilton and in simply distracts from the player's genuine majesty.
The sanctimonious English response has coloured opinions on the little man for all too long as they argue they were cheated out of the game and would perhaps have gone on to win it had the referee spotted the infringement – though to his eternal credit, Gary Lineker, busy toiling at the other end of the field that day, has confessed that given the chance, he'd have done exactly the same.
The Hand Of God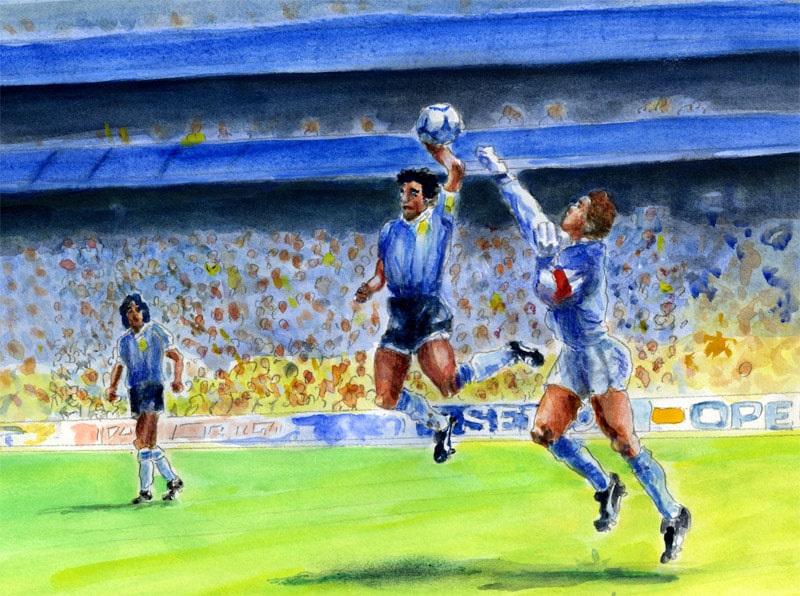 Equally we forget that, just four years on from the Falklands conflict, whatever the rights and wrongs of that, it made that fixture more than just a football match. For the Argentines, it was about restoring a national pride that had been lost in that war, was almost an extension of that war, and so, as in war, it was a case of "by any means necessary".
Maradona's later pronouncement that it was the hand of God that put the ball past Shilton did him few favours it's true, but perhaps from his perspective, from his team's perspective, his nation's perspective, divine retribution was being meted out.
Even in committing that foul, some of Maradona's genius leaked out. Reading the possibilities as the ball was looped up towards the goalkeeper was an act of vision while to spring into the air with such purpose that it could discomfort a giant of a man like Shilton, and even beat him in the air was testimony to his extraordinary strength. Of course the goal should not have stood, and perhaps it would have been better for everyone had it not. Because Maradona would have just found another way of winning the game. Just as he did three minutes later.
The Really Special One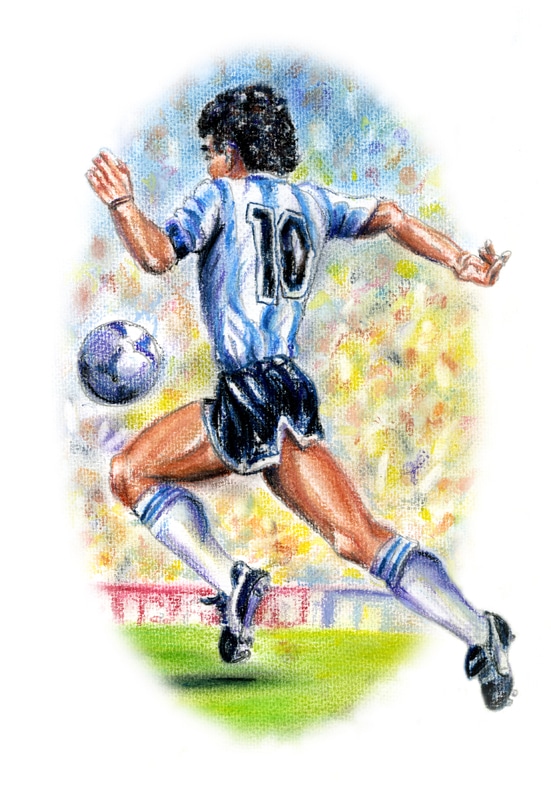 That second goal has been screened times without number but its beauty never fades. Collecting the ball in his own half, Maradona swivels and just a couple of touches from the illusionist take him past Beardsley, Hodge, Reid. The goal in still but a distant reference point, but it's getting closer.
The ball never more than a lace away from the feet, held in position with supernatural ease, the crowd starts to realise just what might be unfolding before them. Butcher comes across but he might as well be standing in a bus queue for all the good he can do, a little shimmy and a dab on the accelerator sending him the wrong way as Maradona drives infield.
Fenwick is there on the edge of the penalty area, but there's another gear to reach for yet, Maradona picking up just a bit more speed like a Red Bull down the straight, and Fenwick's an irrelevance. Butcher desperately tries to get back, he and Shilton converge on the Argentine, but there's strength to go with the guile and enough left in the tank to glide past the goalkeeper and nudge the ball across ad into the net as they clatter into him.
Statue
Maradona picks himself up and races to the corner flag to celebrate a goal that will, one day, be immortalised in a statue to him in the entrance to the Aztec Stadium. If there were any shreds of doubt left that Maradona was the finest player in the world, they were obliterated in the 12 seconds it took for him to go from the middle of the field and into the embrace of immortality.
The 1986 World Cup has gone down in legend as the only one ever to be won single handed by one player. It's perhaps a little harsh on his colleagues, but that said, just how many of the team that beat Belgium in the semi-final (two more Maradona goals) and West Germany in the final can you name now?
Over that month of football, Maradona was peerless, the man at his absolute peak of perfection at 25. Perhaps, and understandably, he never quite scaled those peaks again for, especially in the modern age, once you have tapped such genius, once you have transcended the game itself, you cease to be just a footballer and become commodity instead.
Struggle
Big money moves, time spent in the then physically belligerent world of Serie A, poor personal decisions and the hunt for a security that he and his family could never have imagined possible when he was a youth meant that never again was football quite so central to his life as it had been in that golden summer of 1986.
You could never keep that talent down, but such was its scale that Maradona struggled to handle it, to contain it and ultimately, perhaps it consumed as it has so many others in the past. It flared brightly again from time to time but never as consistently. But that doesn't really matter. For those weeks in 1986 remain indelibly stamped on football's collective memory, and those weeks remain one of the strongest claims that any man has put down to be called the greatest.
---
Dave Bowler is the author of "The Magic of the Cup 1973/74", telling the story of Liverpool's FA Cup win in 1974. Available here: https://www.curtis-sport.com/books – 
Follow the magic of the cup on Twitter:  @MagicOfFACup