Dave Bowler interviews Darren Fletcher who has played a big part in West Bromwich Albion's progress that they've have made over the last couple of years.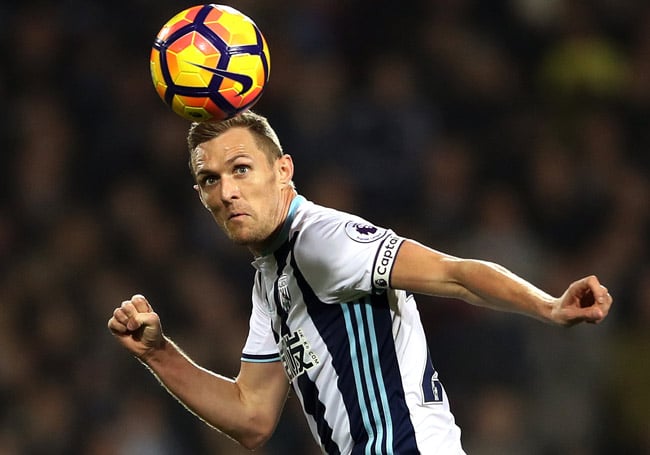 Another new year, another few weeks of writing the wrong date on things until you get used to it being 2017. Time seems to go faster and faster, especially in the footballing world, so much so that it's rare there's a moment to take stock unless you really make the effort. But some 24 months on from Darren Fletcher's arrival at West Bromwich Albion, and a few days after he clocked up game 300 in the Premier League across a career at Albion and Manchester United, it seemed the right moment to reflect on what have been massive strides forward by the football club over the course of the last two years.
Progress
"Looking at the league table when I came in," Darren recalls, "it was clear that there was a lot to do, that maybe there had been a loss of momentum here, and you can't turn that around overnight, but I think the progress we've made has been good in that short space of time.
"When I came, we had 22 points from 23 games, we were 15th in the league, we knew we had a tough run in at the end of the season and it was definitely a fight against relegation, there was no hiding from that. I think the fact that we came through it really well, that brought a lot of confidence to the place and set us up for what's gone on from there.
"Since then, I do think we've got to a point where people take it a bit for granted."Since we got out of trouble back then, thankfully relegation has never really been an issue.
"I don't think there was ever a point last season where we looked like getting sucked into it. Last season was solid, we were always pretty comfortable but we let it run away from us in the last few weeks, we were a bit unfortunate in a few games too, and that was very disappointing because we should have got a lot more points and been much higher up the league than we finished.
Solid Season
"I think that just made us more determined to really push on this season and so far, we've begun to do that, but we're only just past halfway, there's a lot more work to put in over the next four months. This season, although we had a slowish start, it's always tight at the beginning of things with everyone finding their feet and once we won at Leicester, we've accelerated away up the league.
"It's funny how we've got our points it in different ways over the last two seasons because this year, we've tended to beat the teams around us but had no success against the bigger clubs, where last season, we took a lot of points of those sides but sometimes struggled against the teams below us.

"I think the Premier League has been a bit like that in general, the top six teams have reacted to what Leicester did last season and have really upped their game again and have moved away from the rest of us once more. They look very dominant again.
"Off the back of that, we are trying to win that second league if you like, from seventh place down, but to finish seventh, above the likes of Everton, that would be a massive achievement for a club like ours.
"But it is important to accept that we have made good strides forward and I think a lot of clubs are jealous of what's gone on at West Bromwich Albion over the last couple of years. Plenty would snap your hand off to be in our position, on and off the field. You have to use these little goals and staging points as signs of growth at the club".
Disciplines & Philosophies
Fletcher has played a big part in the progress that we have made over the last couple of years, bringing to the club the kind of disciplines and philosophies that made Manchester United the dominant force in English football over a quarter of a century. It's also clear that having spent most of his footballing life at the top end of the table, he really didn't like the way life was at the opposite end of the spectrum and resolved to do everything in his power to avoid experiencing it again.
"We've built steadily over these two years and that was always the kind of journey that the manager sold to me when he asked me to join the football club back in 2015. Being involved at that end of the table was something that was new to me, but the top and bottom of it is the same – being a professional footballer is about winning matches, getting points, achieving goals, whatever the end target it is. That's not different here to Manchester United or any other club, your job is winning games.
"That said, it is a slightly different mindset in that it very quickly made an impact on me when I realised what a burden it would be if the club did get relegated. Just as a player, having that on your CV was something that really hit me personally, just from your professional pride.
Pressure
"But then you look around at what it means to the supporters, what it means to the football club, to the people that work here, what it means for people's jobs, their livelihoods. That meant there was even more pressure playing here than there was at Manchester United maybe because ok, there's a lot of pressure in playing for titles and cups, but fighting relegation and understanding the implications and the realities of that, that weighed heavy on my shoulders, as it did all the players.
And when you are the captain of the club, you feel it even more and I was adamant that I was going to do everything that I possibly could to help make sure that it did not happen. We came through that first season and we've been on a gradual upwards curve since them".
Fletcher has skippered the Albion right the way from his first game, up at Burnley's Turf Moor in February 2015, a role that came as something of a surprise.
"I've really enjoyed being captain here, although it was a surprise to me when I was given the armband because it's not something I ever asked for, the gaffer told me ahead of my first game that he wanted me to do the job and it was a big honour.
Captain
"I don't think I do anything differently as captain, I think I'd still speak the same way in the dressing room and behave the same way on the pitch whether I was captain or not. You do take on more responsibility with the job of course, but if I wasn't captain, I'd still be the same way around the place.
"You need a lot of leaders if you are going to be successful and we're lucky that we do have that here. When we're in the tunnel ready to walk out, I look behind me and if you see the likes of Ben, Brunty, Jonas, Gareth, Jonny, Mozzer, the list goes on, then that gives you confidence going into a game. There's a lot of strong voices there, plenty of good pros that we are really lucky to have at the club.
"The nucleus of the team hasn't really changed over the last two years, but I think we have a stronger squad overall. We've brought in real quality with Jonny, Nacer, Salomon, they've added something extra to us, but there were a lot of good players here already. We've shown that this season when we've had Morrison and Brunty back from long term injuries. That has been a massive boost and they've shown they've still got plenty to offer.
"But as I say, where we've grown over the two years is in the squad – this season, you look at the bench and at various times you've had players like Nacer, James McClean, Craig Gardner, Mozzer, Hal, Jonas all on there and that gives you a bit more depth than we've had.
Squad
If somebody drops out, there's a very able replacement ready to come in and do the job – we saw that a few weeks back for instance when Hal came in for Salomon at Southampton and scored the winner. That all round quality at this level is so important because when I first came, one or two injures and we were definitely struggling.
"Then added to that, we've got a crop of exciting young players coming through as well. They're just slightly too young to be able to make a regular impact, they're 16, 17, 18 rather than 20, 21 and that does make a big difference in the Premier League, just on a physical level. But they have great quality, it's good for them to be on the bench or travelling with the first team and being in training regularly with us, it shows them just what it is that they need to aspire to over the next year or two.
"To come on off the bench or play the odd game here and there at the moment, they're very capable of doing that, but you can't expose them to too much too early because this is a very unforgiving league and you can do more harm than good.
"To come in regularly as a teenager, the way someone like Wayne Rooney did, you have to be a special talent but you also have to have developed that physique early too so that you can handle the demands of this division. The pace of the game, the physical challenge, the running you have to do and the way you have to stand up to challenge after challenge, that is very hard for young players, it's something you can only really do consistently once your body has matured and developed fully.
Players
"Even over the 12 or 13 years since I first started playing in the Premier League, you can see the way that athletic side of the game has developed so much and if you can't cope with that, then you can't really show your ability to the full and that makes it even harder for a youngster to come into the game the way Wayne did, however good they are.
"But the boys we have here are progressing all the time, the loan spells that some of the other boys have had will do them good too, and in a few years, hopefully we can have a few homegrown players in the team on a regular basis".
Playing on a regular basis was one of the drivers behind Darren's move to The Hawthorns but even he can't have imagined he was going to play quite as regularly as he has.
"Having had my health issues, I was keen just to get playing again but to have played 77 Premier League games on the spin, I can't say I ever thought that would happen, and playing the majority of the cup games in that time too. I'm delighted that I've been able to have such a good run. I do work hard on my fitness, I behave professionally and I've had a bit of luck too.
"Saying that, it isn't like I've been 100% fit for every one of those games because like most of the lads, you go into lots of games carrying little knocks or niggles, I've played when I've been ill, and that's what we all do here if we possibly can because everyone is right behind the cause.
Dedication
"It hasn't been easy to have that kind of run, but I'm always willing to be out there and do what I can for the team. There have been games where I've gone out to see how it goes in the first half, but I've always managed to see it through, but that's no different to the other lads – you see how many of them are going past appearance milestones this season and that's because they are all dedicated to their work and to the club.
"The run I've had will stop eventually of course, but while it carries on, I'm enjoying it and when it ends for whatever reason, I'll be desperate to get back in the side as fast as I can and start another run".
Anybody who has changed their job after a long time in one place will recognise just how hard the transition to a new role can be but it's testimony to both Darren and the football club that even after a lifetime at Old Trafford, Fletcher slotted in so swiftly and is now Albion through and through.
"It took just a little while to get used to coming here when I joined because obviously, everything was different to all the things I'd known ever since I first started out at United for going on 17 years previously.
Settled
"I wasn't nervous about coming here, going in the dressing room and meeting new people, that never bothered me, I knew that I'd settle in. What was great was that it was pretty much immediately that I felt at home here. The lads were brilliant, I knew one or two of the boys already which helped, and they were great, so I was settled in so quickly. Within a couple of weeks, I felt totally comfortable around the place which was great because it allows you to just focus completely on your football.
"This really is a great club, well run throughout, at the stadium and at the training ground the facilities are great, the staff are so friendly and helpful, the support network around the players, everyone does everything they can to help make this place a success. You can see how much the club means to the staff, how hard they work, and that makes it a great place to come into everyday.
Challenges
"I'm coming up to two years with Albion now and it really has flown by, it's gone so quickly and I've honestly enjoyed every minute of it. It was a great challenge from day one, and it continues to be, albeit in a different way now, and like the rest of the boys, I'm relishing the league position that we've got into this season.
"The biggest disappointment has been that we haven't been able to do anything in any of the cup competitions. You could really feel that in the dressing room a couple of weeks ago after the Derby game, you could really sense the anger and the hurt that we'd been knocked out early and at home in a tie that gave us a great chance to move into round four.
"I know the perception is that clubs are only interested in the Premier League, but if you'd seen that dressing room after that defeat, it was a horrible place to be. You always hurt after a defeat but you could sense something extra there after Derby because in the cup, there's no next week where you can go and out things right like you can in the league. And it was undeserved too because I felt we created more than enough chances to win the game, but it just wasn't to be. It really did hit us very hard, just as it did the supporters".
And so finally, we turn to the future. What does that hold for Darren?
"I'm enjoying my football, I feel good, so I'm not really looking at anything more than just continuing to play games at the moment and we'll see where that takes me. My contract keeps me here through next season anyway, I'll be 34 then, and we'll see how I feel about things going from there – maybe I'll have to borrow Gareth's magic Deep Heat formula to carry on going!
"I'm enjoying being here and living in the moment really after the problems I had a few years back. Maybe not playing for that spell will help me add a couple of years to the other end of my career, who knows?
"I've not really thought about beyond playing because I'm enjoying that so much. Coaching and management does have an appeal for me though it looks a pretty stressful job – a lot more than playing, put it that way! Doing some punditry is enjoyable too, there's lots of other things too that I haven't really gone into in any great detail yet.
"I can't see myself as anything other than a football player just at the moment, I don't want that dream to end just yet!"